'She-Hulk': Will Charlie Cox's Daredevil and Tatiana Maslany's Jennifer Walters Fight as Courtroom Rivals?
Disney+ dropped a teaser trailer for Jennifer Walters, AKA She-Hulk, to enter the Marvel Cinematic Universe. However, a rumored surprise appearance from Charlie Cox's Matt Murdock, AKA Daredevil, caught everyone off-guard. Well, almost everyone. Comic fans know that the two resident superhero lawyers, She-Hulk and Daredevil, have a history as courtroom rivals.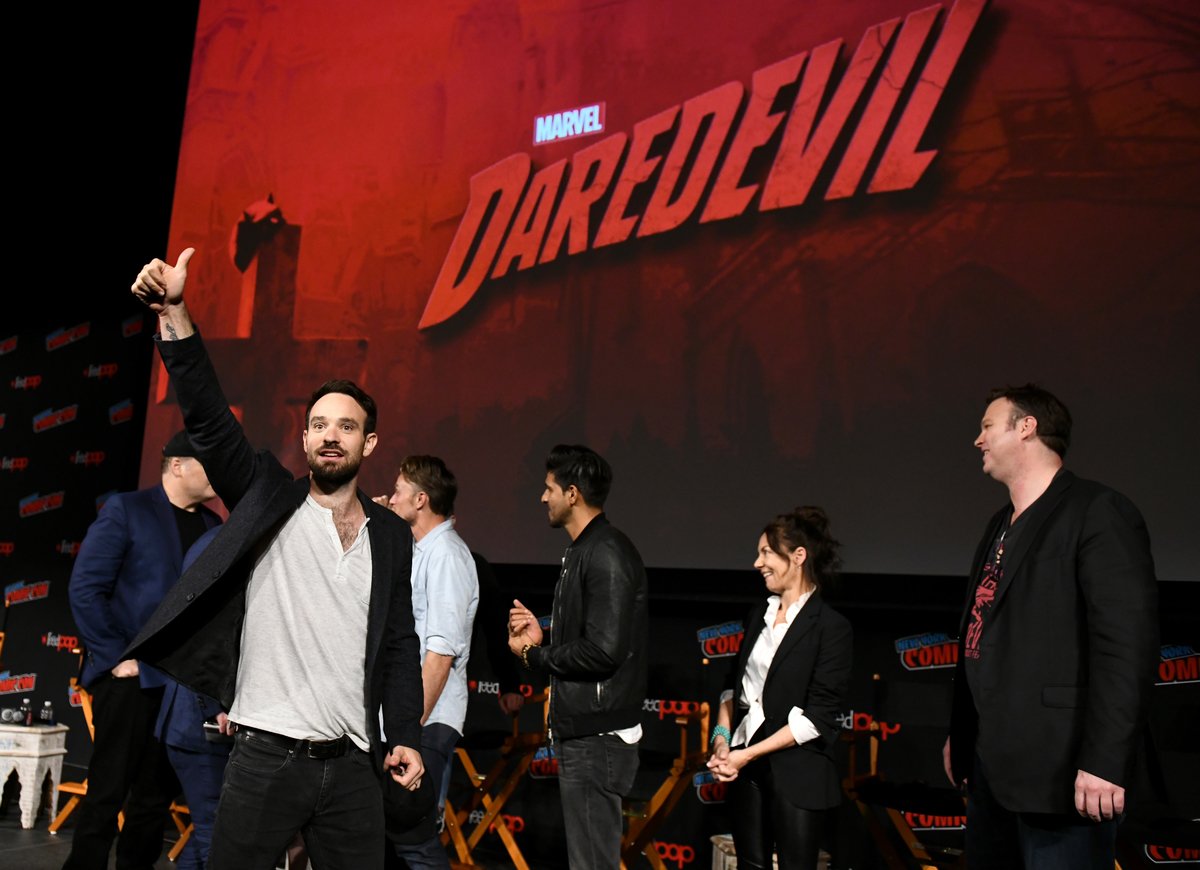 She-Hulk and Daredevil's history in comics
While Marvel has called on both lawyers to represent various superheroes, Daredevil and She-Hulk rarely faced each other in the courtroom.
Matt has represented White Tiger, Human Torch, while Jennifer has taken on cases for Spider-Man and even Thanos' brother, Eros.
However, one case involving Captain America brought the two lawyers face-to-face in She-Hulk #8 from 2014.
During 'The Good Old Days' comic book arc, a retired, old Captain America has a wrongful death claim filed against him. He goes to his longtime friend Jennifer to represent him, and she prepares with confidence until she sees Matt Murdock as her opponent.
While they may not have faced off directly by this point, they both know their reputations.
Jennifer ultimately wins the case, proving Steve Rogers innocent. Afterward, Steve reveals the lawsuit was filed against him by an old enemy, so he needed two lawyers for a convincing trial. He chose Matt because he would actually consider the idea of Steve being guilty.
However, he chose Jennifer to represent him because he 'didn't want to lose.'
Charlie Cox plays a 'different Daredevil' in 'She-Hulk' than the Netflix show
Seeing the Netflix Daredevil star return to She-Hulk sparked speculation from fans. If Daredevil could return, what about characters like Luke Cage and the Spider-Man villains, Cloak and Dagger? Would it continue from the Netflix show?
As always, fan speculation took off. With the introduction of the multiverse, Cox's Matt Murdock could even play a variant of his Netflix's Daredevil role in She-Hulk.
"However, a new leak from the moderator team at r/MarvelStudiosSpoilers claims that it won't be the Netflix version of the character, but a brand new Daredevil that doesn't have any direct ties to his three-season run of episodic adventures," We Got This Covered reported.
It seems that fans will be seeing a new kind of Daredevil in Marvel's Disney+ show.
Fans are excited at Charlie Cox's return to the superhero lawyer
However, Cox's Daredevil returns, fans remain excited. Some considered how Marvel could change up the Man Without Fear in She-Hulk. 
"Some sections of the fans who follow the comics think that Marvel Studios would make use of Daredevil's classic yellow suit from the comics that wasn't utilized in the Daredevil series on Netflix," Dkoding noted.
Since Steve Rogers retired in Avengers: Endgame, Marvel could go the route of adapting "The Good Old Days" story. However, with no word on bringing Chris Evans back, this seems unlikely.
Whether Daredevil and She-Hulk end up battling in the courtroom or teaming up to fight on the streets, fans can count on a fantastic story.