She-Hulk to Come up Against Thundra in Disney+ Series: MCU Leak
She-Hulk is one of the several shows coming to Disney+ as part of the Marvel Cinematic Universe's expansive Phase 4; the character will likely make an introduction on the streaming platform before joining the filmic landscape as part of Captain Marvel's A-Force. And, though fans may want to rush ahead to the major mash-up, the heroine will have to combat a villain all by her lonesome (maybe with a bit of help from her cousin Bruce Banner) before multiple Avengers stand by her side.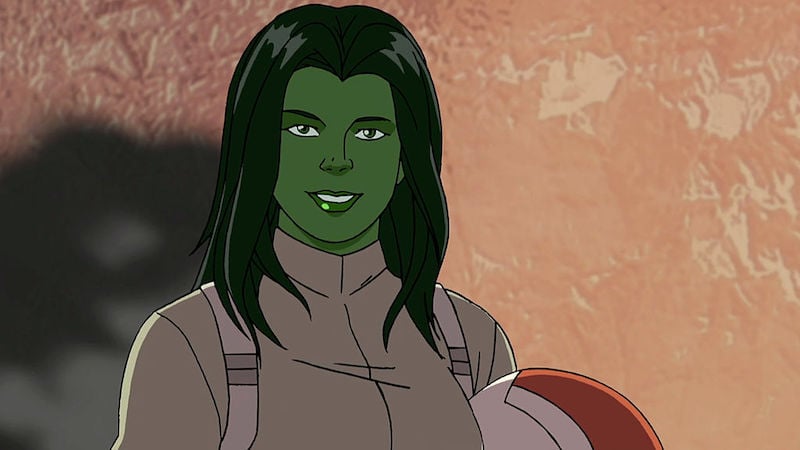 Recent news suggests that the primary villain for the She-Hulk series has leaked its way into the public sphere. It looks like Thundra — one of the most powerful forces in Marvel comics — will be Jennifer Walters' main adversary. Let's dig into the scoop.
Mikey Sutton talks 'She-Hulk' and Thundra's possible introduction: when and how
Mikey Sutton recently told SuperheroBuzz, before announcing the news to Geekosity: All Things Pop Culture, that Thundra would appear in the upcoming Disney+ show, She-Hulk. Here's the official scoop: 
MCU SCOOP – 3/9/20: She is a time traveler, and she is so strong she can punch the Thing through a building. In terms of physical power, there are perhaps few women in the Marvel Universe who can be her equal. She's about to meet one of them in the MCU.

Her name is Thundra, and She-Hulk is about to have a fistful from Femizonia in her face.

According to insiders, Thundra will make her MCU debut on the She-Hulk TV series on Disney+. Whether she is going to appear in the first season remains to be seen, but her character is being developed for the show.

Mikey Sutton
Thundra is one of the strongest anti-heroes to ever come to threaten the supers in Marvel comic book history; considering She-Hulk is also quite a force to be reckoned with, the two will be a perfect match. So, here's to hoping Thundra will come to play in the show's first season, yet they may be holding her off as to create a later entry into the film space.
Who is Thundra?
As Marvel. Fandom notes, Thundra was born in a laboratory and genetically engineered for strength and endurance. She was then sent to military school at the ripe age of eight. However, she was born into a time — an alternate timeline — in which 95% of the female population was sterilized, leaving the 5% remaining to seize political power and begin a systemized oppression against men.
By eighteen, Thundra had already set herself apart from peers as the fiercest warrior in the midwestern republic, becoming an officer in the militia. Her origin story lends way to flip-flopping between the good guys and the bad guys – fighting for the cause she deems worthy at the time. However, the MCU may tinker with this narrative to create the story they deem worthy of small-screen representation.