Sheryl Crow Sang George Harrison's 'Beware of Darkness' and It's Exquisite
In our new normal experience of late-night programming, songwriter and musician Sheryl Crow recently performed – from a remote location, of course – former Beatle George Harrison's "Beware of Darkness" on The Late Show With Stephen Colbert.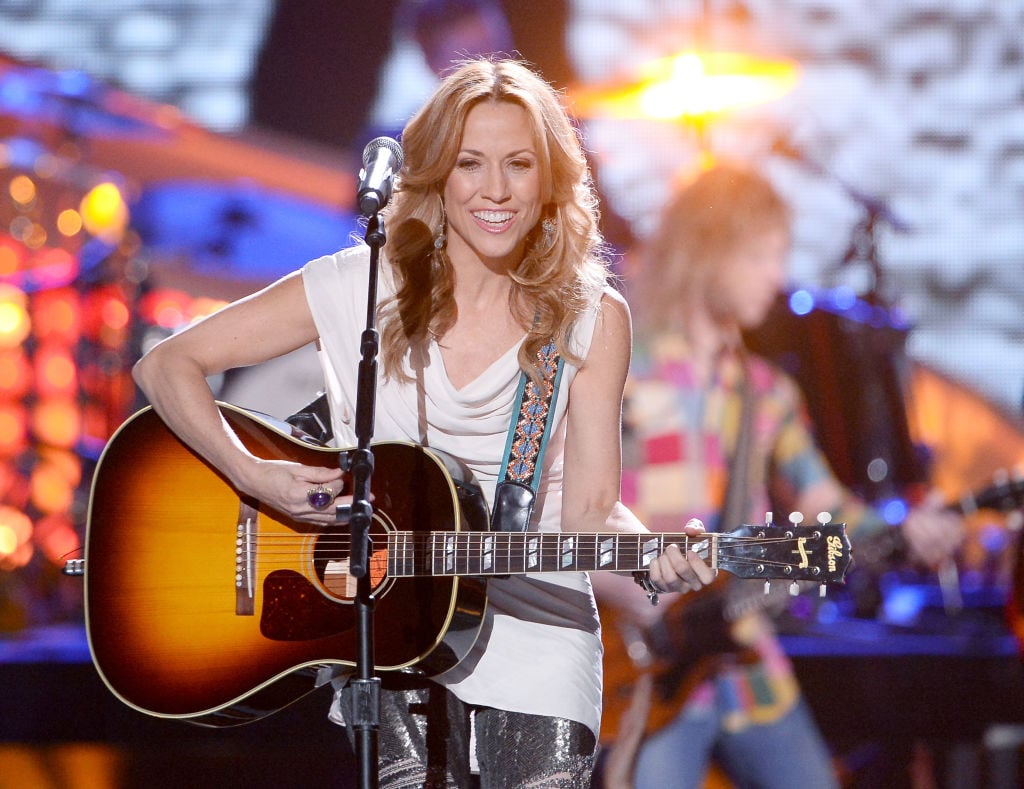 Her rendition, soothing with her distinctive vocals, must be heard.
Sheryl Crow sings George Harrison's 'Beware of Darkness'
As stated, Crow performed the now-50-year-old George Harrison song, originally from his first solo album, All Things Must Pass, for Stephen Colbert's late-night show. Colbert introduced her from his home, and Crow performed from hers.
Crow, before performing the song at a piano, gave a shout-out to Colbert saying: "I love you, Stephen Colbert. There, I said it. I'm going to play you guys a song called 'Beware Of Darkness' from George Harrison, one of my favorite artists of all time."
The melancholy, cautionary song's lyrics warn against corrupting thoughts and actions that can lead one astray: "Watch out now, take care / Beware of falling swingers / Dropping all around you / The pain that often mingles /
In your fingertips / Beware of darkness."
Many critics consider the song to be Harrison's best. Crow's version did not stray from Harrison's gentle, almost brooding, tone and message, for a presentation that was musically elegant.
Sheryl Crow's most recent record, 'Threads'
The 58-year-old artist released her latest collection of songs, Threads, in 2019. The album, as its name implies, is Crow's reflection on the musical influences – the threads – of her life and career, many of whom lend their talent and voices to the project.
The singer told q with Tom Power in 2019 about her collaborations on the album with big names and friends including Mavis Staples, Bonnie Raitt, Willie Nelson, and Keith Richards.
"Threads didn't start off as a project of collaborations," she explained. "It started off with me and Kris Kristofferson in the studio. After we completed what we were doing, I had a couple of weeks of feeling super emotional. You know, we're all getting older, obviously. Connecting with people I've known for so long and have loved, and having these experiences of collaborating — those have meant more to me than any award or anything."
Sheryl Crow may be done releasing new music
Once Threads released, Crow was asked about future projects she might be working on. It turns out, Threads may be her final album.
"I love making records," she explained. ". . . I grew up holding records, and studying them, and sharing them with my friends, and dropping the needle and all that stuff. But making a record is not only time-consuming and expensive, it's emotional."
For Crow, it's clear that songwriting isn't a commercial process. It's fully an artistic, emotional, and even spiritual one. And to her thinking, if listeners aren't going to engage with her music at that level, then she'd rather abandon the notion.
"It's a little counterintuitive to want to spend that time making a full artistic statement that no one's ever going to hear as an artistic statement," she continued.
"So I love that this is my last full artistic statement and I love that it's sort of, I don't know, it's kind of retracing my history through all my threads."
Read more: The Horrifying Night When Former Beatle George Harrison Was Stabbed By A Crazed Fan