Shia LaBeouf Once Revealed Dakota Johnson Was His Best On-Screen Kiss
Shia LaBeouf rose to fame in the early 2000s as the goofy but lovable Louis on Even Stevens. The Disney Channel original series earned the actor a Daytime Emmy Award and ever since then he's continued with his acting career. Now 34 years old, LaBeouf's starred in blockbusters,  indie films, and everything in between. Along the way, the actor's had a number of on-screen kisses but LaBeouf counts Dakota Johnson as his best on-camera lip lock. 
Shia LaBeouf and Dakota Johnson starred in 'The Peanut Butter Falcon' together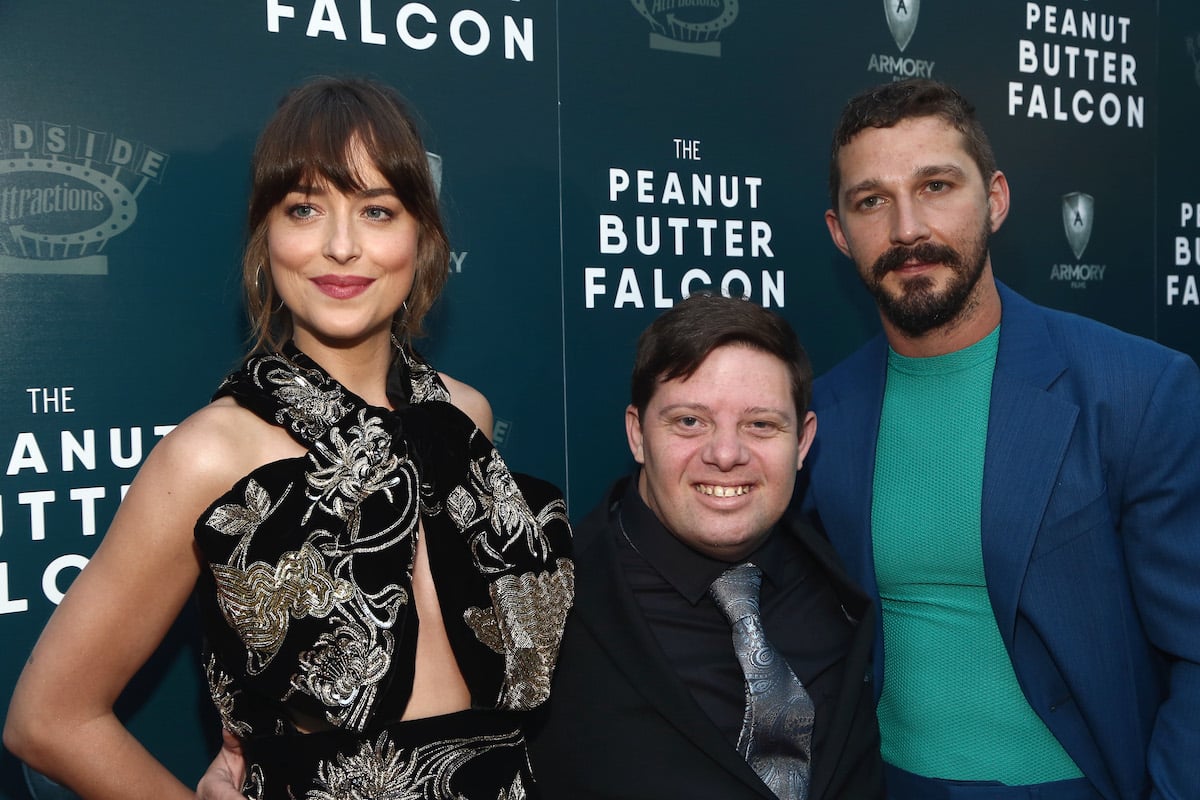 LaBeouf and Johnson had their on-screen kiss while filming 2019's The Peanut Butter Falcon. Directed and written by Tyler Nilson and Michael Schwartz, the movie's a feel-good adventure about Zak (Zack Gottsagen), a man who has Downs Syndrome.
Zak runs away from a nursing home to pursue his dream of becoming a pro wrestler and along the way, he meets Tyler (LaBeouf). They team up together before Eleanor (Johnson) comes looking for Zak.  
During a particularly heartfelt moment between LaBeouf and Johnson's characters, they share a kiss. But seconds later Eleanor learns what lengths Tyler will go to to make Zak's dream become a reality. Ultimately, instead of finding Zak and taking him home, Eleanor decides to join in on the adventure. 
Shia LaBeouf called Dakota Johnson a 'sweetheart' on 'The Ellen DeGeneres Show' in 2019
LaBeouf answered some burning questions during a 2019 appearance on The Ellen DeGeneres Show while promoting his movie, Honey Boy. Asked by host Ellen DeGeneres to eat a ghost pepper before answering questions, LaBeouf opened up about the on-screen kiss he and Johnson shared in The Peanut Butter Falcon. 
After answering what scares him ("spiders") and what he does first thing in the morning ("pee"), DeGeneres asked LaBeouf to name his best on-screen kiss. The actor hesitated before finally saying, "Dakota Johnson! She's a sweetheart."
Turns out, LaBeouf might not have meant it. 
DeGeneres then asked him, "What's a lie that you recently told?" The actor smiled and said, "I just told one, just now. The question right before."
So, Johnson in The Peanut Butter Falcon may or may not have really been LaBeouf's best on-screen kiss. 
Who else has Shia LaBeouf kissed on-screen? 
Johnson isn't the only actor LaBeouf's kissed on-screen. He's had his fair share of lip locks on camera. He and Megan Fox kissed in 2007's Transformers and again in 2009's Transformers: Revenge of the Fallen. Years later, Fox called LaBeouf her favorite on-screen kiss. She said there were sparks between them but their relationship never went beyond an on-set romance. 
Another one of LaBeouf's on-screen kisses? Sarah Roemer in the 2007 thriller, Disturbia. Love interests in the movie, Roemer played LaBeouf's next-door neighbor he had a crush on. 
What's next for Shia LaBeouf?
According to IMDb, LaBeouf doesn't currently have any projects in the works. Most recently he starred in 2020's Pieces of a Woman as Sean alongside The Crown's Vanessa Kirby. Directed by Kornél Mundruczó, Kirby's up for an Oscar for her performance.
Shortly after the film's release, FKA Twigs accused LaBeouf of abuse. The musician and actor filed a lawsuit against LaBeouf, which is currently ongoing.
LaBeouf also starred in another movie in 2020. He played Creeper in David Ayer's crime-thriller, The Tax Collector.