Shia LaBeouf Started Dating FKA Twigs Right After Announcing His Divorce From Mia Goth
Musician FKA Twigs is reportedly suing actor Shia LaBeouf for alleged abuse she endured during her relationship with him. Prior to Twigs and LaBeouf's romance, we can't forget he wed another actor — Mia Goth.
Goth and LaBeouf were together for years before their split, and LaBeouf even mentioned he adored married life with Goth. Unfortunately, the two couldn't make their relationship work. And LaBeouf took no time at all before moving on with Twigs.
Shia LaBeouf married Mia Goth before dating FKA Twigs
It's hard to believe LaBeouf was once married. Back in 2016, the two actors tied the knot in Las Vegas — and it was no usual affair. There was an Elvis Presley impersonator and an incredibly small crowd, as only Goth's mother and LaBeouf's mother were in attendance. Not only that, but TMZ live-streamed their wedding — though LaBeouf swears this was an accident.
LaBeouf once explained to Ellen DeGeneres that there was a live stream offer with his wedding package, but he and Goth turned it down. Instead, they opted to have their special day privately recorded — but that didn't happen. Their wedding streamed live anyway. At the end of the day, the couple didn't mind.
As for their marriage, there was another unusual aspect — and that's that Clark County, Nevada, tweeted that LaBeouf and Goth never actually got their marriage license. It's unclear if the two ever legally tied the knot or stated their marriage without going through the legal process.
LaBeouf began dating FKA Twigs immediately following his divorce announcement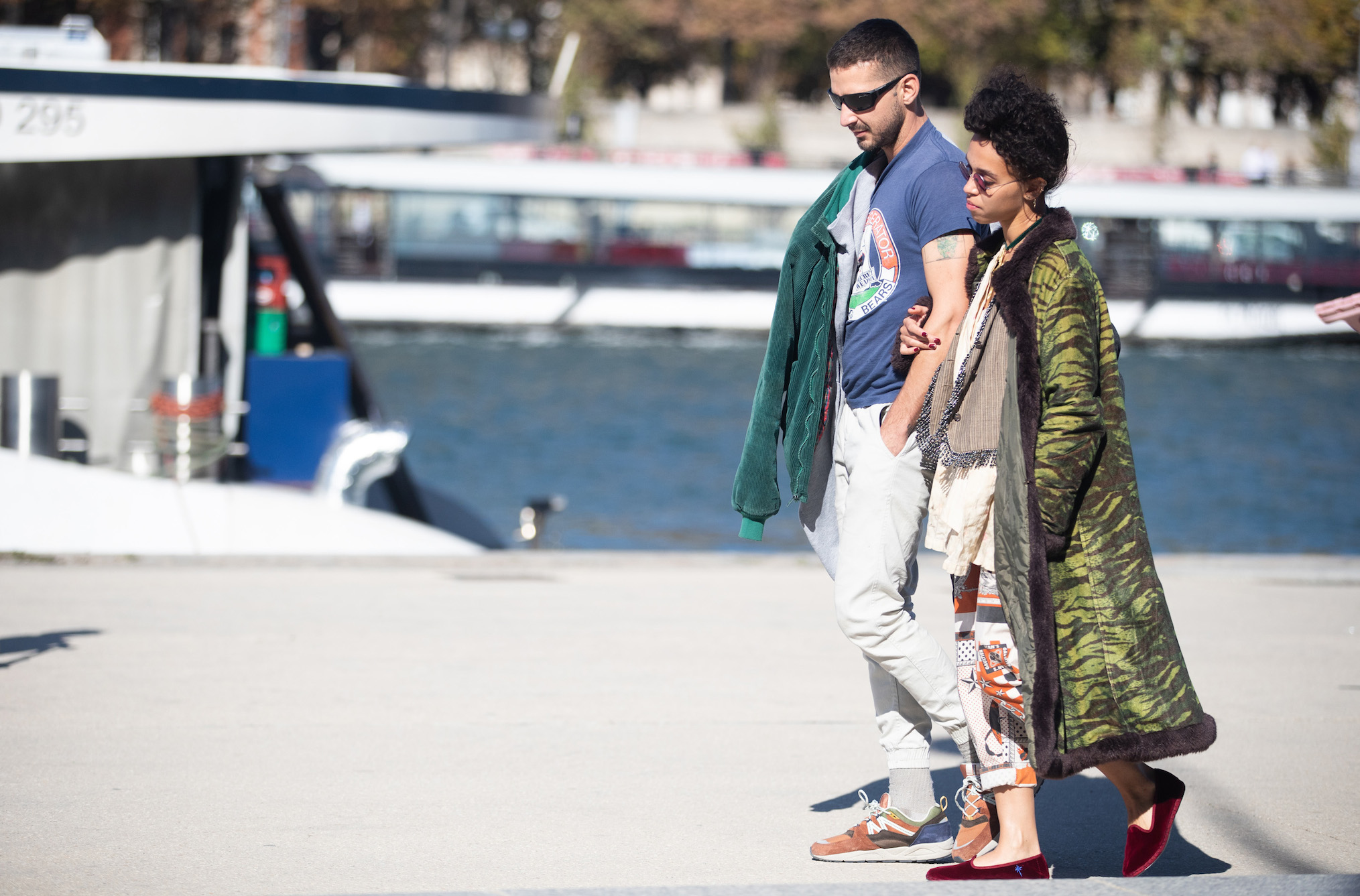 LaBeouf and Goth's marriage didn't last. They decided to amicably split in 2018. And it seems it wasn't long before LaBeouf and Twigs hung out in the public eye.
According to Daily Mail, LaBeouf met Twigs while on the set of his film, Honey Boy. And they were seen together the same month of his divorce. At the time, the two were going on a grocery run together in East London. And a source close to Twigs verified to Daily Mail that she and LaBeouf were dating. As the source said, "They are very happy, having a nice time."
While the media caught wind of LaBeouf and Goth's divorce in September 2018, it seems the two may have split a few months prior. A friend of Goth's told the publication that Goth was the one who ended the relationship.
"Mia had been having some problems with Shia," a friend alleged. "It was a very crazy relationship and he is very fiery."
FKA Twigs is suing LaBeouf for alleged abuse during their relationship
RELATED: FKA Twigs and Sia Support Eachother After Sia Claims Shia LaBeouf 'Conned' Her Into an 'Adulterous' Relationship
Twigs and LaBeouf appeared to date for less than a year. Now, in 2020, Twigs is suing LaBeouf for the alleged abuse she endured during their relationship.
Twigs noted at the beginning of their relationship, LaBeouf showed her "over-the-top displays of affection" — but that quickly turned into mental, emotional, and physically abusive behavior, The New York Times reports.
The musician said LaBeouf didn't like her looking at other males in her presence, and he had "rules" regarding how much physical affection she should be giving him daily. Over time, she became more distant and isolated, and she finally strategized an exit with a therapist.
"What I went through with Shia was the worst thing I've ever been through in the whole of my life," Twigs said. "I don't think people would ever think that it would happen to me. But I think that's the thing. It can happen to anybody."
As for LaBeouf, he responded to the claims. "I have no excuses for my alcoholism or aggression, only rationalizations," he stated in an email to The New York Times. "I have been abusive to myself and everyone around me for years. I have a history of hurting the people closest to me. I'm ashamed of that history and am sorry to those I hurt. There is nothing else I can really say."
Check out Showbiz Cheat Sheet on Facebook!