Sinéad O'Connor on Frank Sinatra's Threat After Her 1990 National Anthem Fiasco: 'I Start Checking My Bed for Horse Heads'
After Sinéad O'Connor's career-deflating appearance on Saturday Night Live in 1992, the blowback was quite fierce. But it wasn't as intense as the reaction to what was understood to be her refusal to have the U.S. national anthem played before a 1990 concert.
That incident had celebrities chiming in including Frank Sinatra, who issued at that time a succinct and rather menacing statement about the Irish singer.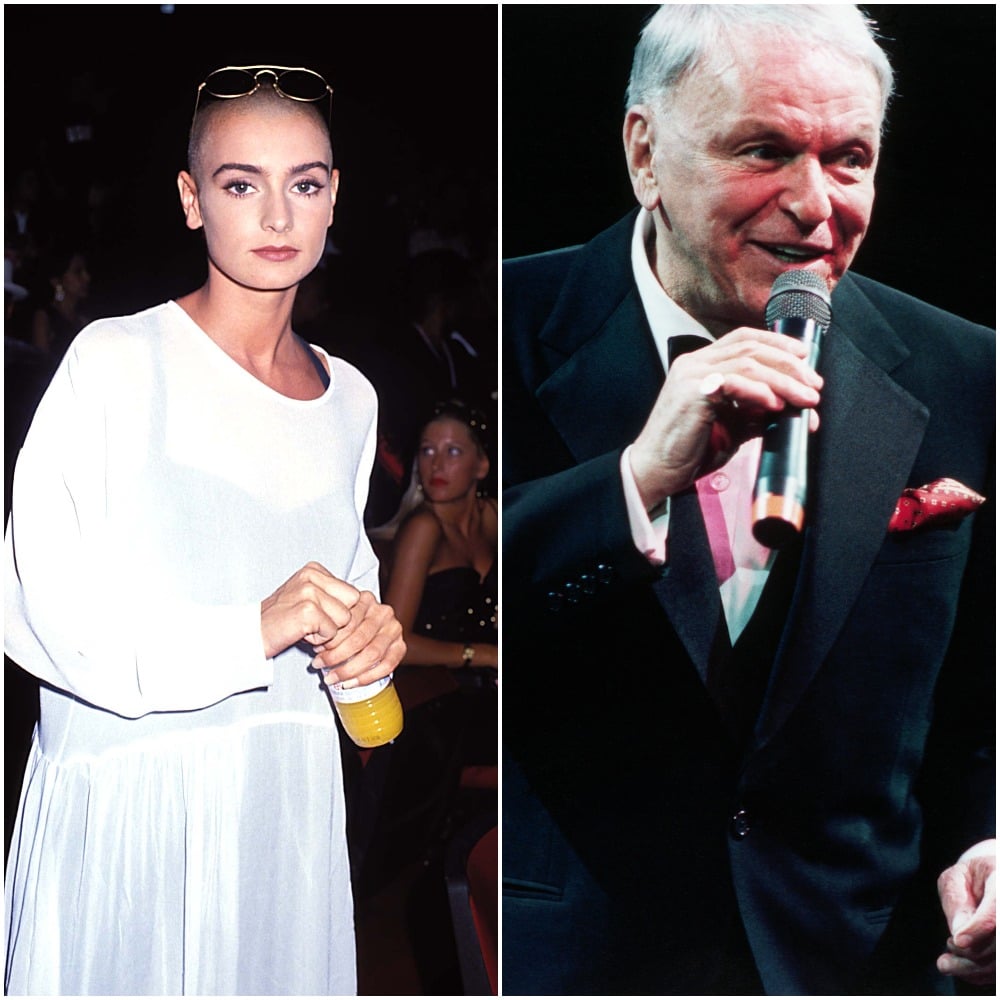 O'Connor and the national anthem debacle
In 1990, O'Connor was reported as having approached staffers before a concert in New Jersey to demand that the U.S. national anthem not be played before her show. Backlash was practically instantaneous. Her CDs were steamrolled and destroyed at protests against her and as The Washington Post reported at the time, several radio stations boycotted her music. But one station program director predicted that "Tomorrow, when people forget about it, we'll probably go back to playing her record."
Armed Forces Radio, the Post said, continued playing O'Connor's music stating: "Our position for music is, if it's a song that is popular and goes up the charts with various audiences in the U.S., that's where we play our music from. We don't ban artists. The only time we wouldn't carry a song would be when a judge declared it obscene."
What Sinatra publicly said about O'Connor
As news spread, the outrage against the Irish chanteuse grew. Rapper MC Hammer sent the singer a "check for a first-class ticket back to Ireland."
And legendary performer Frank Sinatra, as O'Connor related in her memoir Rememberings, "weighs in and opines I should have my a** kicked, which is worrying because I'm staying in the same hotel as him. We might happen across each other in the lift, and I'm thinking my father back in Dublin isn't gonna be too pleased if I tell him I had to, in self-defense, beat the crap out of Ol' Blue Eyes. I start checking my bed for horse heads," she wrote in a reference to The Godfather film.
The Post report that year confirmed O'Connor's account of Sinatra's statement, quoting him as saying during a concert of his own in New Jersey that "he wished he could meet her so he 'could kick her …,'" and that "he was also reported to have advised her to leave the country because her actions were 'unforgivable.' He added, amid thunderous applause, 'For her sake, we'd better never meet.'"
Sinead O'Connor's side of the story
In her book, O'Connor recalled the 1990 moment which she said resulted in her being dubbed "Sinéad, the Hater of America."
This incident occurred when, as O'Connor wrote, "before I was to go onstage in some venue in New Jersey, two Caucasians (as they say in America), one male and one female, came to my dressing room. They asked me how would I feel about "The Star-Spangled Banner," the American national anthem, being played through the speakers before I perform."
The Irish artist noted that because she had been given the choice, she opted to not have the anthem played: "I gleaned from the phrasing of their question and from the fact they put it as a question at all that what they were saying was if I didn't feel cool about it, that would be cool." As O'Connor explained it, anthems just "have petrifyingly contagious associations with squareness unless they're being played by Jimi Hendrix."
She denied in her book the story that she had sought the staffers out and "demanded the anthem not be played before the show. They also claimed that I told them I would not go on if it was played. Which is entirely untrue."