Why Sinéad O'Connor Says 'Tearing Up the Pope's Photo' Didn't End Her Career – and the Move She Says That Finally Did
With each rip of her mother's photo of Pope John Paul II during her 1992 appearance on Saturday Night Live, singer Sinéad O'Connor seemingly hammered another nail into the coffin of her career. At least in the eyes of many watching that night. The incident would dog the artist throughout her subsequent performances and public appearances. There were many critical of her protest of Catholicism and just as many who celebrated her boldness.
For O'Connor, a follower of Islam since 2018 who now goes by the name Shuhada' Sadaqat, the event didn't end her career at all, as she expressed in her strikingly honest memoir Rememberings, which published on June 1.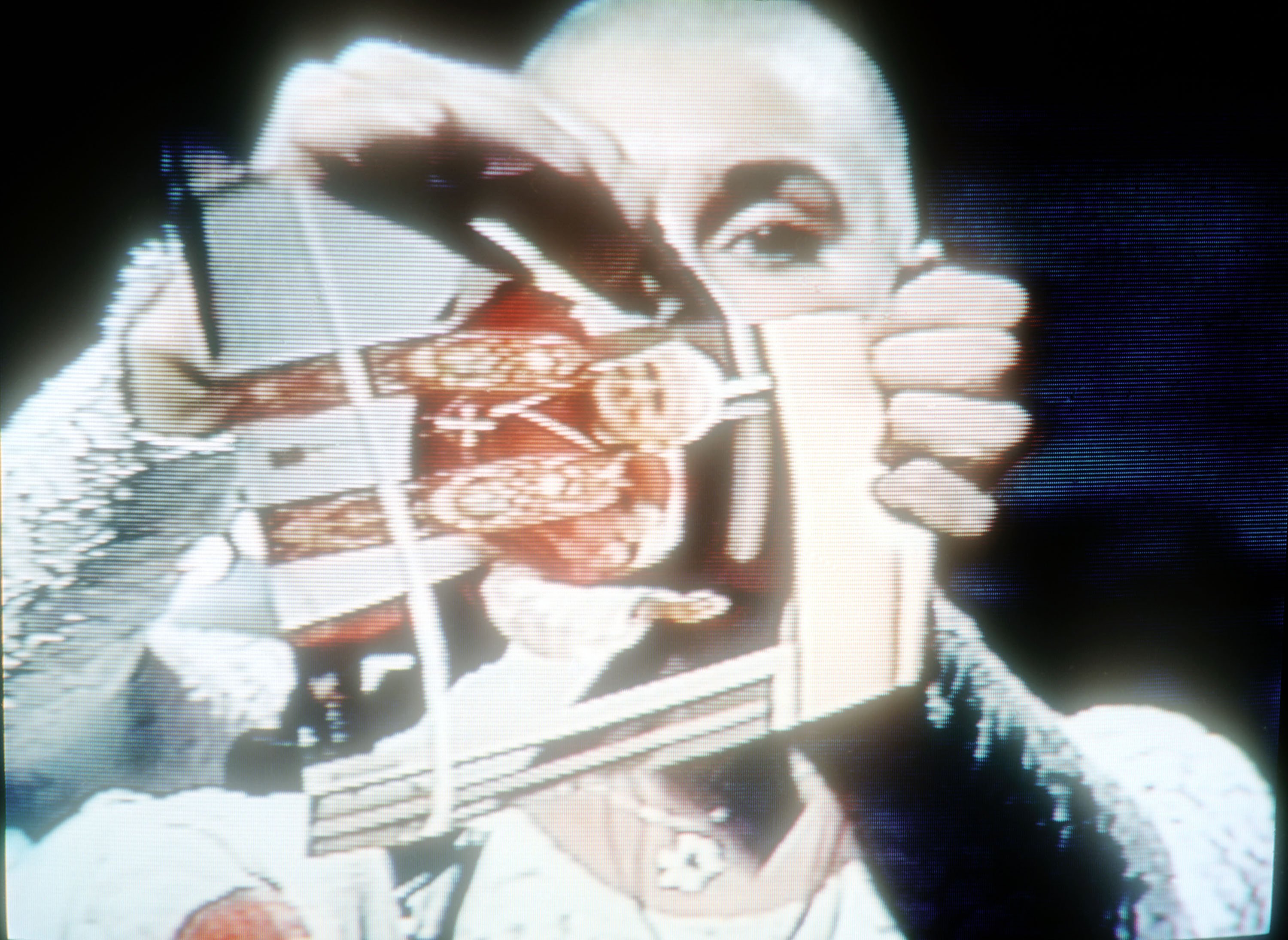 Why O'Connor ripped the pope's photo
In her October 1992 appearance on the late-night comedy show, O'Connor was introduced by actor and host for the evening Tim Robbins. Instead of performing a song from her at-that-time recently released album Am I Not Your Girl?, she sang Bob Marley's "War" without musical accompaniment. And produced and ripped up a photograph of Pope John Paul II.
She explained her actions to Time a month later, making clear her aim wasn't specifically the pope:
It's not the man, obviously—it's the office and the symbol of the organization that he represents… In Ireland we see our people are manifesting the highest incidence in Europe of child abuse. This is a direct result of the fact that they're not in contact with their history as Irish people and the fact that in the schools, the priests have been beating the sh*t out of the children for years and sexually abusing them. They have been controlled by the church, the very people who authorized what was done to them, who gave permission for what was done to them.

—Sinéad O'Connor speaking to Time in 1992
How O'Connor sees her appearance on 'SNL'
In her new memoir, O'Connor made clear the SNL performance was not a career-ender. In fact, she turned that argument on its head, pointing the finger at her success instead as the catalyst in turning her musical work sour. Her Prince-written hit, "Nothing Compares 2 U" made her an overnight success in 1991 and its accompanying video a favorite on MTV.
"A lot of people say or think that tearing up the pope's photo derailed my career," she wrote. "That's not how I feel about it. I feel that having a number-one record derailed my career and my tearing the photo put me back on the right track. I had to make my living performing live again. And that's what I was born for. I wasn't born to be a pop star."
Her controversial appearance on SNL, she said, liberated her: "I could just be me. Do what I love. Be imperfect. Be mad, even. Anything."
The move that O'Connor says really did end her musical career
While O'Connor is reluctant to agree that her SNL appearance hindered her career, she does admit another lively concert appearance, this time at Madison Square Garden celebrating Bob Dylan's career, may have done it. Just weeks after the SNL incident, O'Connor hit the stage to sing Dylan's "I Believe in You."
The activist cites Dylan as a major influence on her work and career: "Indeed, I wouldn't have ripped up the pope's picture two weeks ago if not for [his song "Gotta Serve Somebody"] and what it says musicians must do."
The Irish singer was delighted to have been asked to perform at the concert: "All I want is for Bob to be proud of it."
Unfortunately, as soon as she walked onstage, "half the audience starts booing," but O'Connor momentarily thought the attendees weren't pleased with the dress she was wearing. She had "forgotten all about the pope-photo incident on SNL." The other half of the audience, O'Connor wrote, began cheering to drown out the booers.
"The loudest noise I've ever heard," she wrote. "Like a sonic riot, as if the sky is ripping apart. It almost bursts my eardrums." Instead of singing the song she's supposed to perform as the band is urging her to do, O'Connor begins screaming "the biggest rage I can muster," once again the Bob Marley "War" song she had performed on SNL just weeks earlier. "And then I almost got sick," she wrote.
It was this performance, she admits in her memoir, that may have sealed the deal for her career's end.
"My father, who was in the audience that night, advises me afterward that it might be time for me to reconsider college because I just destroyed my career," she said. "He's right. But I don't care. Some things are worth losing your career for."