Singer Neil Diamond Comes Out of Retirement In a Big Way, Plus Big News for 'Sweet Caroline'
Neil Diamond has hardly been heard from since he announced his retirement in early 2018 following a diagnosis of Parkinson's disease.
This weekend, the international superstar took a break from retirement to put on a special show.
Diamond put on a big show for a great cause
This past weekend, the Cracklin' Rosie singer put his retirement on pause for a very special event raising money for the Cleveland Clinic Lou Ruvo Center for Brain Health.
Diamond performed at the MGM Grand Garden Arena in Las Vegas, where he was honored for his contributions to music at Keep Memory Alive's 24th annual Power of Love Gala.
Jimmy Kimmel hosted the event (what event doesn't Kimmel seem to host lately?) and said in Diamond's honor, "I love Las Vegas and I love Neil Diamond. Not only do I love Neil, but my parents love him, my friends love him, my children love him. Neil Diamond is an amazing songwriter and singer and I think you will agree that no Jewish man looks better in sequins than Neil Diamond."
The man himself reassured everyone of how well he's doing when he said, "I'm feeling great. This is an important thing they're doing and I feel honored to be part of it and take part in it."
His Parkinson's disease diagnosis
Born in Brooklyn in 1941, the artist announced he had been diagnosed with Parkinson's disease in 2018. It was a shock to his fans who could count on the veteran musician to put on a great show at every concert.
At the time, the Sweet Caroline singer said in his statement that while he would stop touring, he would still continue to record new music from time to time.
"It is with great reluctance and disappointment that I announce my retirement from concert touring," Diamond said. "I have been so honored to bring my shows to the public for the past 50 years. My sincerest apologies to everyone who purchased tickets and were planning to come to the upcoming shows."
"I plan to remain active in writing, recording and other projects for a long time to come."
Referencing his trademark song, Sweet Caroline, the beloved singer continued, "You will always have my appreciation for your support and encouragement. This ride has been 'so good, so good, so good' thanks to you."
'Sweet Caroline' was recently inducted into the Grammy Hall of Fame
Speaking of Sweet Caroline, Diamond's iconic tune was recently inducted into the 2020 Grammy Hall of Fame. The induction took place in Jan. 2020 and also saw the inclusion of Joni Mitchell's Clouds, the Eurythmics' Sweet Dreams (Are Made Of This), and Elton John's Tiny Dancer.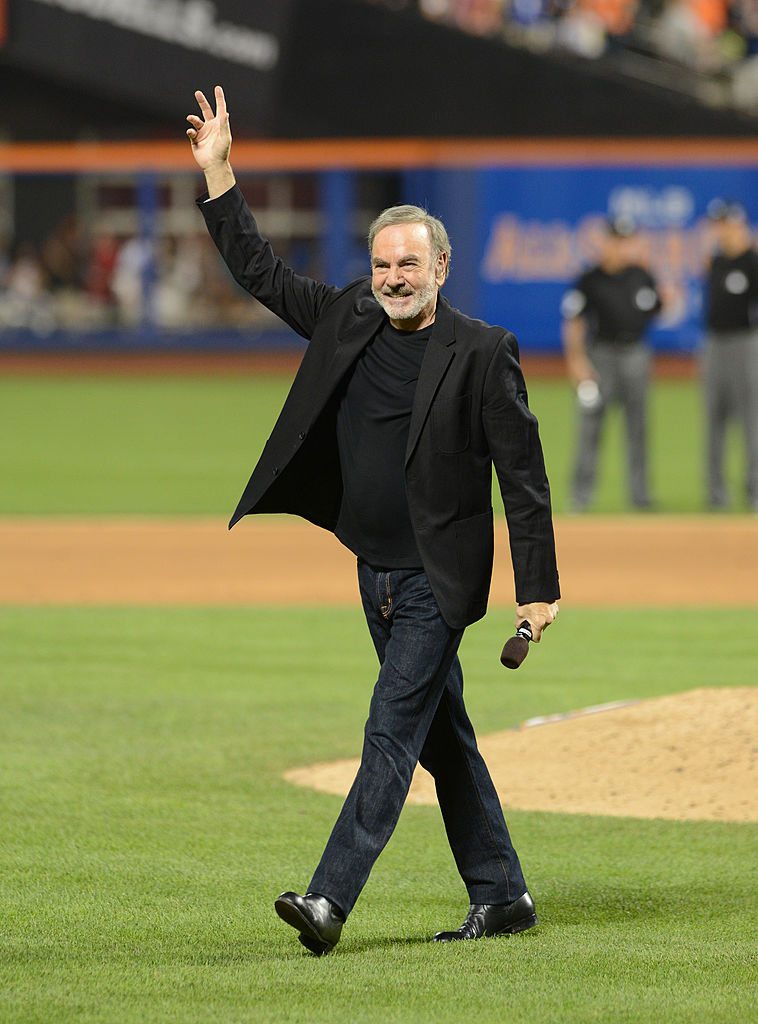 The most circulated story on the beloved song guesses that it's about the late President John F. Kennedy's daughter, Caroline, who was 12 years old when the song was released in 1969. Diamond explained to the Today Show in 2014 that he actually wrote it about his former wife, Marsha.
"I was writing a song in Memphis, Tennessee, for a session. I needed a three-syllable name. The song was about my wife at the time — her name was Marsha — and I couldn't get a 'Marsha' rhyme."