'Single's Inferno': Meet the Main Cast of the Korean Reality Show, Instagram, Age, Job, and More
A key rule of 'Single's Inferno' is keeping the professions and ages of the contestants a secret. But the main casts' Instagrams and media reveal details about them.
Netflix's first Korean dating reality show, Single's Inferno, has fans hooked on knowing more about its main cast and participants. Single's Inferno has nine participants travel to a remote island called "Inferno" to possibly find love.
Single's Inferno contestants know nothing about each other's careers, ages, and certain details about their personal lives. Here is everything to know about the contestants from their Instagrams and their professions.
[Spoiler alert: This article contains spoilers for Single's Inferno.]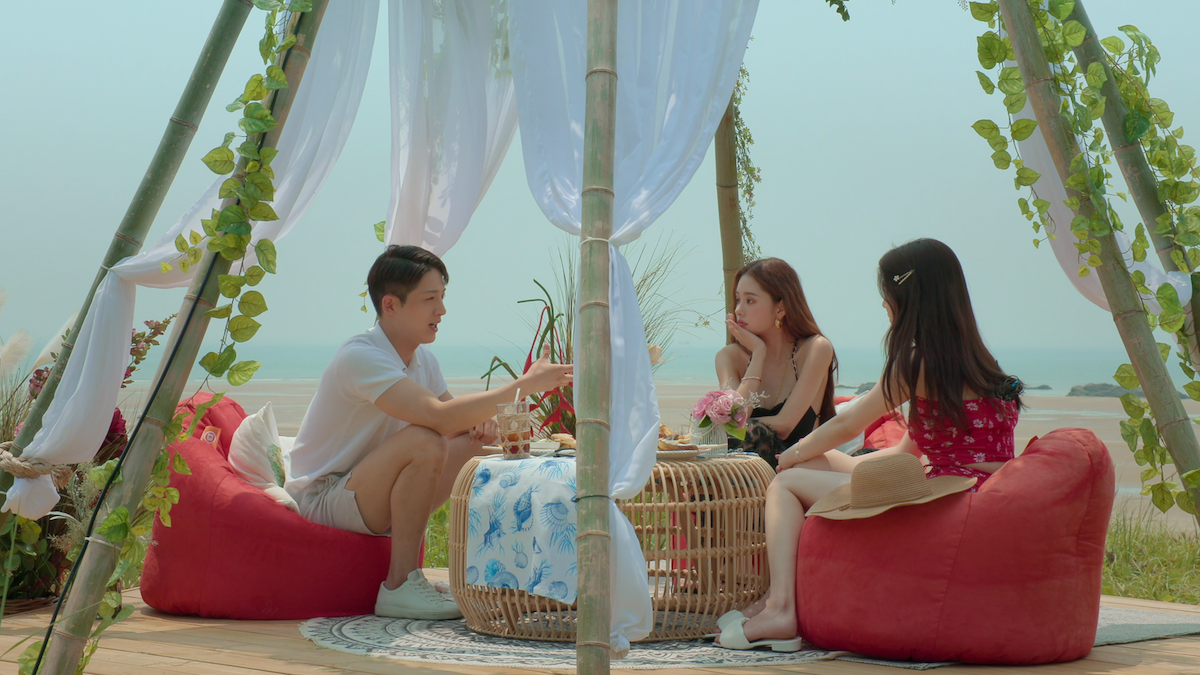 Kim Jun-sik is the CEO of a health company
Part of the main cast of Single's Inferno is male contestant Kim Jun-sik. In his intro bio, Kim revealed he often cooks for his friends. His Instagram, @juncore_, reveals he is the CEO of a food company called KAMEE.
Much like the other contestants, Kim's Instagram is full of body profile photoshoots and showing off his time in the gym. His posts might have also revealed his birthday is in October and is 28-years-old.
An Yea-won is a personal trainer and fitness enthusiast
One of the female contestants is A Yea-won. She caught the other participants' attention when arriving in a red dress. In her bio interviews, she calls herself clumsy but in a cute way and prides herself on her physical appearance. Fans can follow her Instagram handle @yeah.w__.
Her Instagram features An modeling and body profile photoshoots. Her bio claims she works in Health and Beauty. The reality show reveals she is a personal trainer and Pilates instructor. An is also a Youtuber. She is 27-years-old.
Choi Si-hun is known for looking like an idol on 'Single's Inferno'
Contestant Choi Si-hun gained favorable attention on Single's Inferno for his kind smile and K-Pop idol visuals. Choi's hobbies include going to the gym and boxing. The reality show reveals he is 30-years-old.
Choi has a verified Instagram account with the handle @choi_hun2. The Single's Inferno cast member is a model and owner of his own fashion brand. In the first episode, the female contestants felt Choi looked like K-drama actor Lee Jong-suk.
Shin Ji-yeon caught the other main casts' attention in 'Single's Inferno'
Shin Ji-yeon was one of the first female contestants to be introduced in the reality show. Fans do know she prefers the color pink and dislikes seafood.
She is 25-years-old and studies neuroscience at the University of Toronto. Fans can follow the contestant with her Instagram handle @jiiiyeonie_. Her Instagram does not give much information about her profession or personal life.
Moon Se-hoo is a mysterious enigma in 'Single's Inferno'
Among the Single's Inferno cast, Moon Se-ho is another participant fans do not know a lot about. Moon boasts that he is good at doing household chores like cleaning and laundry. Like the other contestants, Moon is very active and enjoys working out.
His Instagram handle is @moonofsh. As Moon finally got to leave Inferno to the luxurious Paradise with Shin Ji-yeon, fans finally know more about him. The Single's Inferno contestant is 27-years-old and runs a culinary business. He has been running a restaurant in Gangnam. While he has run the restaurant for four years, Moon has been in the culinary field for six or seven years.
His profession explains why he took the initiative in cooking the other contestants' meals while on the island.
Oh Jin-taek surprised the main cast with his looks
Single's Inferno cast member Oh Jin-taek surprised the other contestants with his clean-cut suit, facial stubble, and overall appearance. Many believed he could be a model, but his profession was revealed in episode 2 during the getaway to Paradise.
Oh is 30-years-old and is the CEO of a custom tailor shop. His shop's name is Ascottage Shop and its Instagram handle is @ascottage_shop. On the reality show, he revealed he has been running the shop for eight years. Oh also studied business management in college. Fans can follow him on Instagram @timelessbruno.
Kim Hyeon-joong is a professional trainer and model
The first contestant introduced in Single's Inferno was Kim Hyeon-joong. He introduced himself as someone who loves to work out and thinks his biggest charm is his dimple. His profession and age were revealed in episode 2. Kim is 28-years-old and has been a personal trainer for five years.
Kim also models for sports and fashion brands. According to his Instagram, @__1126.1, he is the CEO and owner of Mood Gym. His Instagram posts also suggest his birthday is in November. Single's Inferno also revealed he is an atheist.
Song Ji-a gained the most favors among the cast of 'Single's Inferno'
Song Ji-a introduction into the Korean reality show had every contestant staring in awe. She has been praised for her visuals and was revealed to be a beauty content creator and Youtuber. Song is 25-years-old and majored in Korean traditional dance at Hanyang University. She is also originally from Busan.
In the show, she is also revealed to be an atheist. An aspect she finds most attractive in her partner is bulging arm veins and tall stature. Her Instagram is @dear.zia.
Kang So-yeon owns her own boxing gym
Single's Inferno contestant Kang So-yeon is likely the oldest among the female participants. Kang is 34-years-old. She is the owner of a boxing gym called HitFit and a boxing judge. She also revealed on the show that her younger sister is a pro boxer.
Kang is the most athletic out of the female contestants and enjoys free diving, jiujitsu, and other sports. Fans can follow her Instagram handle @kangsoyeon__. She also works on an athleisure wear brand called GoodRround and has a Youtube channel.
Cha Hyun-seung is a popular backup dancer for K-pop idols and groups
Single's Inferno got even hotter as the Korean dating reality series introduced a new male contestant. K-pop fans could easily spot newcomer Cha Hyun-seung from his looks and tattoos. Cha gained notoriety as a dancer for Stray Kids, EXO, Girl's Generation, and other K-pop groups. He is also a main dancer for solo artist Sunmi. After performing with Sunmi at a rain festival, he became popular on social media.
Cha was born in May and is 31-years-old. His official Instagram, @502bright, gives fans backstage access to his dance practices, group photos with K-pop idols, and his career as a model. He also gives fans tidbits into his daily life on his Youtube channel.
The island gets more interesting as Cha is good friends with contestant Kim and knows Song.
Seong Min-ji is attracted to a perfect nose on a man
Not much is known about the new guy cast on Single's Inferno, Seong Min-ji. She explains in her bio interview that many believe she is cold and unapproachable. In reality, she is kind and sweet once people get to know her. Seong admits she is attracted to a cute nose on a man.
When looking for a partner, she wants someone with whom she can share her hobbies. While on a boat ride with Moon, she admitted she is an avid video gamer and enjoys hip-hop music. Fans can follow her on Instagram at her handle @im_min.vely. She tags herself as being involved in art in her social media profile.
Some of her posts include her modeling for makeup brands and perfumes. She revealed to the contestants that she is a freelance model and works with beauty brands. Seong seems to enjoy a luxurious lifestyle wearing designer brands and traveling. She revealed her age during the finale and is 24-years-old.
Kim Su-min wants a man who is true to his feelings
The first newcomer to the Korean dating reality series is Kim Su-min. She explains she is quite popular with men but values her self-confidence. Her ideal man will have thick double eyelids and be open about his emotions and feelings.
Her boat date with Kim did not reveal too much about her. Kim's Instagram, @sumesume, reveals only a small portion of the contestant's life. Along with cute selfies and photos, Kim has also posted her acting work in different campaigns like the Korean coffee brand Angel in Us.
Kim won the opportunity to leave Inferno before the finale and picked Choi. Fans learn she is 24-years-old. She is indeed a professional model and a majority of her work is for advertisement and beauty products.