'Single's Inferno' Season 2: Nadine Calls out the Series's Distorted Editing 'in Order to Advance Particular Plotlines'
It seems that Netflix's Single's Inferno Season 2 has also been scrutinized due to its editing. Fans may remember that during the first season, Moon-hee and Hyeon-joong spoke out against how the series portrayed them because of how they edited certain scenes. Single's Inferno Season 2 contestants Lee Nadine also chastises the series for cutting out scenes and conversations that changed the outlook of her time on the series.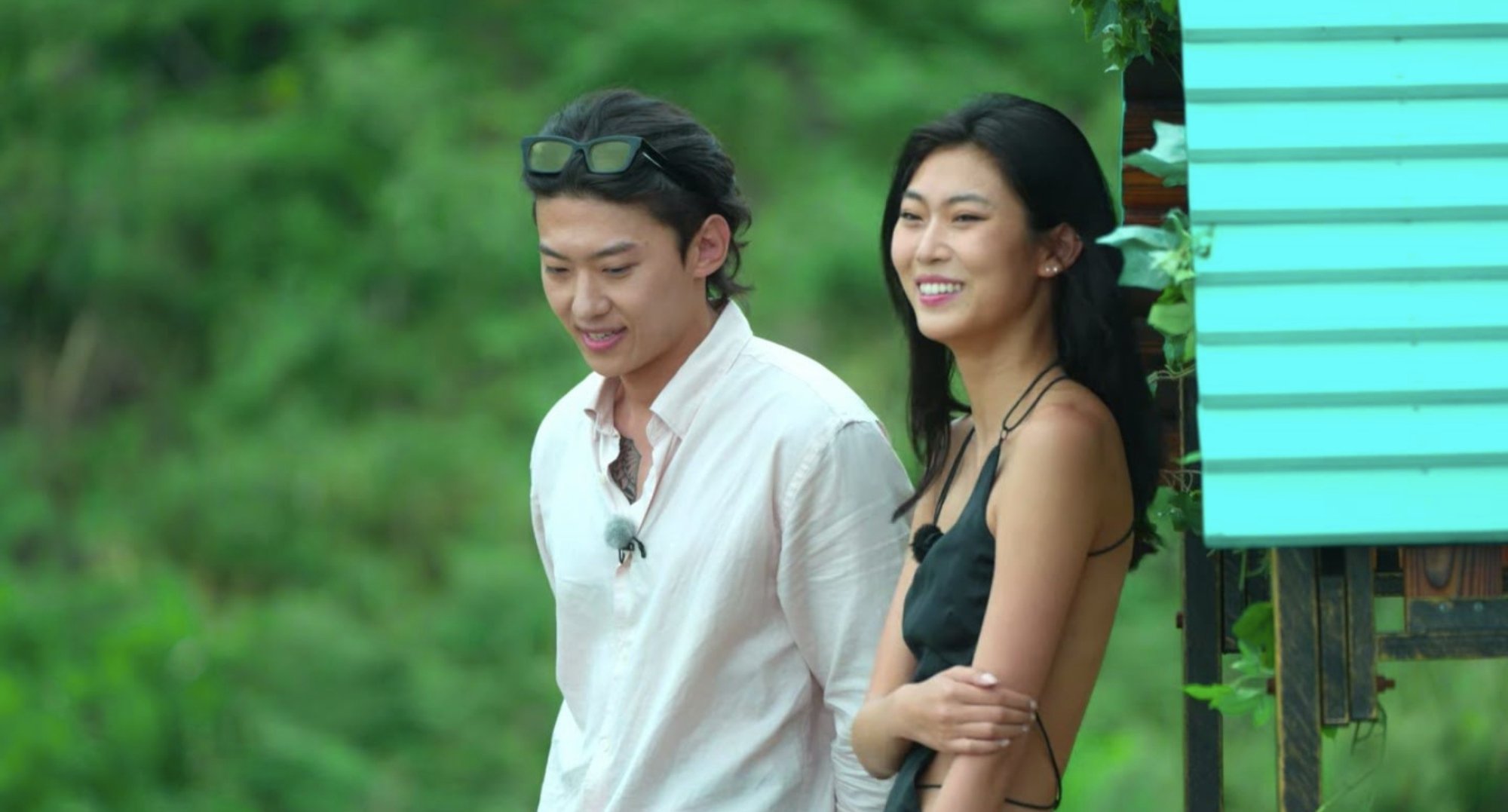 Nadine was seen as having an interest in only two people on 'Single's Inferno' Season 2
Fans soon fell in love with Nadine's somewhat shy demeanor and credentials as a Harvard pre-med student. In the series, she showed an interest in Dong-woo. He tried to make her feel comfortable and spoke to her in English.
Fans were hoping they were a perfect match when they went on their date to Paradise. Dong-woo is also in the medical field as a plastic surgeon. But fans were dismayed when it became clear that Dong-woo drew the line with Nadine on Single's Inferno Season 2. After learning she was a pre-med student, it swayed his outlook on a possible relationship.
The once hopeful relationship sizzled away, and Nadine began to develop feelings for Jin-young. Based on the series, they also seemed smitten with one another and had inherent chemistry. Jin-young often implied that besides Seul-ki, he, too, had an interest in Nadine. The series emphasizes the drama between the three and Jong-woo.
The final couples were as expected by the Single's Inferno Season 2 finale. But Nadine reveals the series's editing cut out her close relationship with other male contestants. Also, how her date with Dong-woo in Paradise really went.
Nadine explained the editing for 'Single's Inferno' Season 2 cut out her relationship with other male contestants
In an interview with Elle Indonesia, Nadine discussed how the series warped certain details about her time on the island and in Paradise. Many fans felt her date with Dong-woo became awkward and stiff after he implied that she should approach other people. But in reality, Nadine explains the series was edited to make it seem that way.
"The reality of our date was very different from what was depicted on television. Overall, it was enjoyable and lighthearted, and I had a great time. Throughout the entire date, we engaged in both serious and amusing conversations," said Nadine.
Fans may notice that in the background shots, Nadine is often joking and playing around with Han-bin and Jong-woo. According to Nadine, in Single's Inferno Season 2, "conversations I had with the other cast members had to be left out in order to advance particular plotlines." Nadine explains she had especially become close to Jong-woo. A key reason is because of how secure he was in his feelings for Seul-ki in Single's Inferno Season 2.
"The key reason for my friendship with Jong Woo was my admiration for his sincerity and commitment. I felt a little envious since I wanted to have his experience. Because of this and the many conversations we had, I ended up turning into his cheerleader and wing woman," explained Nadine. But Nadine also explains how the editing of Single's Inferno Season 2 added drama to her romantic plotlines.
Editing for the dating series added tension during the series finale
There is no denying that one of the main love triangles of the dating series was Seul-ki with Jong-woo and Jin-young and Jin-young with Seul-ki and Nadine. But Nadine explains the editing for Single's Inferno Season 2 did not truly showcase her true persona when dating.
"According to the show's plot, it appeared that I was madly in love with certain cast members, but in reality, I tend to be much more reserved and distant around people I'm interested in," explained Nadine. "I don't frequently initiate relationships or interactions, as I indicated on the show, so I wish that this authentic aspect of me could have been more revealed."
She also felt that cut-out scenes could have given more context to the relationships she developed. Above all, cut-out scenes would have changed how Nadine handled the finale with Jin-young. Fans were shocked when Jin-young went to stand by Nadine during the Single's Inferno Season 2 finale. In reality, it played out differently than on-screen.
"I think it was omitted from the show, but as soon as Jin Young came to stand next to me, I jokingly questioned him, 'Why are you here? Why don't you go up to Seulki?'  That was a comical moment, in my opinion, that was cut out but perfectly captured my feelings at the time," said Nadine.