'Sister Wives' Meri Brown Might Have A New Man In Her Life
Since Sister Wives debuted on TLC in 2010, fans of the series have gotten to known the Browns, a polygamist family with four wives, Meri, Janelle, Christine, and Robyn and husband/patriarch Kody. Through the past several years, fans have watched the family grapple with a ton of conflicts, including being run out of Utah, getting expelled from their church, and the jealousies that have come up amongst the four wives.
However, no one has been more impacted or transformed over the years than Meri Brown, Kody's first wife. Meri has been married to Kody since 1990, and now, nearly 30 years and three additional wives later, things haven't turned out exactly how she expected.  From a divorce to a shocking revelation, and an emotional affair, Meri has been through the ringer.
Now it seems that the businesswoman is living her best life, and she might even have a new man to show for it. You won't believe how different he reportedly is from Kody (page 7).
The end of an era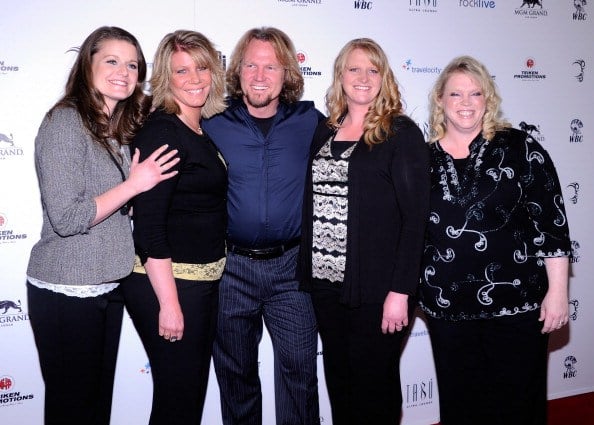 Meri was devastated by her divorce from Kody
In 2014, the Browns shocked everyone when they announced that Kody and Meri would be divorcing so that Kody could legally marry his fourth wife, Robyn, and adopt her children from a previous relationship. The Browns issued a statement to Entertainment Tonight saying, "We have chosen to legally restructure our family. We made this decision together as a family. We are grateful to our family, friends, and fans for all their love and support."
Though Meri tried to take it all in stride because she is still spiritually married to Kody, it took a terrible toll on her. During a Sister Wives special she revealed, "It's the end of something that we had had, in a way, for 24 and a half years. But at the same time, I know I have eternity with the family. I know it's not the end."
Next: Issues in Meri and Kody's relationship
A strained marriage
Meri confessed to feeling alone in her marriage to Kody
Meri and Kody's legal divorce did nothing to help their already fractured relationship. The pair married when they were extremely young and they have one child together, an adult daughter named Mariah. Therefore, with all the new wives, lifestyles changes, and children that have come over the years, they barely recognize their relationship.
During an episode of Sister Wives, Meri spoke candidly to Kody about her true feelings. She said, "Kody, I just feel like I've spent a lot of years not knowing where we were. You know both of us have been avoiding any sort of anything with our relationship. I feel like I'm just doing my life by myself. That's not what I signed up for. I just feel lonely. I'm just alone, so much at the time."
Next: All about Mariah
Focusing on her daughter
Meri is very proud of her daughter's strength
As Kody has given more and more of his attention to his other wives and children, Meri has focused on building a stronger relationship with her daughter Mariah. Mariah came out as a lesbian to all five of her parents in 2017, and thought it was a bit rough at first; Meri has embraced her daughter exactly as she is.
During an interview with People, Meri spoke about her bond with Mariah. She said, "I just always expected that she would grow up, meet a guy, get married, have kids. I'm so proud of [Mariah] for having the strength."
Meri's loving tweets and Instagram posts prove she loves her daughter unconditionally.
Next: Losing herself in a new profession
A new career
Meri has chosen to seek new adventures in her life
To curb her loneliness, Meri set out to find a new career. In 2016, she got a new job selling LuLaRoe products, and she's clearly been loving every minute of it. In an Instagram post when she was first hired, she said, "Training is fabulous. I am blessed and so happy to be on this #LuLaRoe journey with @lularoemaile and so many other fabulous women who only want to bless and build others up."
Since then, Meri has traveled extensively with the ladies of LuLaRoe and almost exclusively wears their clothing on her social media accounts.
Next: Trying out her entrepreneurial skills 
Building her own business
Meri's latest project has been a labor of love
In addition to selling LuLaRoe products, Meri has also been busy with an even bigger venture. In December 2017, she opened Lizzie's Heritage Inn, a bed and breakfast located in Parowan, Utah. This project was especially personal to the reality star since her great-great-grandparents built it in 1870.
In an Instagram post, Meri said of the B&B, "It has been a long time dream of mine to get the home back into the family and after a lot of work, and when I say a lot, a mean a LOT, it is back in my family where it belongs!"
Next: The catfish scandal
Looking for love
An illicit relationship born out of loneliness
Though she's focused on her daughter and her career, Meri has also looked for love. In 2015, it was revealed that she'd been carrying out an online emotional affair. Unfortunately, though Meri thought she had been talking to a man, she was being catfished by a woman.
During a one-hour special, Catching the Catfisher, Meri spoke about the relationship. She said, "It sounded like a guy with a southern accent. We laughed a lot. It was easy to connect with him, just because there was so much in common…. He was very, very flirty with me. And … I am a little bit flirty too."
When she realized she was being catfished, Meri struggled with her choice to tell her family. She explained to People, "I didn't know how to get out of the situation without putting myself, family, and friends at greater risk. It was a very difficult time. I had a lot of anxiety."
Next: New love in Utah
Finding love again
Building a new life in Utah
Though the catfishing scandal is now the past, that doesn't mean Meri has reconnected with Kody. In fact, Life & Style is reporting that she's found a new man in Utah, and she's ready to move on for good while the rest of her family stays in Nevada.
This man treats her like a queen. He's friends with some of Meri's family and they've known each other for several years, but things only became romantic recently.  He's never been married and he isn't interested in polygamy. He also isn't looking for the attention that comes along with dating a beloved reality star. He's not into fame, either. He just loves her a lot. He says he has always felt she wasn't appreciated in her marriage to Kody.
Next: Making an effort in her marriage
A future with Kody
Meri might not have given up on Kody just yet
Despite whispers of a new man, Meri and Kody have a very long history and we're sure, Meri's decision on whether to work on her marriage or start over won't be one she makes lightly. In early 2018 it looked as if she and Kody were trying to reconnect. During the Sister Wives Tell All that aired in March 2018 she said, "I think I want more of a relationship with him than we're having right now."
In April 2018, Kody made a romantic gesture for the couple's anniversary. On Instagram Meri posted, "Kody flew out to Chicago on my last day of #LuLaRoe leadership so we could spend our anniversary together yesterday. How sweet was that?!"
We guess we'll know what Meri decides to do in due time.
Follow Aramide Tinubu on Twitter @midnightrami.
Check out The Cheat Sheet on Facebook!