Slash Said Sitars Sounds Cliché Thanks to George Harrison
Guns N' Roses guitarist, Slash, said sitars sound cliché because of George Harrison, who played the instrument on several Beatles songs.
Guns N' Roses guitarist Slash says George Harrison is one of his influences. It might be hard to imagine that the guitarist who wrote "While My Guitar Gently Weeps" inspired the guitarist who continues to melt faces on hard rock staples like "Paradise City." However, if you listen carefully, you can hear George in Slashes playing.
George might have inspired Slash's guitar playing, but his sitar playing crushed one of Slash's dreams.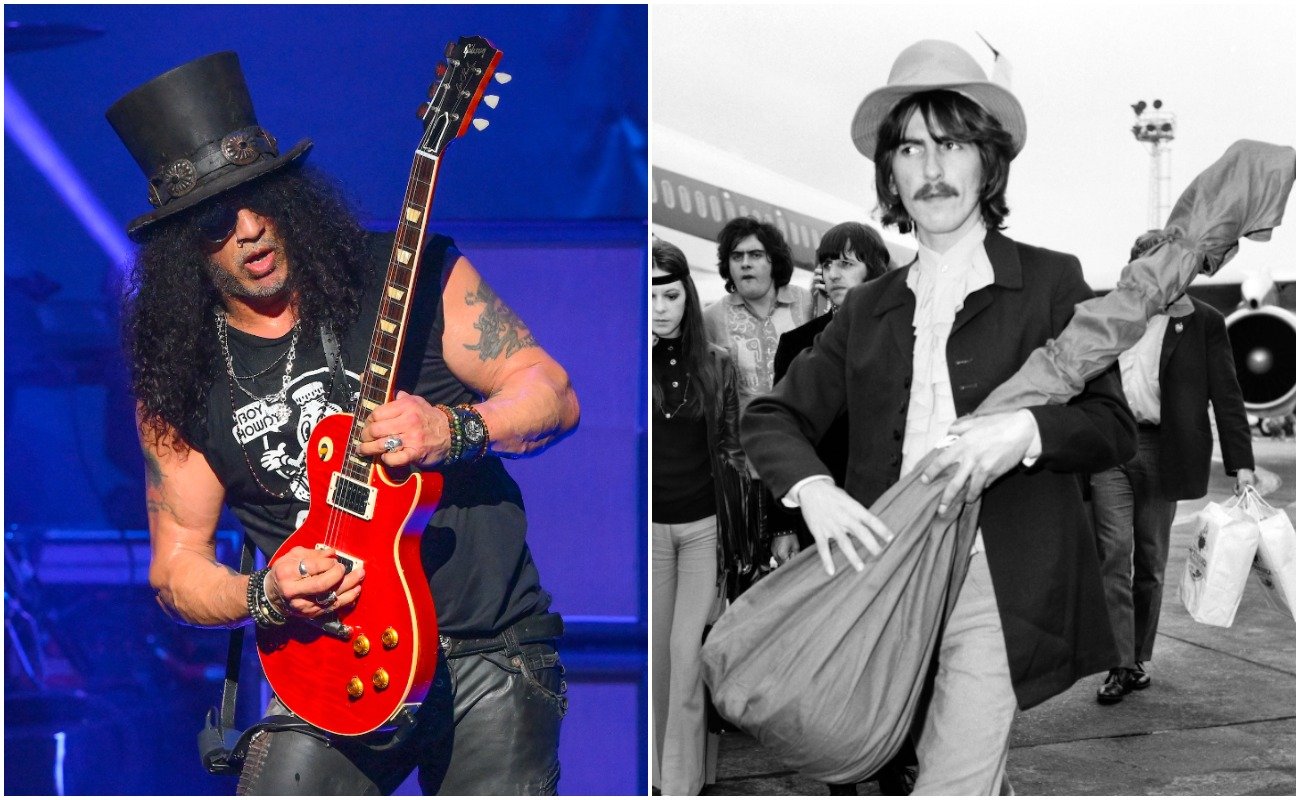 Slash said sitars sound cliche thanks to George Harrison
The "Sweet Child O' Mine" guitarist used a sitar on "Spirit Love," which appeared on his solo album 4. However, Slash contemplated whether to use the instrument due to its connection with George. The Beatles' guitarist used the Indian instrument on many Beatles songs, including "The Inner Light," "Within You Without You," and "Norwegian Wood (This Bird Has Flown)."
George took lessons from one of the most famous sitar players, Ravi Shankar, but even George knew he wasn't the best of players. George was never going to sound like Shankar, so he dropped the instrument. Still, according to Slash, the damage was already done. Slash says George diminished the sitar's sound and made it cliché.
Despite this, Slash wanted to use the sitar in his song.
In an interview with Music Radar, Slash said, "I laughed because, when you said George Harrison, that was the one thing I was trying for it not to sound like! It's true, though! That's what happens whenever you record sitar; it just becomes that cliché.
"I think I got away with it this time. There are other times where it has come up. I have a real double-gourded sitar that I got from India but I can never use it because any time I have ever even attempted to record with it it just sounds so Ravi Shankar."
This didn't tarnish Slash's views of George. He still loved George's guitar playing. The pair also met a couple of times.
Slash met George while recording with Bob Dylan
In 1990, Slash appeared on Bob Dylan's Under the Red Sky. He didn't have the best experience, but it allowed him to meet George, one of Dylan's closest friends.
Slash called the sessions a mistake he learned from. Dylan only spoke to Slash twice. "One was 'Hi,' and the other was 'Play it like Django Reinhardt,'" Slash told Rolling Stone. "The whole thing was just a drag. Nothing against Dylan, because my dad liked him. I mean, I grew up on Bob Dylan; he was the guy my family listened to. And I never disliked him until the last five or six albums.
"I did get to meet George Harrison while I was there, though, and that was great. He was doing some f***ing awesome slide playing."
Slash added to Ultimate Classic Rock that he connected to George more once he got older. "I love George's playing. It's funny, because as a kid, I was always into the guys that you were talking about, Jimmy Page, Jeff Beck, Angus Young and all of that. I grew up obviously with the Beatles and George Harrison's solo stuff, but I never sat down and actually learned any of Harrison's stuff.
"It's funny, because I listen to him now that I'm a little bit older and I really identify with all of his guitar playing — like over the last 20 years. I really started to identify with his guitar playing and there is a lot of it that influences me. Even if it's from a distance where I just hear it — I don't even sit down and try and learn it, I just pick it up by ear."
Slash met The Beatles' guitarist and his son, Dhani, a year later
After Slash briefly met George in the studio with Dylan, he crossed paths with the ex-Beatle and his son, Dhani, a year later. Toto guitarist and the pair's mutual friend, Steve Lukather, organized a meeting between the guitarists as a favor to George. Dhani was a huge Guns N' Roses fan.
In his book, The Gospel According to Luke, Lukather wrote, "There was another time that George called up out of the blue and asked if I knew Slash. I told him that Slash was a good friend of mine. It turned out that George's son, Dhani, was a huge Guns 'N' Roses fan and George wanted to see if I could fix it for him to meet Slash.
"I hung up, called Slash and arranged the meeting. George rolled around to my place with Dhani in this crappy, beat-up old car. I had asked him what's up with the f***ed-up wheels. He smiled in that beatific way of his and said, 'Well, when I'm driving around town people only think I look like George Harrison.'
"Dhani was just thirteen at the time and the sweetest kid. I took the two of them over to Slash's pad, which proved an eye-opening experience for both of the Harrisons. Slash had built into the walls of his home a multitude of Plexiglas terrariums that housed his collection of pythons.
"He also had an alligator, named Wally, in his garage. It was a crazy scene, but Slash legitimately loved all of these animals. We had a fun day. Not normal at all!"
Slash might not have liked what George did to the sitar's sound, but he did admire George's guitar playing. One can only imagine a collaboration between the legends.