'SNL': John Mulaney Said Sir Patrick Stewart Delivered the 'Best Musical Guest Intro' and Salt-N-Pepa Agree (Exclusive)
Hip hop group Salt-N-Pepa had a good laugh about John Mulaney's 'SNL' monologue when he recounted how Sir Patrick Stewart delivered their very enthusiastic introduction.
John Mulaney said Sir Patrick Stewart delivered the best musical guest introduction on Saturday Night Live ever, and the guest – iconic hip hop duo Salt-N-Pepa completely agree.
Stewart hosted SNL in 1994 and enthusiastically announced Salt-N-Pepa. Mulaney recounted Stewart's delivery during his 2018 monologue when he hosted the show. "The best intro, by the way, I ever saw of an SNL host with a musical guest was Sir Patrick Stewart," Mulaney recounted on stage. "And this is how he did it, 'Ladies and Gentlemen, Salt-N-Peppppaah!"
Salt-N-Pepa agree (and so does Kid-N-Play) about the 'SNL' intro
The introduction and Mulaney's recount of the delivery became a signature moment for many SNL, Salt-N-Pepa, and Mulaney fans. So Showbiz Cheat Sheet couldn't resist asking Cheryl James (Salt) and Sandra Denton (Pepa) if they also felt that Stewart's introduction was the best.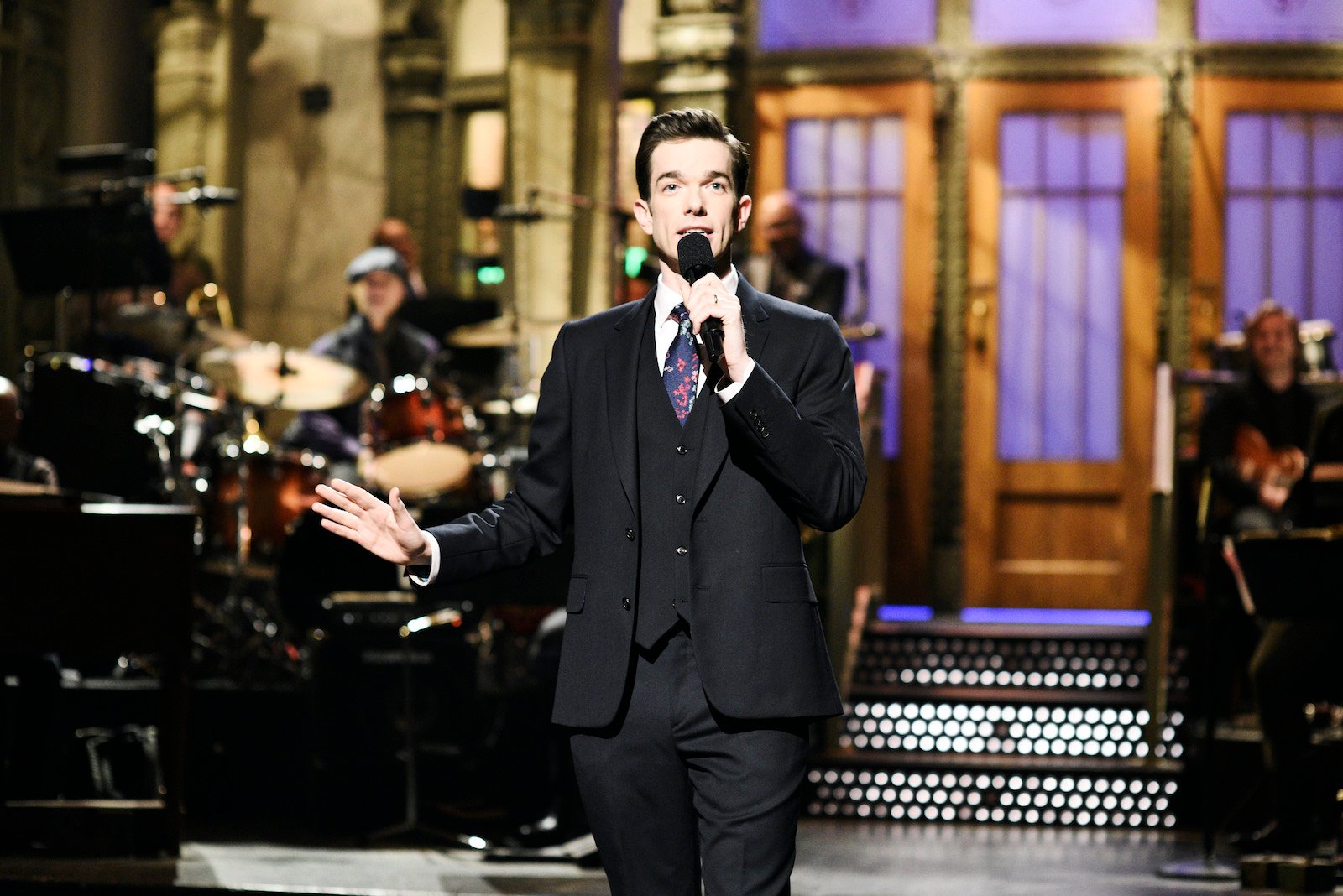 "Salt-N-Pepa!" Denton parroted the moment. "You know what's so crazy is that Kid from Kid 'n Play, he sends me things. He just sent me that again [the introduction] yesterday. I just opened this, like what is this? And it was like Salt-N-Pepa!"
"That intro!" she laughed. "I know …" James grabbed her phone and held up the iconic introduction. "She got it!" Denton pointed out.
John Mulaney created a story around the 'SNL' intro
Mulaney turned the momentary introduction into a storyline. "Like [Stewart] was surprised by Pepa," Mulaney said. "Like minutes before, they were like 'We can't find Pepa anywhere!' And he was like, 'If we must go on with Salt alone, we will go on with Salt alone!'"
"They're like, 'Three, two, one – ' and Pepa bursts through the door!" Mulaney described. "And he's like, 'Ladies and gentlemen, Salt – and what's this? Pepa!' It was the best time. It was an innocent time, you know?"
Salt-N-Pepa is going on tour
James and Denton had a good laugh about the moment and acknowledged they've traveled a magical path. "Yeah, we've had a long career," James reflected. "And we've done so many amazing things." They recently celebrated their second Super Bowl commercial with their hit '90s song "Push It" featured in a Frito-Lay spot.
"They came to us," James said about the advertisers. "We always say, 'Push It' is possessed. It just has a life of its own. It's just out there just doing its own thing, whispering in people's ears in meetings like 'We could 'Push It' [laughs]. This is our second debut in a Super Bowl. In 2014 we filmed a commercial with Geico, and it premiered during the Super Bowl. So we love that the song continues to be celebrated 35 years later. We have a 35 year anniversary coming up in one month."
"We forget sometimes," she continued about the countless impactful moments they have experienced. "I remember when we performed on the yacht for Prince of Dubai? And it's such an amazing time that we've had for years, and it's not over."
"Salt-N-Pepa is also going back on the road. It still feels fresh," she continued. "We still feel like we can do anything you want. We're going on New Kids on the Block The Mixtape Tour for the second time. May 10, the first show starts in Cincinnati. Bring the '90s because it was the best era!"
The lineup is Salt-N-Pepa, New Kids on the Block, Rick Astley and En Vogue. James said the tour will be Salt-N-Pepa's first tour performance with En Vogue. "This is the first time we'll actually tour with them, which is great. More women on the road," she added.
Until they hit the road, fans will get to see John Mulaney host SNL for the fifth time tonight on NBC.