Why 'SNL' Legend Phil Hartman Was 'Very Frustrated' by Paul Reubens and Pee-Wee Herman
Before Saturday Night Live star Phil Hartman made it big in his career, he was in a comedy improv group with actor Paul Reubens where the two became instant friends. But Reubens later revealed Hartman was "very frustrated" by his relationship with his claim to iconic fame, Pee-wee Herman. Why did Hartman think Reubens was "squandering" his talent playing Pee-wee?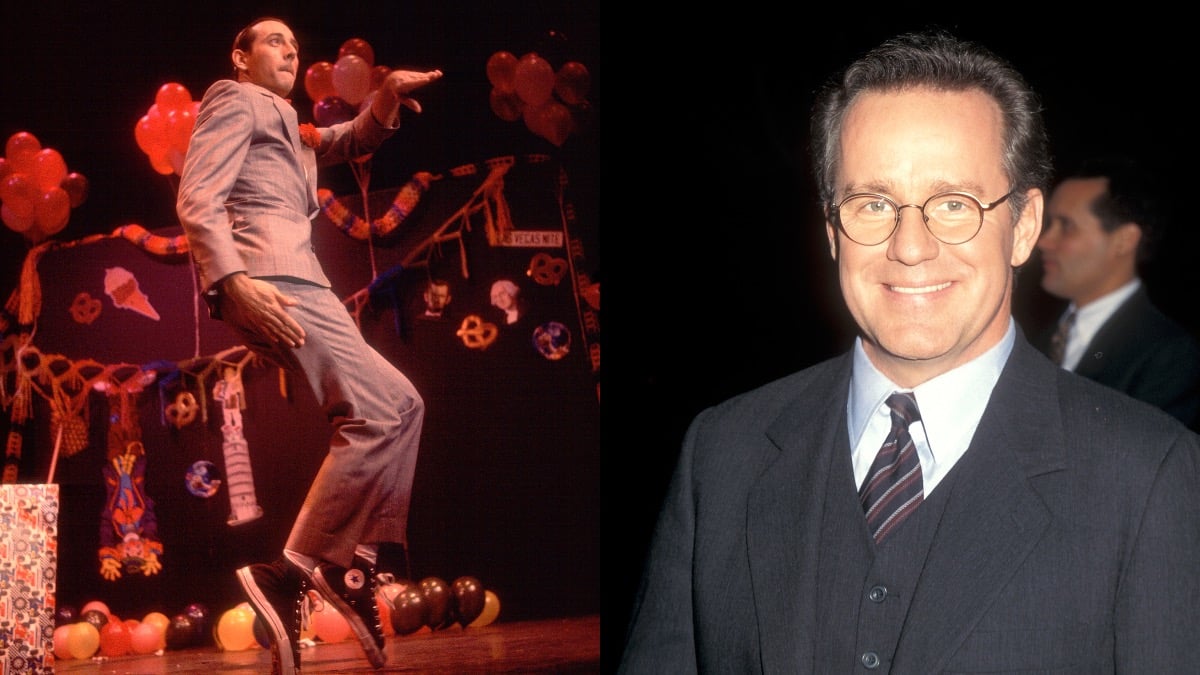 Phil Hartman 'always loved' the Pee-Wee Herman character
To be clear, Hartman "always loved" Pee-wee, Reubens told Westword in 2016. The SNL standout "became friends instantly" with Reubens after meeting in a comedy improv group called the Groundlings. At that point, Hartman was unsure of what direction his career was going.
"Phil split his time between being a graphic designer and being an actor," Reubens shared. "He wasn't really sure what to pursue, so he was doing both."
Eventually, Reubens hired Hartman to help co-write Pee-Wee's Big Adventure. "We didn't really know what we were doing at that point. We'd both written stuff … but it was mostly just improvising," he confessed. "Sitting down and consciously writing something is very different than improvising."
Since it was their first time, they literally wrote the movie by the book. Reubens said, "I bought the Syd Field book on writing screenplays, and me, Phil and a guy named Mike Varhol did exactly what was said in that book."
He and Hartman collaborated for years, and Hartman appeared on the Pee-Wee's Playhouse series. Reubens even introduced Hartman to SNL honcho Lorne Michaels.
"I brought Phil and [fellow longtime collaborator] John Paragon with me to New York when I hosted Saturday Night Live. That was Phil's introduction to Lorne Michaels," Reubens said.
Phil Hartman thought Paul Reubens was 'squandering his talent' by focusing on Pee-Wee
According to Reubens, Hartman thought he should show off his range by playing a multitude of characters. "He always loved Pee-wee Herman, but he used to give me a hard time originally about focusing on this instead of doing all of my other characters," Reubens told Westword.
But he had other things in mind for himself — specifically one other thing. "I liked the idea of becoming Pee-wee, and letting the public think Pee-wee was a real person."
"Phil was very frustrated by that," he added. "He thought I was … uh … squandering my talent."
Pee-wee has inarguably been an enduring fan-favorite character. On the other hand, Hartman earned a prominent name by playing a plethora of hilarious characters as a star of SNL from 1986 to 1994. He also appeared in movies like Coneheads with Dan Aykroyd and Sgt. Bilko with Steve Martin before his tragic death at 49 in 1998.
Paul Reubens thinks about Phil Hartman 'all the time'
Along with Paragon, Reubens said he and Hartman "were going to go out and rule the world" together. But Hartman died in a murder-suicide carried out by his wife.
"That didn't work out very good," Reubens said of their plan before adding, "I think about Phil all the time."
He also took to Pee-wee's Twitter on what would have been Hartman's 70th birthday in 2018 to wish his old friend a happy birthday and "lots of love."