'SNL': Watch Jim Carrey Resurrect Ace Ventura to Troll Donald Trump in Cold Open
Jim Carrey resurrected Ace Ventura in the first 'Saturday Night Live' cold open after the 2020 presidential election. Check out the hilarious sketch here.
Jim Carrey showed exactly why he was cast as Joe Biden during Saturday Night Live's first episode after the 2020 presidential election.
Taking the stage as the victorious President-Elect Biden with Maya Rudolph at his side as the first woman Vice President-elect Kamala Harris, the two gleefully gloated over President Donald Trump's election loss. And in an incredibly satisfying move, Carrey channelled one of his most iconic characters, Ace Ventura, to mock Trump's loss.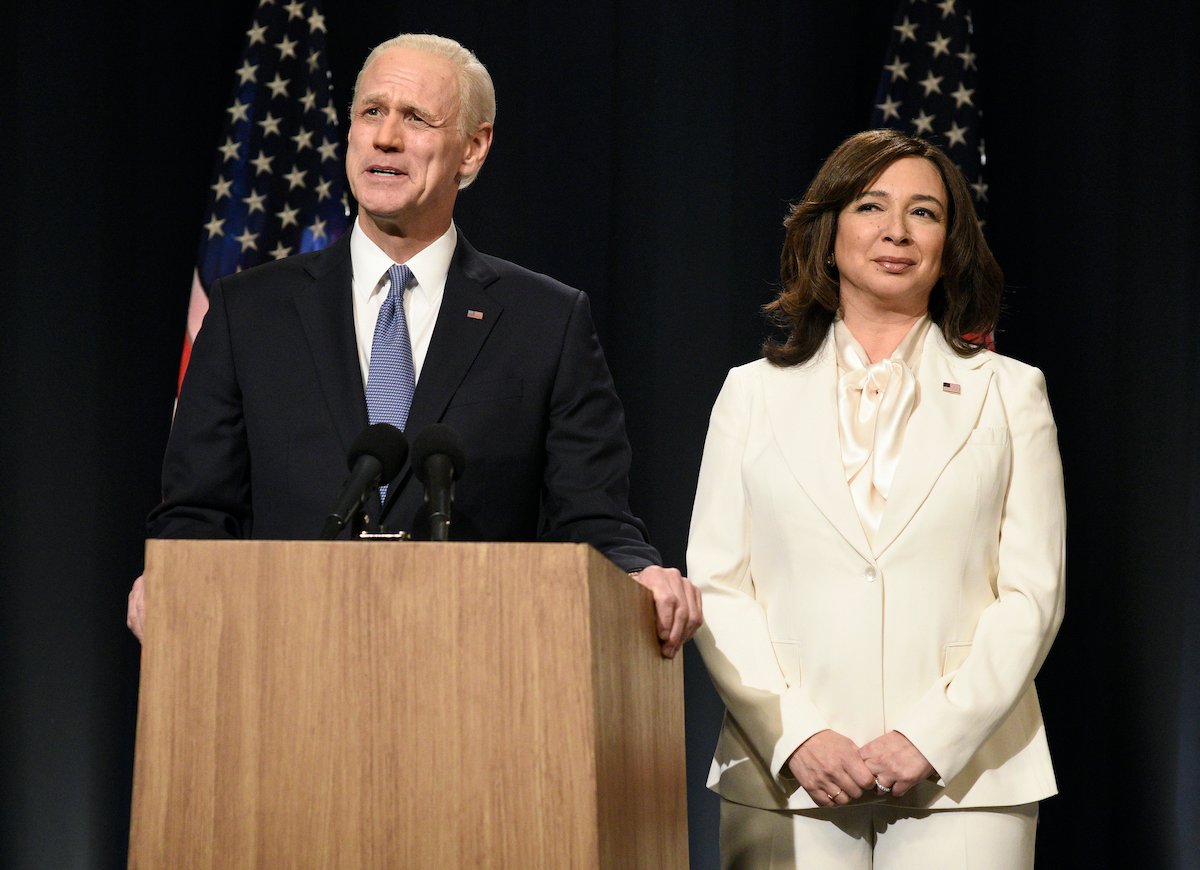 The 'Biden Victory' cold open poked fun at how long it took for the election to be called
The sketch opened with Beck Bennett as CNN's Wolf Blitzer and Alex Moffat as John King, who barely left the CNN stage during election week.
"Welcome back to what has become election week in America," Bennett started off. "I'm Wolf Blitzer, and I've been awake so long that my weird, stubbly beard finally makes sense. I'm joined by John King, who's been operating our touchscreen for the past 85 hours. How are you, John?"
"Oh, I'm great, Wolf. Thanks," Moffat replied. "You know, my fingers are nubs, but I think that's normal."
Then Bennett poked fun at the fact that lots of Americans couldn't take their eyes off their TVs while the election results slowly came in.
"CNN can now project that Joe Biden will be the next President of the United States," he said before adding, "I know I'm supposed to be a neutral news anchor, but goddamnit that feels good!" Then it was time for Biden and Harris.
RELATED: 'SNL': Some Viewers Want Woody Harrelson To Replace Jim Carrey as Joe Biden
Jim Carrey and Maya Rudolph recreated one of the best election memes in 'Biden Victory' cold open
Carrey strolled onto the stage, finger guns blazing, and said, "Thank you very much, America. We did it! Can you believe it? I honestly kind of can't. It's been so long since something good happened."
When he welcomed Rudolph onto the stage, the Bridesmaids alum reveled in the glory of Harris' historic win, joking that moms everywhere would be spending the night laughing, dancing, and crying because they're drunk.
"Like Joe, I am humbled and honored to be the first female, the first Black, the first Indian American, and the first biracial Vice President," she said. "And if any of that terrifies you, well I don't give a funt."
When Carrey came back in, he said they had no intentions to gloat over their win.
"Well, maybe…" Rudolph joked back.
"We're not rubbing our victory in everybody's face," Carrey said.
"But, like, just a tiny bit," Rudolph quipped.
"We're humbly accepting this victory," Carrey assured. Of course, that's absolutely not what they were going to do.
"Exactly," Rudolph said before pulling out her phone and saying, "I'm just gonna play a quick song on my phone." Then she and the MAD TV alum danced to the "You about to lose your job" remix so many people on the internet have been sharing in the aftermath of Trump's loss. The two danced in celebration before Alec Baldwin came in to give a "concession" speech, which the actual Trump has yet to do.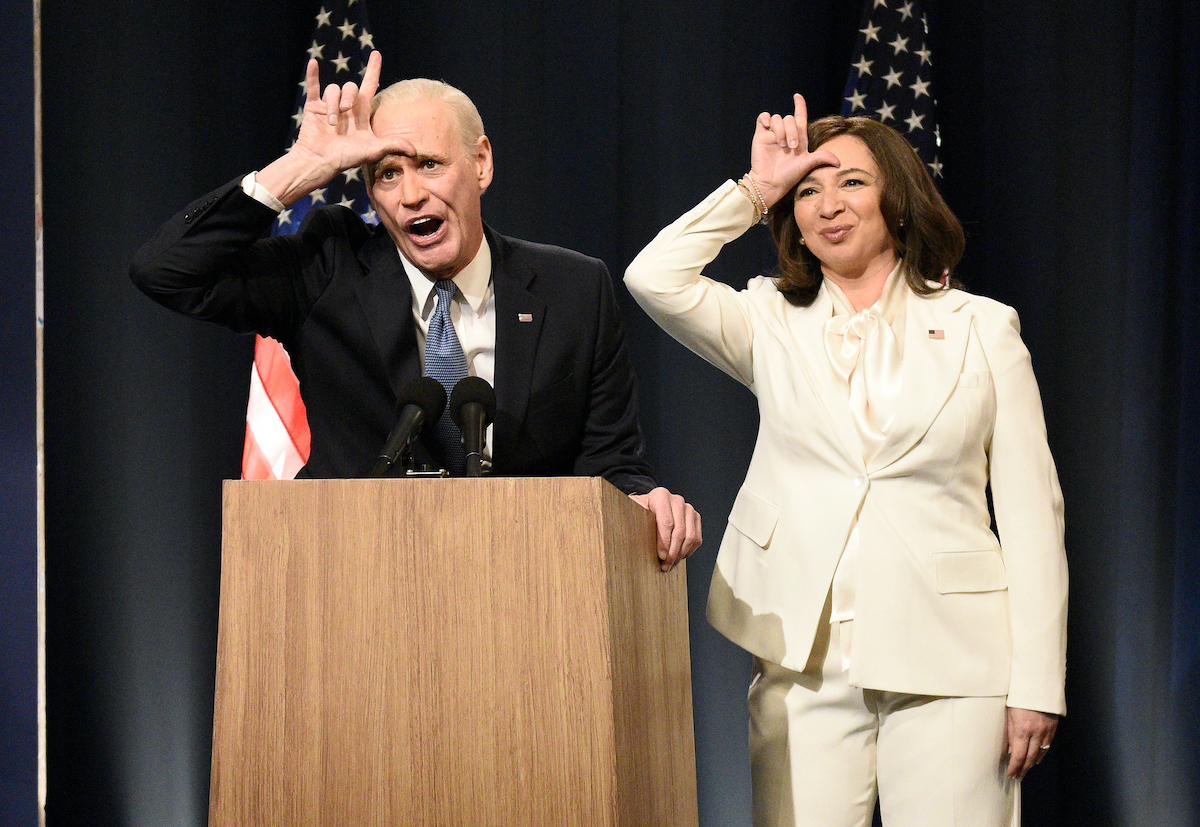 Jim Carrey quoted a famous line from 'Ace Ventura' in the 'Biden Victory' cold open on 'SNL'
Then Bennett chimed in saying, "Hold that dance for just a moment, because people don't just want to see Joe and Kamala happy, they also want to see Trump sad."
The sketch then cut to Baldwin, who gave a "victory" speech before performing a hilariously pitiful rendition of "Macho Man" at a piano. Following that sad song, Carrey and Rudolph returned to get one last dig in before closing out the sketch.
"Well, unlike President Trump, we do accept the results of this election," Rudolph said.
"We're not mad at them," Carrey added. "We have to act graciously in victory, though. We need to go forward together." And then came the moment everyone was waiting for.
"Unfortunately, there are situations in life, and this is one of them, where there must a winner and a loser," Carrey said, employing his Ace Ventura voice.
"La-hoo-sa-her!" he gleefully added.
It truly feels like SNL cast Carrey as the former Vice President for the sole purpose of being able to recreate this Ace Ventura scene in the event of a Biden victory. And boy, was it satisfying.