Snoop Dogg Called Out by Instagram Model Over Alleged Affair
Snoop Dogg may be known for his bad-boy raps, but he seems to be a true romantic. For over two decades, he has been in a relationship with his high school sweetheart, Shante Broadus. Snoop Dogg married Broadus in 1997, and they are parents to three children.
While their relationship has remained strong, it hasn't always been smooth sailing for the couple. Rumors of infidelity have plagued their union for years — and as recently as May 3 when Instagram model Celina Powell claimed she had allegedly had an affair with the "Gin & Juice" rapper.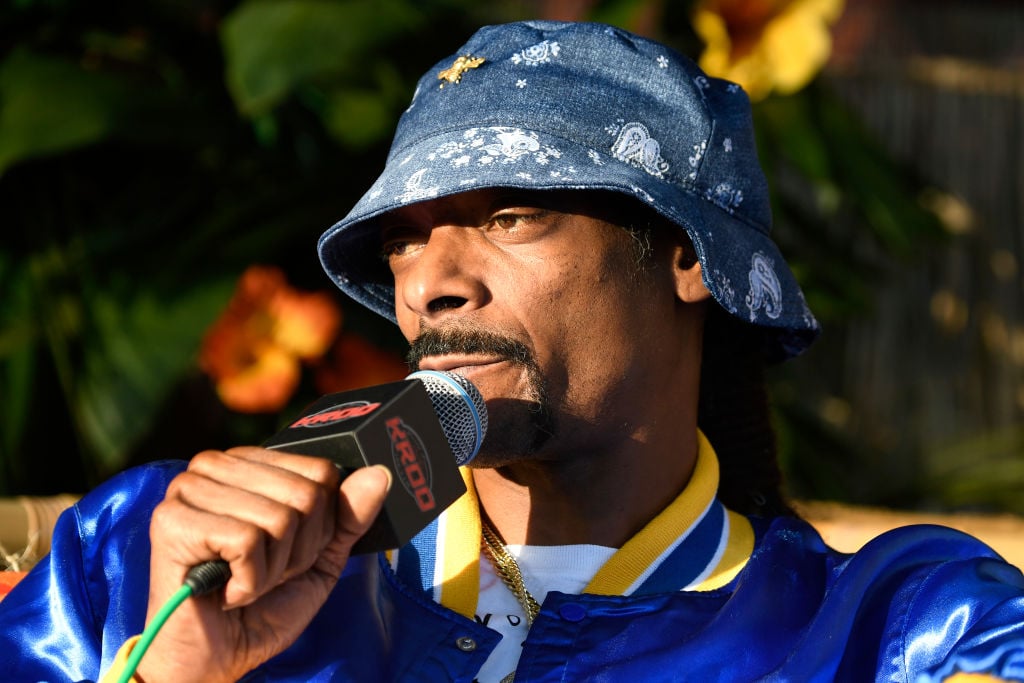 Celina Powell's comments on Snoop Dogg
All of this began when Wild 'N Out star Hitman Holla was seemingly exposed on Instagram for cheating on his longtime girlfriend. (It was later revealed to be a prank.) A model who goes by the name Kai Bleu shared photos of her and Hitman Holla in what appears to be a hotel bathroom, prompting a comment from Snoop Dogg.
In remarks captured by the entertainment blog The Shade Room, he wrote: "That's a cheap shower curtain. What hotel is that[?] I mean motel."
"The same one you took me to," said Powell, who has claimed affairs with a string of celebrities, including 6ix9ine, Offset, Fabolous, and Waka Flocka Flame.
Celina Powell previously alleged an affair with Snoop Dogg
Powell claimed in an old YouTube video that she had allegedly hooked up with Snoop Dogg a couple of times in 2018. She talked about how he allegedly once "flew her out" and gave "details [about an] alleged drug-fueled sexual encounter," per Capital Xtra.
Seemingly responding to the claims, Broadus posted an Instagram message about being disappointed with someone.
"U ever watch somebody u love turn into somebody u dont know [sad face] [broken heart]," read the post. Broadus captioned the image, "Where Did We Go Wrong[?]"
For his part, Snoop Dogg has barely said anything on the matter aside from seemingly calling Powell a "clout chaser." He has yet to address her latest claims. However, he did post a tribute to Broadus on Instagram amid the drama.
"@bosslady_ent. Thanks 4 the Kids loyalty stability n the ability to deal wit me on my worst days," he captioned a photo of them. "u are appreciated."
Snoop Dogg's relationship with Shante Broadus has had ups and downs
This latest drama is just one of many bumps in the road for Snoop and his wife. In 2004, Snoop Dogg even filed for divorce, citing irreconcilable differences. Speaking to MTV about what led to his decision, the rapper said he had lost focus and had gotten caught up in the temptations of the music industry.
"I was trying to get a divorce, but I went back home and I fell back in love with my wife and kids," he said (via Heavy). "A lot of times you get cloudy. This music industry is a mother, man, and it'll take your vision and blur it. But God is good, so I understand that I need my wife and my kids in my life — so I threw the papers away. I don't want to get a divorce. So if you hear about a divorce, it'll be my wife divorcing me. It won't be me divorcing her."
The couple reaffirmed their love for one another in 2008 when they renewed their vows at a ranch in the Los Angeles area.