'Snowfall' Star Reveals the Real Reason He Left the Show
He wasn't the biggest character on the show, but Snowfall fans should remember the character Lurp. Played by Kwame Patterson, Lurp was a veteran of the Vietnam war who became Franklin Saint's personal bodyguard. But he only lasted a few episodes, as the character was written off following Patterson's decision to leave the TV show. Here's what happened — from the actor himself.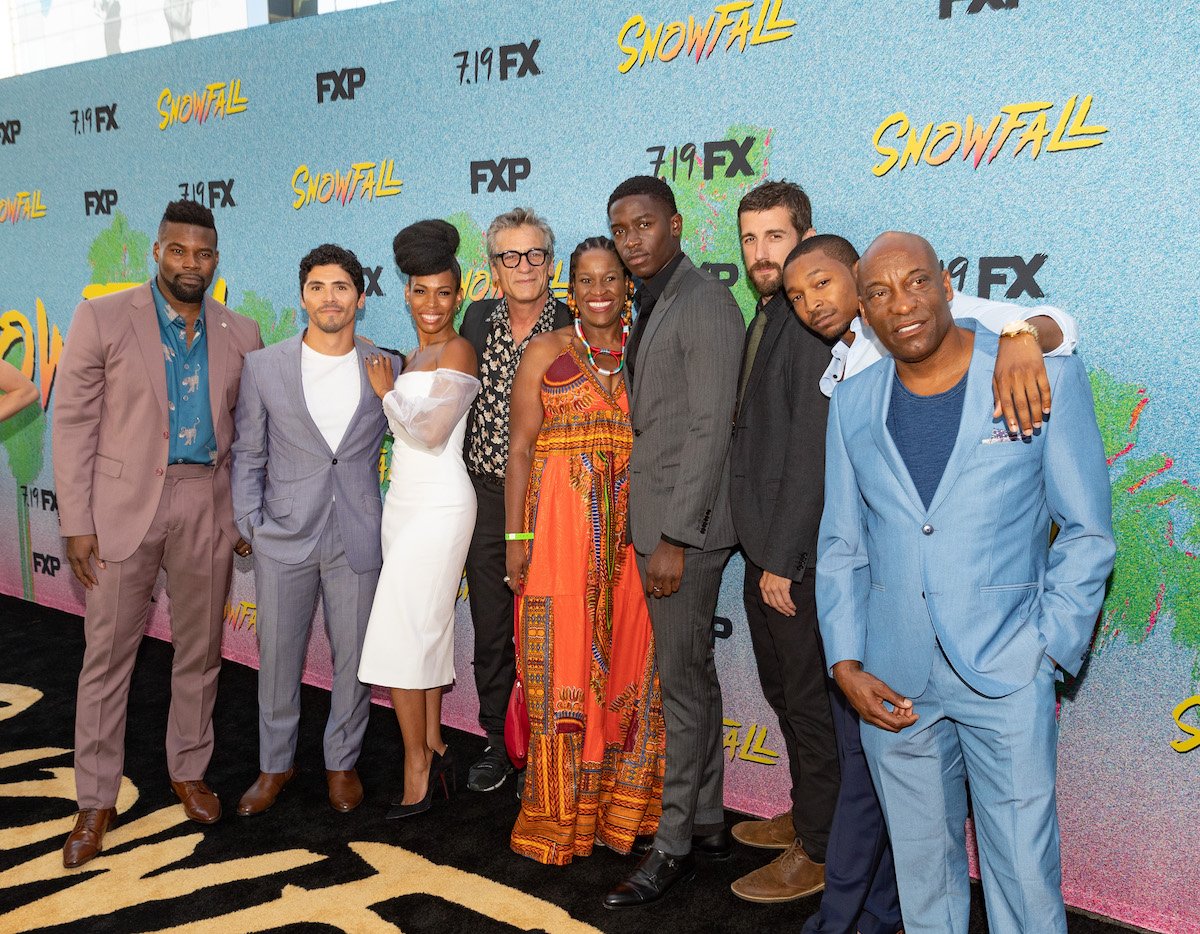 What happened to Lurp on 'Snowfall?'
Introduced at the beginning of Snowfall Season 4, Lurp was a trusted member of The Family. But as the crime and violence worsened, he began to question his role within the organization. In the fourth episode, he finally told Franklin he wanted out. The money's nice, but he couldn't handle all that came with it. Franklin figured he could sway him by offering more money, but Lurp stood firm. He's really done.
RELATED: 'Snowfall': The Real-Life Inspiration Behind Franklin's Character
Kwame Patterson on leaving 'Snowfall'
In an interview with TVLine, Patterson said he decided to leave the show due to scheduling conflicts. He explained that he was initially game to do the show, but then the coronavirus (COVID-19) pandemic happened, forcing production to stop after just four episodes.
During that time, he was approached to appear in David Makes Man, which was supposed to start filming around the same time production on Snowfall resumed. Forced to choose between one, Patterson went with David Makes Man.
"For me, it was a no-brainer between David Makes Man and Snowfall," Patterson explained to TVLine. "I've played gangsters and drug dealers on TV all the time. But David Makes Man gave me a chance to step into a role with a different perspective, nuance, and emotion and it has given me a chance to show the world that I could do something different."
After choosing David Makes Man, he communicated his decision to the Snowfall team "so that they already knew ahead of time," he said. "And they rewrote the scene with my character Lurp telling Franklin, 'I can't be in this world anymore.' Then I flew out to Florida and I told them I was taking my talents to South Beach," Patterson added.
Created by Moonlight writer Tarell Alvin McCraney, David Makes Man is an OWN series focusing on a young man from South Florida as he tries to figure out life. It premiered in 2019 to universal acclaim, earning a rare 100% rating on Rotten Tomatoes.
Meanwhile, 'Snowfall' has been renewed for another season
In March, Snowfall was renewed for a fifth season. While there aren't many known details, co-creator Dave Andron has revealed that there will be a time jump.
"We're going to probably, it looks like, jump forward a little bit in time, more than we have maybe in the past to get into the meat of 1986 when the violence was really ramping up, when you really started to feel the full militarization of the LAPD, when the War on Drugs was on its way to reaching its apex," he previously told Gold Derby. 
"And then this kind of pop culture explosion that was brimming in South Central — the rise of gangster rap and you had 'Straight Outta Compton' and those things getting ready to drop and blow up. It's a huge sea change moment for the neighborhood," he continued.
"And so without getting into too much character stuff, I will just say from the standpoint of history and kind of where we are in the arc of this thing, it's a really exciting time for us to plop our characters into and see what happens," Andron added.
For more on Snowfall, be sure to check back in with Showbiz Cheat Sheet.
RELATED: 'Snowfall' Season 5: Damson Idris Shares His Predictions and Whether Alton Died