'Snowpiercer' Actress Jennifer Connelly is Married to an MCU Star
Jennifer Connelly has been acting since she was a teen, and she's back in the spotlight for her upcoming series on TNT, Snowpiercer. The TV adaptation is set to debut on May 17, marking the actress' first time on the small screen since 2000.
While she's used to playing leading ladies and love interests in film roles, she and her husband have managed to keep their celebrity romance under the radar. Who did Connelly marry? You'll recognize him as a Marvel hero with his own series on the horizon.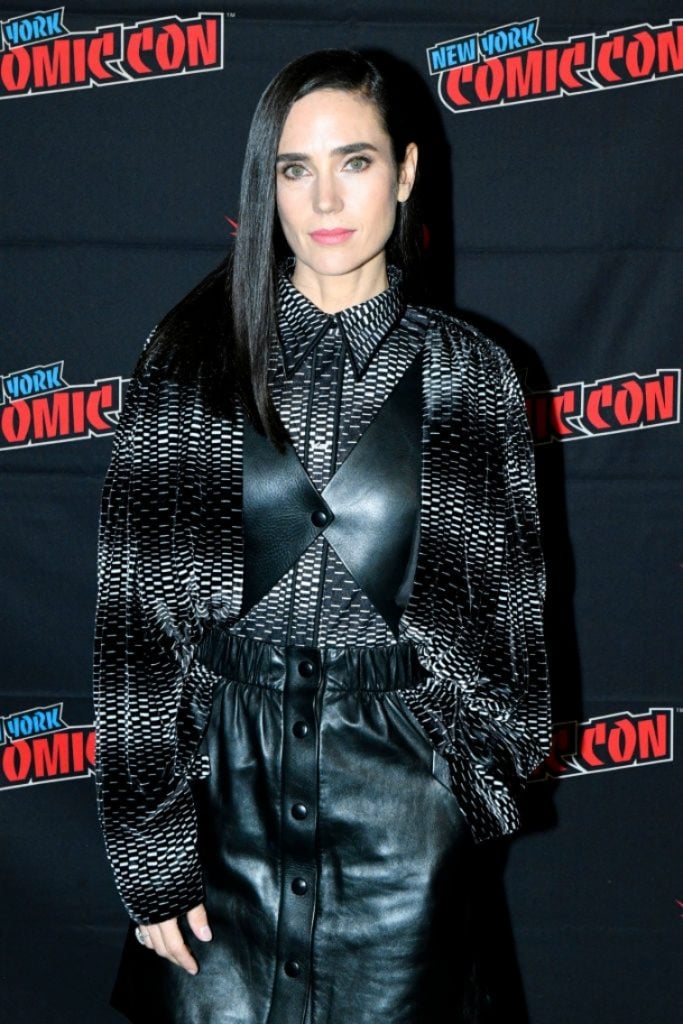 Jennifer Connelly is married to Paul Bettany
Bettany—aka Vision—has an extensive acting résumé of his own that includes a bevy of Marvel flicks as well as The Da Vinci Code, The Secret Life of Bees, Legion, and Solo: A Star Wars Story. Soon, fans will see him and Elizabeth Olsen in WandaVision.
Bettany revealed to Larry King that Connelly was his childhood crush, as he'd seen her in films such as Once Upon a Time in America and Labyrinth. The pair have been married since 2003 and have three children, Stellan and Agnes Lark, and Connelly's son Kai from a previous relationship.
RELATED: Jennifer Connelly, Showrunner Graeme Manson Hint at What to Expect from TBS's 'Snowpiercer'
How Jennifer Connelly and Paul Bettany met
Do you remember Connelly starring alongside Russell Crowe in A Beautiful Mind? Well, Bettany played Nash, and the future couple met on set while working on the film. Bettany thought she was beautiful but did not want to be forward and flirt with her, so he played it cool.
Sparks would not fly until about one year after filming ended, and still, their love story was unconventional. They didn't date.
During an interview with King, Bettany shared that seeing the events of 9/11 struck a chord and changed something in him. Though he lived in Europe, he called up Connelly—who barely knew—and they chatted for a few days.
"I remember very clearly thinking to myself 'What are you doing?' and realized I was in love. So, finally I got her on the phone and said 'I'm coming over. Let's get married.' And that's really what happened."
He explained they never dated but he arranged to move over there to be with her. Bettany added that he had a peculiar feeling he was leaving his country. For her part, Connelly once told Entertainment Tonight that part of his charm was playing the guitar for her.
Connelly and Bettany have worked on films together
With a union built on love and creativity, the duo sometimes work on projects together. Both were in 2008's Inkheart, and Bettany wrote and directed Shelter, which starred his wife in the lead role as Hannah.
The film is about two homeless people living in New York who are dealing with fear, love, and redemption, and fellow Marvel star Anthony Mackie plays opposite Connelly. The movie was released in 2014 and both Bettany and Connelly spoke about how trusting each other impacted the process.
Bettany's earned cool points with his children for being one of the Avengers, and he is set to reprise his character Vision in the upcoming Disney+ series. Catch Connelly on Sunday nights in Snowpiercer as Melanie Cavill, the head of the train's hospitality services and power player.
RELATED: Before 'WandaVision' You Can See Paul Bettany In This Drama