Who Did Sofia Carson Play in 'Descendants?'
There are so many ways to be wicked, especially when you're the daughter of the Evil Queen. Here's what we know about Sofia Carson's character from Disney Channel's 'Descendants.'
Evie was much more than just a pretty face and a magic mirror. This character from Disney Channel's original movie Descendants helped save Auradon from several evil plots.
Here's what we know about Sofia Carson, her character, and her role in other Disney Channel productions, now available on Disney+.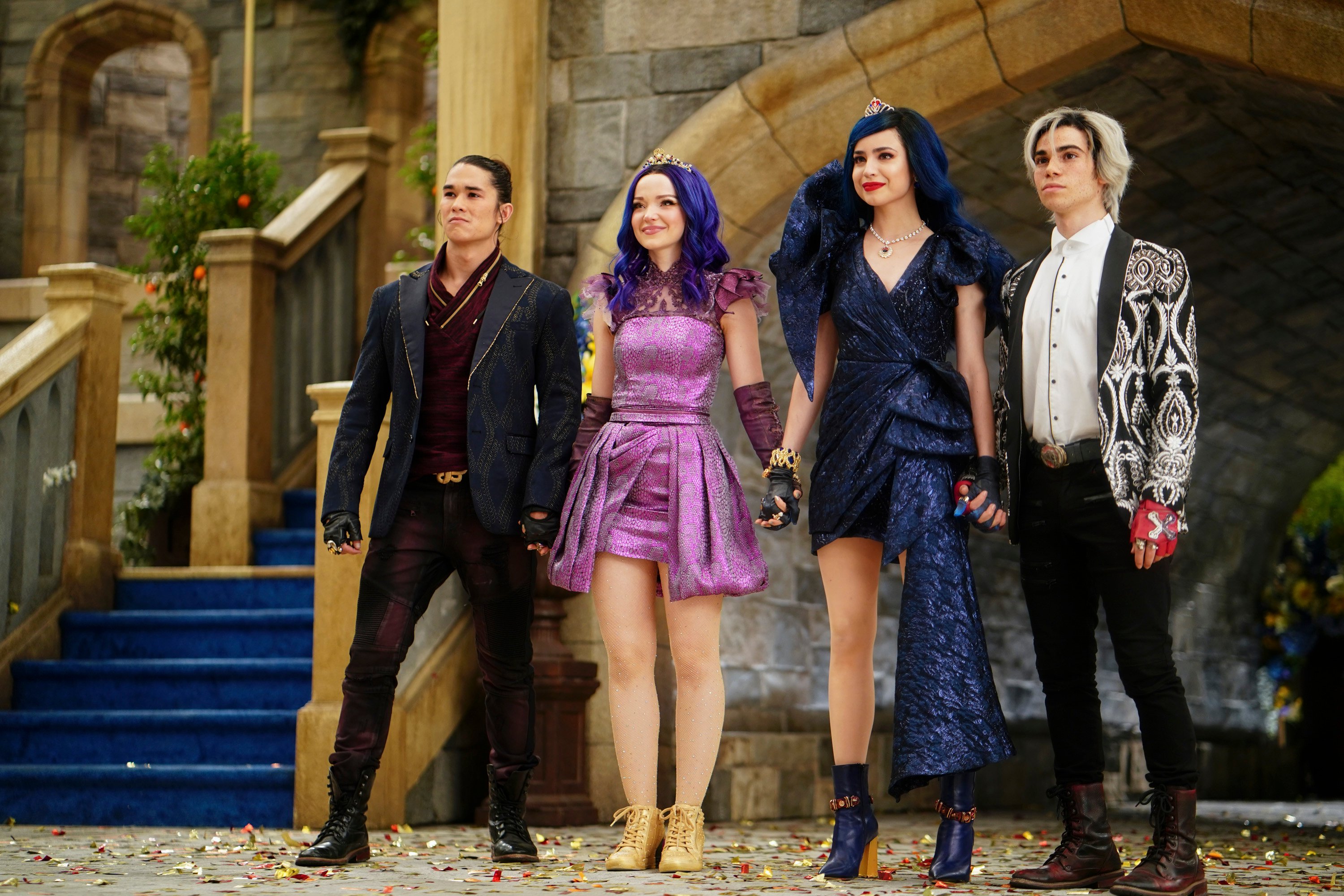 Sofia Carson starred in Disney Channel's 'Descendants'
Disney has a few beloved animated films starring characters like the Evil Queen and Belle. The Disney Channel original movie Descendant, though, tells the story of their children, who live together in the magical land of Auradon. Well, not all of the children.
Villains, sidekicks, and their children were banished to the Isle of the Lost, which is where viewers met the always fashion-forward Evie, the daughter of the Evil Queen. This character, portrayed by Carson, got an invitation to attend school in Auradon, as did Mal, Carlos, and Jay. 
"She's the daughter of the Evil Queen from Snow White [and the Seven Dwarfs] who was the most vain woman in the world. She defines her daughter by her beauty," Carson said during an interview with J-14 Magazine. 
"Evie's story was aimed toward little girls around the world to tell them that you are so much more than a pretty face, that you are not defined by any reflection in the mirror nor any glass ceiling," she continued. "Evie's story became this triumph of girl power."
With blue hair and perfectly matching accessories, Evie helped save Auradon from her mother, returning to future movies to fight for her home against Uma, the daughter of Ursula, and her gang of villains.
Sofia Carson played Evie in 'Descendants 2' and 'Descendants 3'
The actor reprised her role as Evie in the Descendants sequels, starring alongside Dove Cameron, Cameron Boyce, and Booboo Stewart. In these movies, Evie offered support to Mal as she found her place between good and evil. 
She found true love in Doug, the son of Dopey. She also improved on her sewing skills, turning her talent into a business, and improved her grades. The franchise ended with these characters breaking down the wall between the Isle of the Lost and Auradon. 
Sofia Carson appeared in a few other Disney projects
Aside from Descendants, Sofia Carson starred in the Disney Channel original movie, Adventures in Babysitting. Additionally, she branched out to work with other students, including Netflix for the original movie Feel the Beat. She starred as the title character in A Cinderella Story: If the Shoe Fits.
All three Descendants movies featuring this actor, as well as the television series spinoff titled Descendants: Wicked World, are available on this platform. To learn more about Disney+ and to subscribe, visit their website.