'Solar Opposites': Hulu Drops Trailer for New Series From the Team Behind 'Rick and Morty'
Here's something for Rick and Morty fans to cheer about. Hulu has dropped a trailer for a new animated series from Justin Roiland and Mike McMahan, the co-creator and former head writer of the cult favorite Adult Swim show. The entire first season of Solar Opposites will land on the streaming service May 8.
'Solar Opposites': Prepare yourself for man caves, zombie teenagers, magicians, and more
Solar Opposites focuses on a family of displaced aliens who are trying to fit in on their new home of planet Earth. Here's the official synopsis from Hulu: 
Solar Opposites centers around a team of four aliens who have escaped their exploding home world, only to crash land into a move-in ready home in suburban America. They are evenly split on whether Earth is awful or awesome. Korvo (Justin Roiland) and Yumyulack (Sean Giambroni) only see the pollution, crass consumerism, and human frailty, while Terry (Thomas Middleditch) and Jesse (Mary Mack) love humans and all their TV, junk food, and fun stuff. Their mission: protect the Pupa, a living super computer that will one day evolve into its true form, consume them and terraform the Earth.
The new trailer gives a taste of what to expect from the show. It begins with one of the aliens stealing a car and racing home (hitting an ostrich along the way) to inform the rest of his horrified family that they have no noses. Later, one alien refers to Earth as a "human-infested craphole without a single redeeming value." They also have to deal with annoying alternate-side parking rules, bullying at school, and humans offering them recreational drugs. 
In addition the series regulars like Middleditch, Mack, and Giambroni, Solar Opposites Season 1 will feature a number of prominent guest stars, including Christina Hendricks, Ken Marino, Tiffany Haddish, Rainn Wilson, and Alfred Molina. Roiland, McMahan and Josh Bycel are executive producers on the show. The series is produced by 20th Century Fox Television.  
All eight episodes of 'Solar Opposites' arrive May 8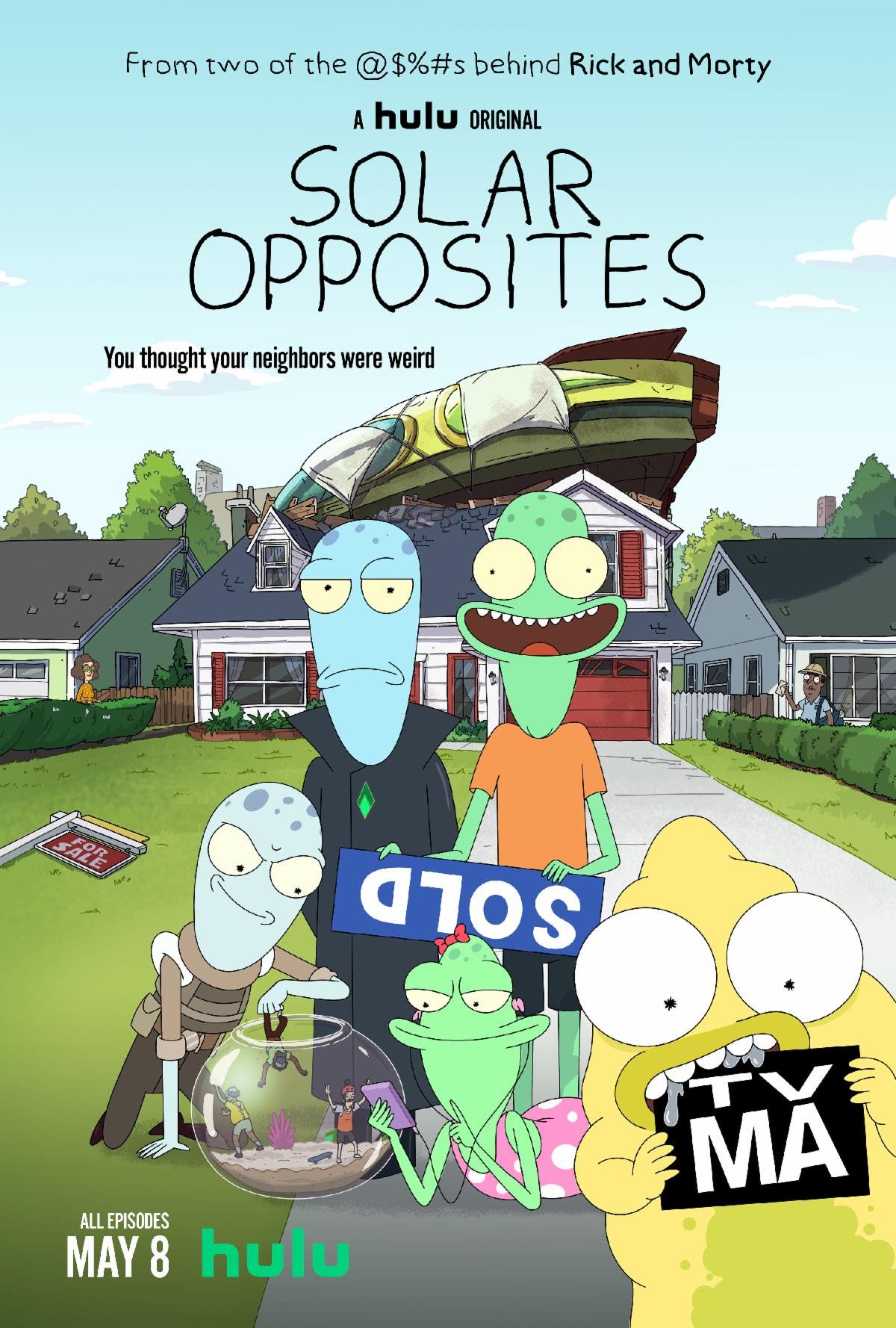 Fans have been waiting a while for Solar Opposites. The new show was first announced in August 2018. But the wait is almost over. All eight episodes of the new series — which is already confirmed for a second season — drop on Hulu on May 8. 
"Solar Opposites is coming!" Roiland and McMahan said in a statement. "We can only show you the teaser right now, but the whole season will be out in a matter of weeks! Stay inside and stay healthy so you can watch and love this show and call us geniuses and all that sh*t." 
As for when new episodes of Rick and Morty might arrive, we don't know. The first half of season 4 concluded on Dec. 15. As of now, we just know that the second half of the season (which will consist of five episodes) will air sometime in 2020. 
Read More: Rick and Morty Reminds Everyone to Wash Their Hands and Fans Grow Restless Waiting for Season 4 to Return
Check out Showbiz Cheat Sheet on Facebook!