Some Fans Accused Kourtney Kardashian of Using Photoshop to Make Herself Look Like She's Gained Weight
Kourtney Kardashian might have intended to take a step back from Keeping Up with the Kardashians, but she has been making headlines more than ever these days. From her clap backs to haters who critique her parenting to posting lots of skimpy bikini selfies, Kardashian has been thoroughly embracing her reality star status. Recently, Kardashian went viral for yet another bikini photo and her response to some criticism that she received for it. Although many fans initially loved her sassy clap back, a few people on Reddit pointed out that there could be some hypocrisy at work in the photo.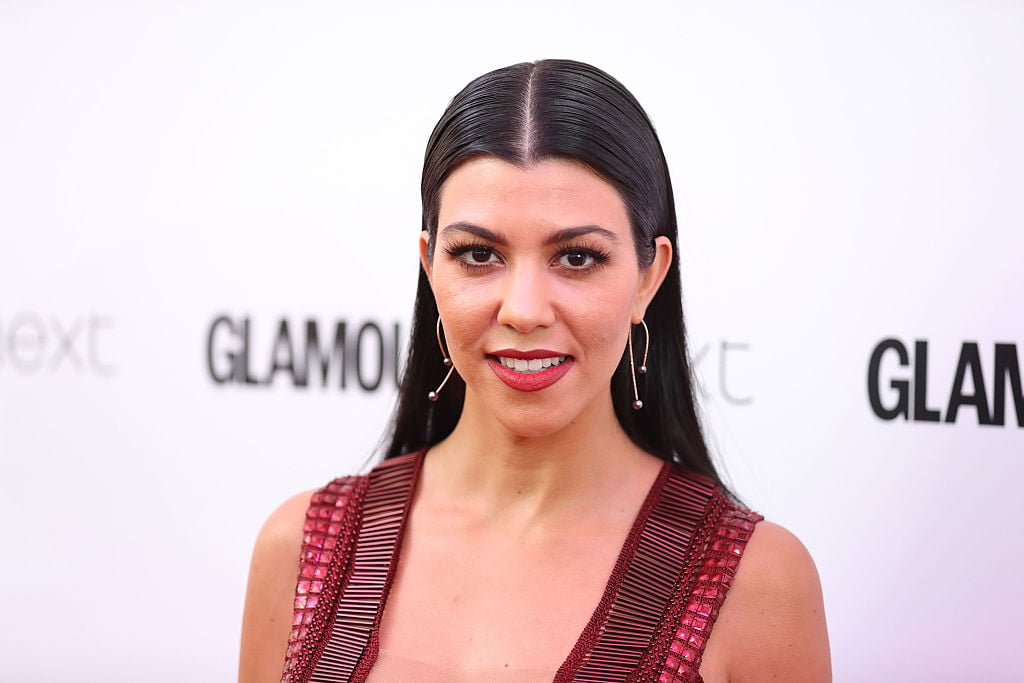 RELATED: Kourtney Kardashian Fires Back at Fan Who Thinks She Looks Pregnant in Instagram Bikini Pic
Kourtney Kardashian is the oldest Kardashian sister
Born in 1979, Kourtney Kardashian is the oldest child in the large brood of Kardashian-Jenner siblings. Raised in a wealthy family, Kardashian showed an affinity for hard work at an early age and became the only Kardashian sister to graduate from college. Prior to Keeping Up with the Kardashians premiering on television in 2007, Kourtney Kardashian worked at the family's clothing boutique.
After achieving reality television fame, Kourtney Kardashian redirected some of her focus to raising her three young children with Scott Disick. She took a step back from business ventures and even received some flak from her sisters for not being as focused as they were. Still, Kardashian has remained committed to being a dedicated mother and often shares pictures of her kids on social media.
Kourtney Kardashian is known as the 'natural' Kardashian
As much as Kourtney Kardashian is known for her devotion to a healthy lifestyle and to her family, she has also made headlines for being the Kardashian that fans consider to be the most "natural" looking — that is, the one who seems to have mostly avoided plastic surgery procedures. As many fans have pointed out, Kardashian looks very similar to the way she did when she first became famous and hasn't gone through any drastic transformations, unlike her sisters Kylie Jenner and Khloé Kardashian. 
Still, Kourtney Kardashian isn't entirely natural and has copped to having breast implants. The fact that she has been open about her past surgery sets her apart from her sisters — it took Kylie Jenner months to admit that she had gotten lip fillers when many fans and tabloid reporters had long since figured it out. Even if Kourtney Kardashian prefers a natural look, she might not be immune to using Photoshop on pictures of herself, as a recent Reddit thread speculated.
Did Kourtney Kardashian use Photoshop on a recent picture of herself?
In mid-May, Kourtney Kardashian posted a series of sultry bikini pictures on Instagram, including one where she is reclining, apparently catching up on some light reading. While Kardashian undoubtedly looked fabulous, many claimed that they noticed a slight bulge in her abdominal area. Considering Kardashian has been open about her desire to possibly have more children, a number of fans commented on the photo, asking if she is pregnant. Kardashian replied to one such comment, stating that she just has a "few extra pounds" and that she loves the shape of her body since it represents the three times that she has given birth.
Although her fan base loved the body-positive comment, some fans on Reddit are questioning Kardashian's overall intent. One poster wrote, "am i the only one that thinks it looks slightly photoshopped? As if she purposely made her belly look tiny bit bigger. Because if you look at the white wall thing behind her the line has a slight curve to it where her stomach is." Several fans chimed in to agree, stating that Kardashian could be "gaslighting" people and that she intentionally Photoshopped the picture in order to get questions about a possible pregnancy. Certainly, if she did alter the picture, it completely changes the context of her comment about loving her body shape. Considering Kardashian's whole family is known to love Photoshop, it doesn't seem completely out of the realm of possibility.