'Some Like It Hot': Marilyn Monroe Only Agreed to Film in Black-and-White to Avoid 'Sickly Green Tint' Drag Makeup
Some Like It Hot star Marilyn Monroe is a legendary Hollywood icon who stands the test of time. However, many of her productions encountered hurdles that created major issues. Monroe wanted Billy Wilder's romantic comedy to be in color so that she would look her best. However, he convinced her as a result of Jack Lemmon and Tony Curtis' makeup.
Marilyn Monroe plays Sugar Kane Kowalczyk in 'Some Like It Hot'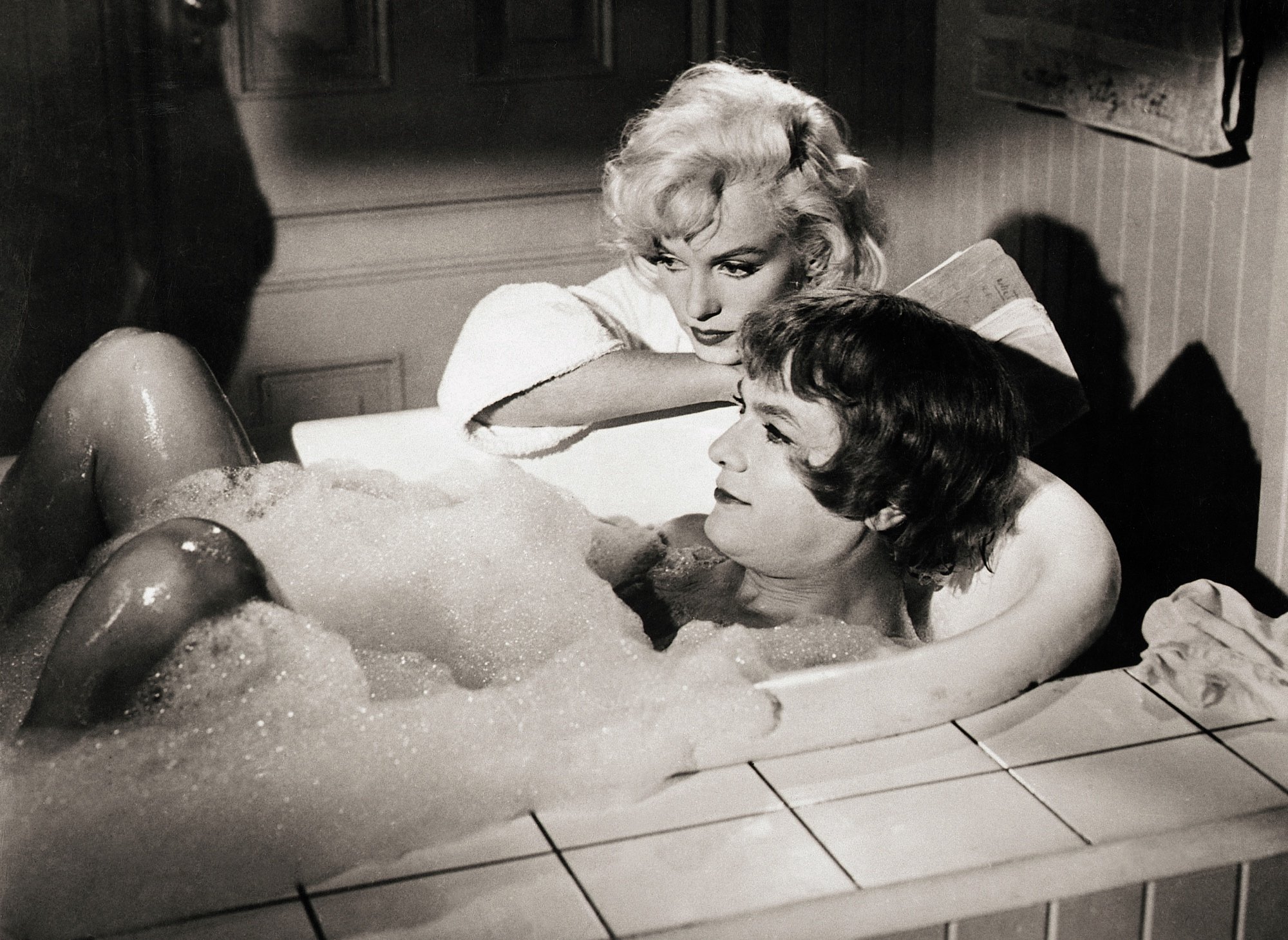 Wilder's Some Like It Hot follows a slick saxophone player named Joe (Curtis) and his longtime close friend named Jerry (Lemmon). They happen to witness a Mafia murder, putting them directly in the way of danger. They quickly create an escape plan to allow them to get out of Chicago with their lives.
Joe and Jerry disguise themselves as women and join an all-female jazz band that's heading for Florida. However, Joe instantly falls in love with the band's singer, Sugar (Monroe). He pretends to be a millionaire to get her attention. Meanwhile, a real millionaire (Joe E. Brown) pursues Jerry and tries to sweep him off his feet. Meanwhile, the mobsters are closing in on them. Monroe's performance in Some Like It Hot remains highly memorable.
Marilyn Monroe agreed to film in black-and-white against her contract to avoid Jack Lemmon and Tony Curtis' 'sickly green tint' drag makeup
Michelle Vogel's Marilyn Monroe: Her Films, Her Life takes a close look at the Hollywood legend's life. The book explores the actor's personal and career growth. However, Vogel also explores some of the issues that some colleagues had while working with Monroe, including in Some Like It Hot.
"Though Monroe's Fox contract stated that all of her films be shot in color, Some Like It Hot was an independent production for United Artists," Vogel wrote. "Personally, she felt she photographed better in color and she was against shooting the film in black and white."
However, Monroe was ultimately willing to make an exception for Some Like It Hot.
Vogel continued: 'However, the heavy drag makeup that Tony Curtis and Jack Lemmon were wearing throughout much of the film took on a sickly green tint when photographed in color. Wilder showed Monroe the color test shots to prove it. Only then did she agree to film it in black and white."
'Some Like It Hot' is a Billy Wilder classic
Some Like It Hot remains one of Wilder's most popular films. The romantic comedy won an Oscar for Best Costume Design, Black-and-White, and it stood the test of time. It continues to earn wide acclaim for its quick wit and top-tier comedy performances.
Some Like It Hot played better at the Golden Globe awards, where Monroe won for Best Actress in a Motion Picture – Comedy or Musical. Additionally, Lemmon won Best Actor in a Motion Picture – Comedy or Musical, and the film itself earned Best Motion Picture – Musical or Comedy.
Some Like It Hot earned multiple places in AFI's list for top 100 movies, laughs, and movie quotes, with Monroe being a perfect fit as Sugar.