'Some Like It Hot': Marilyn Monroe Stole Jack Lemmon's Dress Because She 'Had to Have It'
Marilyn Monroe earned a Golden Globe for 'Some Like It Hot.' However, she didn't swoon everyone after stealing Jack Lemmon's dress on the set.
Billy Wilder's Some Like It Hot is one of the greatest romantic comedies ever made. It brings together an impressive cast along with Wilder's brilliant writing and direction. However, not everyone on the set of Some Like It Hot fell for Marilyn Monroe, including costume designer Orry-Kelly. She stole Jack Lemmon's dress, simply because she wanted it.
Marilyn Monroe plays Sugar Kane Kowalczyk in 'Some Like It Hot'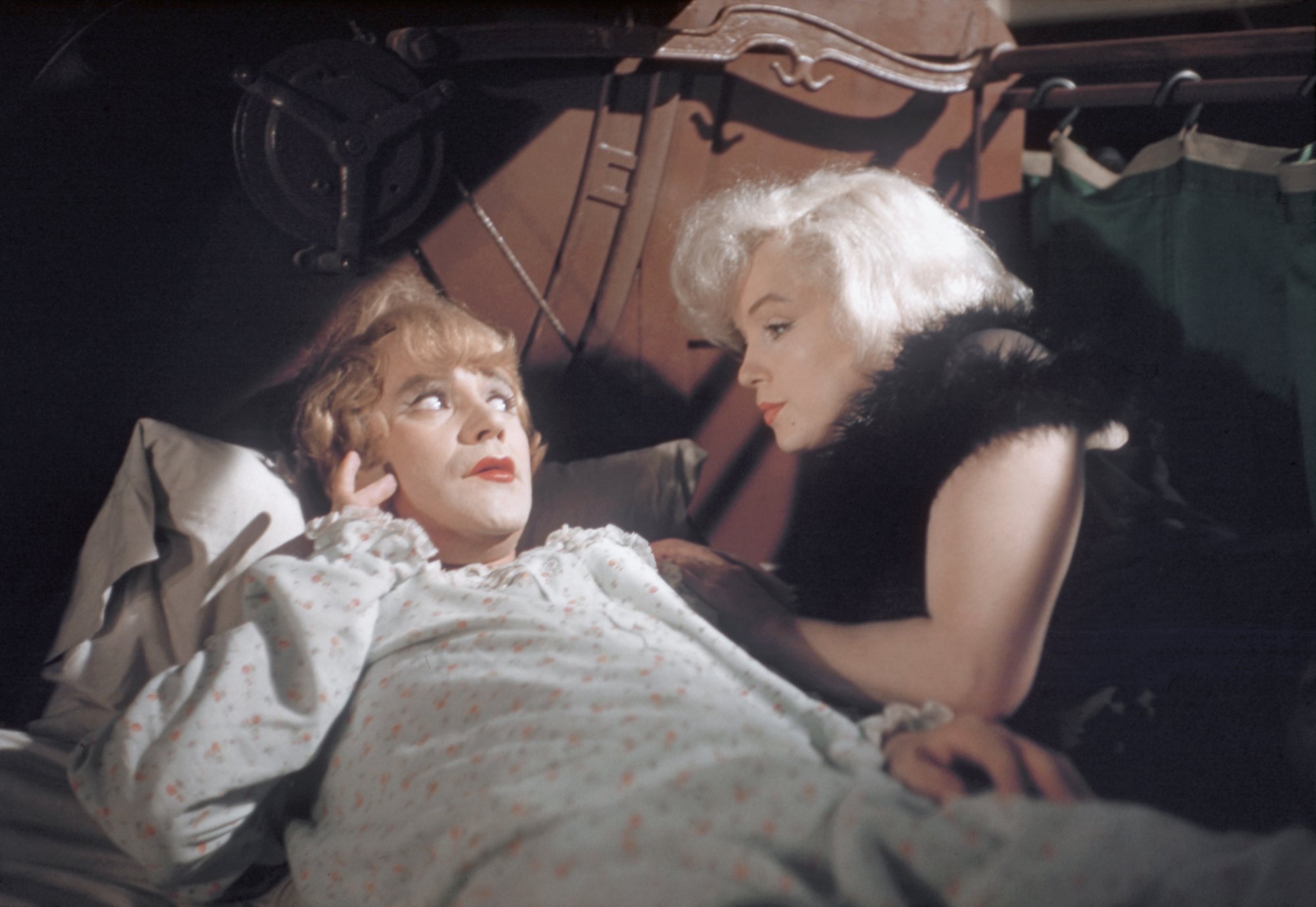 Some Like It Hot follows a saxophone player named Joe (Tony Curtis) and his good friend, Jerry (Lemmon) after witnessing a Mafia murder. They put together a plan to leave Chicago for good. As a result, they decide to disguise themselves as women in an all-female jazz band and head to Florida.
Monroe plays Sugar, who is the band's beautiful singer. Joe pretends to be a millionaire to attract her attention. However, Jerry meets a real millionaire (Joe E. Brown), who begins pursuing him romantically. The mobsters are closing in and they must get creative to stay alive. Sugar is none the wiser of their plans or that two jazz band members aren't actually women.
Marilyn Monroe stole Jack Lemmon's dress
Curtis' The Making of Some Like It Hot: My Memories of Marilyn Monroe and the Classic American Movie takes a look at the overall production. The Some Like It Hot actor outlined each step of the moviemaking process, particularly as it related to Monroe. Curtis explored some particular stories that sound typical for the iconic actor, while others are a little bit more surprising.
"She [Monroe] kind of wore out her welcome with Orry-Kelly," Curtis wrote. "After he'd gotten the gowns made, not only for Marilyn, but also for me and Jack, they were rolled to the stage on racks so that we could shoot wardrobe tests. Well, Marilyn was walking by the racks and she got curious. A little while later, Jack came to my dressing room. He looked upset."
Curtis continued: "'Tony,' he said. 'You're not gonna believe this.' 'What?' 'Marilyn took my dress.' 'Whaddya mean she took your dress?'"
"She stole it," Curtis wrote. "The black one Orry-Kelly made for me. She saw it on the rack and said to the wardrobe mistress, 'Ooh, this looks nice. Let me try it on, huh?' And she decided she had to have it. Orry-Kelly came screaming to me. 'She took your dress! The b**** has pinched your dress!' And they're going to let her get away with it!"
'Some Like It Hot' became an awards contender
Some Like It Hot made its way through the awards season. Monroe ultimately won a Golden Globe for Best Actress – Comedy or Musical along with Lemmon's Best Actor – Comedy or Musical win. However, Wilder's comedy had a clear path paved to the Oscars. It ultimately landed several nominations, although it only took home a single win.
Orry-Kelly was the only individual to win an Oscar on Some Like It Hot for Best Costume Design, Black-and-White. However, the nominations included Lemmon's performance, Best Director, and Best Writing, Screenplay Based on Material from Another Medium. However, Some Like It Hot also earned nominations for Best Cinematography, Black-and-White and Best Art Direction-Set Decoration, Black-and-White.