This Song Came to George Harrison While He Was Brushing His Teeth
When George Harrison was in The Beatles, he didn't get many chances to contribute his own songs. So he stockpiled his tunes and kept them at the ready, waiting for the day he left the band. In 1970, he entered the studio with tons of songs to choose from for his debut solo album, All Things Must Pass. Along with "My Sweet Lord," there was another heavily religious song on the album, and it has an interesting back story.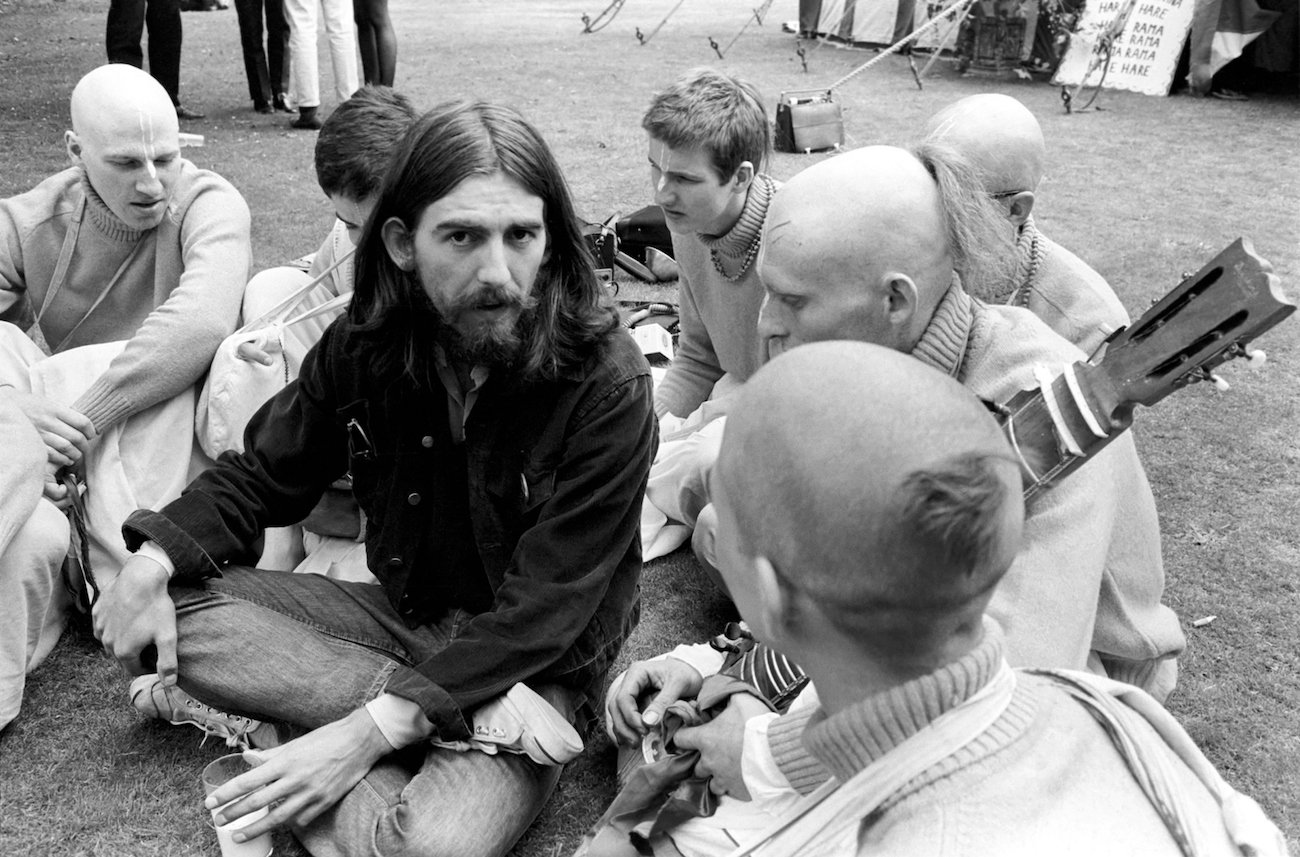 George Harrison was brushing his teeth when a song came to him
In Martin Scorsese's documentary, George Harrison: Living in the Material World, George says he was brushing his teeth when suddenly this melody came to him.
"I was cleaning my teeth… and suddenly in my head came this 'You don't need a dum dada-pmm pa-pmm-pa, you don't need a bmm papa-bmm.' All I had to do was pick up the guitar, find what key it was in, and fill in the missing words," George said about the song, which would later become "Awaiting On You All."
"Awaiting On You All" is one of many songs on All Things Must Pass that is heavily religious. But it's one of George's most lyrically satisfying songs too. He plays with words and rhymes with lyrics like: "You don't need no love in.
You don't need no bed pan. You don't need a horoscope or a microscope. They see the mess that you're in. If you open up your heart. You will know what I mean. We've been polluted so long. Now here's a way for you to get clean."
The religiousness comes in the chorus with: "By chanting the names of the Lord and you'll be free. The Lord is awaiting on you all to awaken and see. Chanting the names of the Lord and you'll be free. The Lord is awaiting on you all to awaken and see."
Other lyrics from the song that exemplify George's expert songwriting skills include: "And while the Pope owns fifty one percent of General Motors. And the stock exchange is the only thing he's qualified to quote us."
'Awaiting On You All' is about Japa Yoga meditation
George wrote in his autobiography, I, Me, Mine, that "Awaiting On You All" is about Japa Yoga meditation, which is "repetition on beads (mala) of mantras."
"A mantra is mystical energy encased in a sound structure, and each mantra contains within its vibrations, a certain power. They are constructed from the fifty letters of the Sanskrit alphabet (Devanagari – language of the Gods) and they turn the mind toward concentration on the supreme releasing spiritual energy in the Chakras1 of the Body (1 Chakras – storage places for the vital energy)," George wrote.
"Most mantras for Japa utilise the many names of God, and the maha-mantra has been prescribed as the easiest and surest way for attaining God-Realisation in this present age. (It can also rebuild the atoms in the body and make your life sublime!)."
George loved chanting
When George started getting into Hinduism in the 1960s, he and John Lennon chanted together for hours until they lost their voices. George loved chanting. The more he chanted, the closer he felt to God, just like "Awaiting On You All" says. In 1982 George spoke to Back To Godhead (per Beatles Bible) about the importance of chanting.
"[Sri] Prabhupada told me once that we should just keep chanting all the time, or as much as possible," George said. "Once you do that, you realise the benefit. The response that comes from chanting is in the form of bliss, or spiritual happiness, which is a much higher taste than any happiness found here in the material world. That's why I say that the more you do it, the more you don't want to stop, because it feels so nice and peaceful."
George said he was sick of waiting around for someone to incorporate religious chanting into popular music. So that's really where "Awaiting On You All" comes from. Ultimately, George's decision to take it upon himself to write about these teachings reached many people. They sent George letters saying that he played a part in their entrance to the Krishna temple. "So I know, by the Lord's grace, I am a small part in the cosmic play," George said. Living in the material world couldn't have been that bad, knowing that at least.