'Sons of Anarchy': Charlie Hunnam's Longtime Love Morgana McNelis Had to Convince Him He Did Not Want a Permanent Reminder of Jax Teller
Charlie Hunnam completely immersed himself into his role on 'Sons of Anarchy,' including adopting an American accent, wearing flannel, and riding the exact same motorcycle as Jax Teller.
ARTICLE HIGHLIGHTS
Charlie Hunnam completely immersed himself into his role as Jax Teller on Sons of Anachy.
Including, adopting an American accent, rocking flannel all the time, and even riding the same bike as he did on the show.
But it was his partner, Morgana, who convinved him not to leave the show with a permanent reminder of Jax.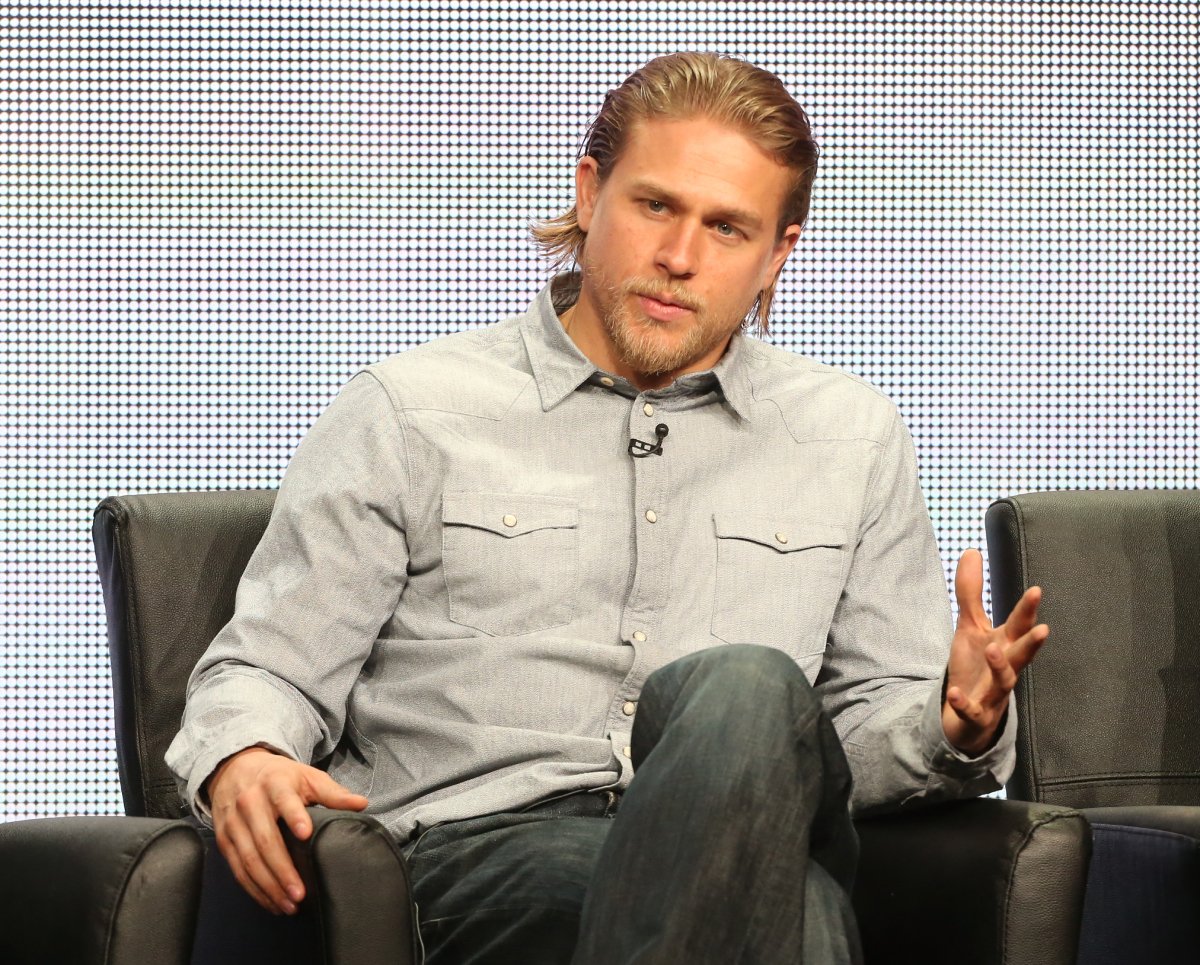 Sons of Anarchy star Charlie Hunnam says he immersed himself in biker life while playing the role of Jax Teller. For seven seasons, the British actor did whatever he could to put himself in the biker mindset. Which included wearing flannel, adopting an American accent, and riding a motorcycle — the exact same model as Jax rode.
Hunnam says he almost went so far as to get permanent ink of one of Jax's tattoos. But his longtime love Morgana McNelis convinced him that it wasn't a good idea.
The 'Sons of Anarchy' star has a back tattoo that he saw in a dream
Hunnam has a back tattoo of a symbol that features a circle and two triangles. According to Body Art Guru, Hunnam says he saw the image in a dream and wanted the tattoo version for a long time. He finally got the ink in 1999 after meeting actress Katharine Towne at a Dawson's Creek audition and falling in love.
Exactly three weeks into their relationship, Hunnam got the tattoo. On the same day he and Towne decided to run off and get married. They tied the knot at 2 a.m. at the Silver Bell Wedding Chapel. But, they ended up getting a divorce just three years later. Hunnam now says the tattoo was "a very bad idea for many reasons."
Charlie Hunnam says his back tattoo was a pain to cover up
In Sons of Anarchy, Hunnam's character had several tattoos all over his body. Jax's ink included the Sons of Anarchy motorcycle club logo on his back, a tribute to his deceased brother on his left arm, his son's name "Abel" on his chest, and a tribute to his father on his right arm.
When Hunnam had to go topless for a scene, he says the process to cover up his real back ink was time consuming.
"I have a tattoo actually on my back which is a huge pain in the ass because every time I need to take my shirt off in the show, they need to cover my tattoo and lay the other tattoo on top of it which is a really time-consuming process," Hunnam told Atlantic City Blog in 2013.
The 'Sons of Anarchy' star's girlfriend convinced him not to get a Jax Teller tattoo
When Sons of Anarchy was still filming new episodes, Hunnam talked with Entertainment Tonight about the many tattoos of Jax Teller. He says it was his idea to have a tribute to Jax's father John Teller on his right forearm because that character was a "huge, important" part of the show and Jax's journey. Despite the fact fans never saw him.
Hunnam says he had seen a "kind of famous biker" with a tombstone tattoo, and that's where he got the inspiration. He also wanted some crows in the design to represent SAMCRO. And the tattoo artist took that idea and "just ran with it."
"It says 'in memory of the fallen brothers,' with John Teller on the tombstone," Hunnam said, adding that he'd considered getting that ink permanently. But, his longtime love Morgana McNelis talked him out of it.
Charlie Hunnam wanted the permanent ink
Hunnam says that he loved the tribute to John Teller so much that early in Sons of Anarchy, he thought maybe he'd "have it tattooed on me for real."
"Thankfully, my girlfriend convinced me that would not be a good idea," Hunnam admitted. "I love the image of it, and would happily have this on my arm. But, it's just such a pain in the ass getting tattoos covered for work. I love my sleep. So that would be an extra 20 minutes every morning to have that covered for the next job I do."
The 'Sons of Anarchy' star had a body double in the opening credits
One of the most famous images of what fans thought was Hunnam's back featuring Jax's SAMCRO tattoo was actually a body double. In the Sons of Anarchy opening credits, the shot of the tattooed back is actually Tyson Sullivan.
He told the International Business Times that he got the job of being Hunnam's body double before anyone knew what Sons of Anarchy was.
"I got booked as the body double of the guy on the show who is Charlie Hunnam, but at the time it was this show that nobody really knew about," Sullivan explained. "I just went in, there were like five or six of us and they're like, 'Take off your shirts, let us look at your backs,' and that was like the main part."
Hunnam may have used a body double in the opening credits, but fans got plenty of chances to see a lot of the actor. Hunnam appeared in all of Jax's sex scenes, so fans saw his sexy back and more.
All seven seasons of Sons of Anarchy are available on Hulu.