Sources Claim Kaia Gerber's Parents Think Supporting Pete Davidson Is 'Their Only Choice'
Pete Davidson made a joke about heading to rehab, and sources now claim Kaia Gerber's parents are feeling obligated to help Gerber and Davidson.
It's hard to keep up with celebrity relationships — especially when it comes to Pete Davidson. While the Saturday Night Live star garnered a ton of media attention when he was engaged to singer Ariana Grande, we know the couple couldn't work things out. After that, Davidson went out with other celebrities, like Kate Beckinsale. And now, he's seeing 18-year-old supermodel Kaia Gerber.
Gerber and Davidson have been spotted together since October 2019 after they both walked an Alexander Wang runway together in June. And they've started showing more and more PDA since then. Now, however, it seems Gerber's famous parents are getting involved as Davidson alludes that he's heading to rehab. Here's what we know.
Pete Davidson made a joke about potentially going to rehab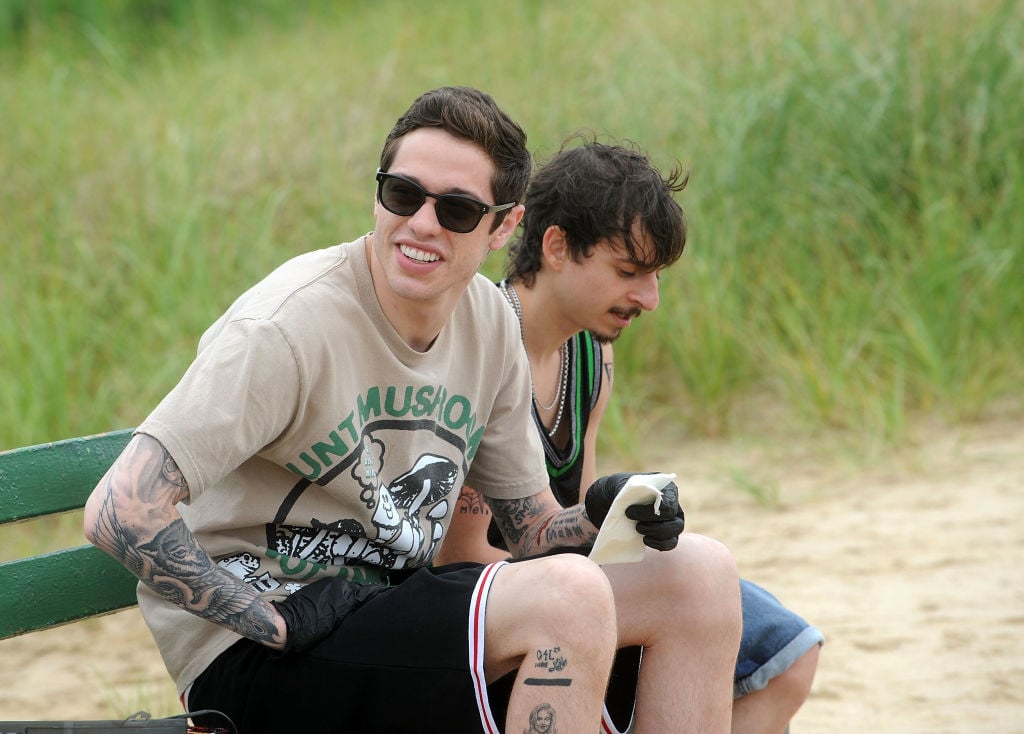 Davidson has been upfront and honest about his borderline personality disorder and potentially offputting dating style. And he also isn't afraid to make jokes about his personal shortcomings.
In late December, Davidson jumped into the "Weekend Update" segment on Saturday Night Live. He touched on his relationship with Gerber, of course, by joking that "the world wants to punch me in the throat." But he then alluded that he'd be taking a trip to rehab during SNL's winter hiatus.
Davidson mentioned that he planned on taking a "vacation" — and when it was questioned why he was putting "vacation" in air quotes, he elaborated. "You know, the kind of vacation where like insurance pays for some of it and they take your phone and shoelaces … and you have roommates, but it still costs like $100,000," Davidson went on to explain.
Kaia Gerber's parents might be hoping Gerber's relationship with Davidson ends
We're not sure exactly what's going on with Davidson, but it seems Gerber is still standing firmly by his side. Even so, the supermodel is only 18 — and it seems Cindy Crawford and Rande Gerber may have their concerns.
Page Six reports one source said that Gerber's parents are hoping the relationship will naturally run its course. "I think they're just hoping this could all fizzle out. [Kaia's] traveling and working constantly — how serious can [she and Davidson] get?" the source claimed.
Other sources claim Crawford and her husband trust their daughter to make her own decisions, however. Since Gerber has been traveling and working from a young age, they treat her like an adult. "They have always treated her more like an adult than a child. … They have always treated her like a grownup. She's mature and that is how they treat her," a source told Radar Online.
Sources claim Cindy Crawford and Rande Gerber are helping Davidson
Going off of what Davidson mentioned on SNL, it seems Gerber's parents may be helping Davidson out. E! News reports a source close to Crawford said, "It's been a very stressful and concerning few days," at the end of December.
While the source didn't reveal exactly what's going on, they added, "Cindy and Rande wanted to be there for Kaia and supportive of her. They are very involved and loving parents and they would do anything for her. They stepped in to try and guide her and to help Pete through a difficult time."
Since Gerber's parents know they can't control their daughter or choose who she dates, it appears they're doing the best they can to be supportive, despite however they may really feel.
"They tried to intervene and offer what they could. It's been upsetting for Kaia and for them to see their daughter dealing with something so serious," the insider noted. "Their only choice is to support her and help guide her through this. They are just thinking about Pete getting better and nothing beyond that."
We're sure we'll get more updates on Davidson's situation as it progresses. For now, we're hoping the Gerber family can come together and do what they can to help out.
Check out Showbiz Cheat Sheet on Facebook!