'Spider-Man' Fans Are Freaking Out Over Zendaya's 'Happy Birthday' Post to Tom Holland
The latest Avengers movie may just be a blip in the recent past, but Marvel Cinematic Universe fans don't have to mourn the end of the series for too long. The highly-anticipated Spider-Man: Far From Home is set to hit theaters soon, and fans can't wait to see what the fan-favorite hero gets into next. And it's not just Tom Holland's role as Spider-Man/Peter Parker that fans are excited to see. We also can't wait to watch Zendaya reprise her role as M.J., Parker's love interest.
Is the love just in the movie — or could there be some crushing between friends off-set, too? After Zendaya's recent "happy birthday" post to Holland, many have their opinions on what's going down between the two of them.
Tom Holland and Zendaya have become best friends since working together
It's fun to love your co-workers, and that's exactly what's happening with Zendaya and Tom Holland. They had fantastic chemistry in Homecoming, and judging from the photos they take together and outings they've been spotted on, it's clear they're the best of friends, too. Zendaya even posted this photo all the way back in November 2016 of her and Holland on the cover of The Hollywood Reporter, and she said the "one good thing" to happen to her that day was to share the cover with "the very best."
Holland has also showcased how much he cares for Zendaya. In July 2016, he posted this photo to Instagram of him and Zendaya in a pool. He even joked during an interview about how she was his Hollywood crush, too — though of course, it was all just playful banter. While dating rumors persist, the two are experts at denying it all and claiming they're just friends.
Fans can't get over her 'happy birthday' post to him
Zendaya just showed a lot of love for Holland again on her Instagram. The Spider-Man star turned 23 on June 1, and she shared a funny group photo with Holland and their other co-stars in it. "Happy birthday weirdo, thanks for being the wonderful person you are, we're all very lucky to have you and your weirdness," she captioned the post. And while it seems quite platonic, fans were quick to take to the comments to share how much they hope the two of them are actually dating.
"WE ALL KNOW YOU ARE FREAKING DATING JUST TELL US," one fan commented on the post. And another joked, "hey tom that's a cute shirt. is it made out of boyfriend material?" Many other fans were begging Zendaya to share more photos of the day with her fanbase, but after all the speculation, we wouldn't be surprised if she's choosing to keep some of her photos of the two of them off the internet.
Could they actually be dating?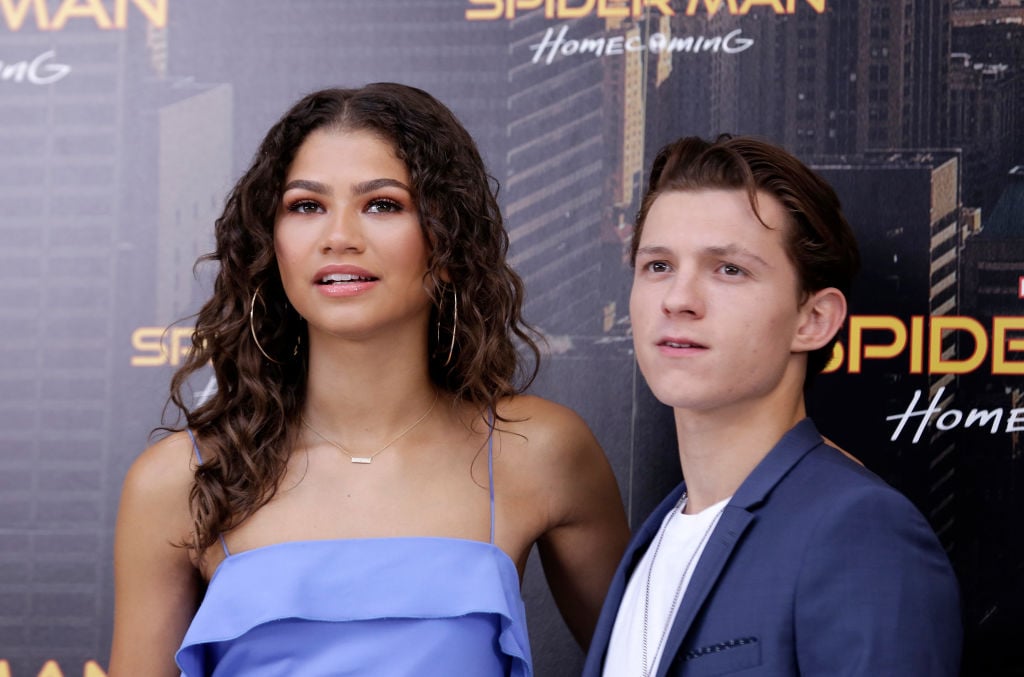 Zendaya and Holland have done their best to convince fans they're just friends and nothing more, and Zendaya has even gone out of her way to verify that the two have no romantic intentions. Many still don't believe them, however. And an insider told People that the co-stars are indeed secretly pursuing a romance. "They started seeing each other while they were filming Spider-Man," said the insider. "They've been super careful to keep it private and out of the public eye but they've gone on vacations with each other and try and spend as much time as possible with one another."
Zendaya made fun of this claim in particular on Twitter and maintains the two of them never even take vacations. But we can't forget that Zendaya is quite a private person as it is, and we wouldn't be surprised if she kept her relationships out of the public eye. Holland, on the other hand, is known for not being able to keep a secret, so perhaps the two really aren't dating since he's managed to not let anything of the sort slip.
Check out Showbiz Cheat Sheet on Facebook!