'Spider-Man' Fans Will Never Forget When Tom Holland Joked About Having a Crush on Zendaya
The hype for Avengers: Endgame may be long past, but that doesn't mean the Marvel Cinematic Universe is finished churning out epic movies as the summer begins. The next one fans are excited for is Spider-Man: Far From Home. Tom Holland will be reprising his role as the beloved Peter Parked and Spider-Man as he travels to Europe with his high school friends and ultimately tries to save the world from evil.
Not only will we see Holland again, but co-star Zendaya is also back as Michelle Jones. There've been rumors that the two have been dating ever since Spider-Man: Homecoming first premiered — and we can't forget the time Holland even joked about crushing on Zendaya.
Tom Holland reignited rumors that he and Zendaya were romantically linked recently
Fans are constantly speculating on which members of the MCU could possibly be romantically involved, and Zendaya and Tom Holland are top of mind. The friends first ignited love rumors back when Holland posted this Instagram photo of him and Zendaya swimming together. Since then, both of them (especially Zendaya) have publicly announced that they're just friends, though Holland didn't help matters with a recent Instagram mishap.
Elle reminds us Holland tagged his Far From Home co-stars in this photo on his Instagram, but he accidentally tagged Zendaya near his crotch area. "I'm assuming because you don't know how to work ig, that's the reasoning behind my name placement," she commented with laughing emojis. He quickly fixed the issues, but fans were fast to notice the mistake and alluded that they didn't believe it was an accident at all.
He's joked in the past that Zendaya was his first celebrity crush
Holland's recent Instagram mishap was certainly an accident, but it's far from the first time fans have noticed he may have been getting flirty with Zendaya. Aside from the fact that the two are best friends and seem to hang out a lot together off-set, he's also joked during an interview that he was crushing hard on her before they met.
Both Holland and Zendaya sat down for an interview with PopBuzz back in 2017. When the interviewer asked Holland, "Who was your first ever celebrity crush," the star quickly answered, "Zendaya." He then laughed it off, though, and added, "No, it wasn't Zendaya," but fans still couldn't get over the gag. As one YouTuber commented, "'Who was your first celebrity crush?' Tom: 'Zendaya' Me: OH THIS IS HAPPENING EVERYBODY REMAIN CALM." Another added, "I died when Tom said his first celebrity crush was Zendaya omg."
Could the two of them be dating?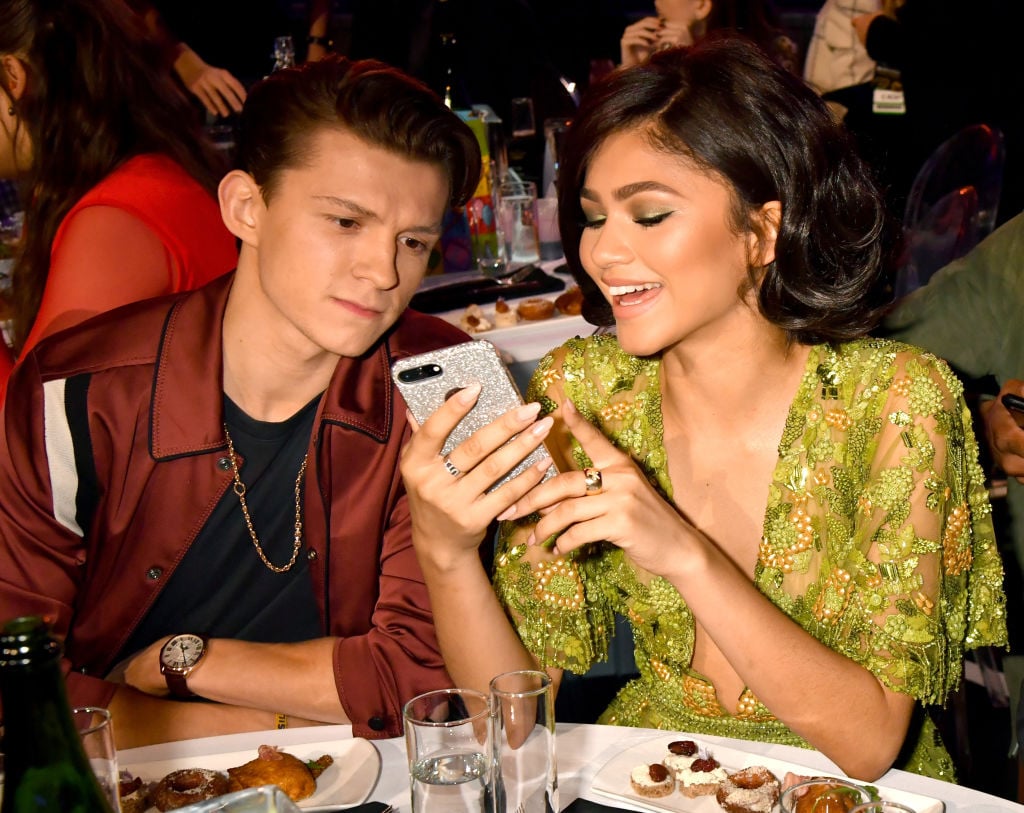 Zendaya and Holland have definitely taken on a sense of humor regarding all the dating rumors, but could they possibly be seeing each other secretly? People reports insiders told the publication that the two are, indeed, quietly pursuing a romance. "They started seeing each other while they were filming Spider-Man. They've been super careful to keep it private and out of the public eye but they've gone on vacations with each other and try and spend as much time as possible with one another," the insider claimed.
Zendaya claims all this info is false, however. She told Variety that she and Holland are "best friends" and nothing more. "He's a great dude. He's literally one of my best friends," she told the publication. And Zendaya even personally called out the "insider" who spoke to People on Twitter by laughing off the claim that she and Holland were taking vacations together. Sorry, Tomdaya fans. It looks like Holland may have really been kidding when he said he was crushing on his co-star during that interview.
Check out The Cheat Sheet on Facebook!