'Spider-Man: No Way Home' Producer Warned Tom Holland and Zendaya About Falling For One Another, But 'They All Ignored Her'
Tom Holland and Zendaya couldn't stay away from one another in real life, no matter how hard a 'Spider-Man: No Way Home' producer tried.
No matter what universe Spider-Man is in, whoever plays him eventually dates his co-star in real life. It happened with Tobey Maguire and Kirsten Dunst from the original Spider-Man trilogy, Andrew Garfield and Emma Stone from The Amazing Spider-Man franchise, and Tom Holland and Zendaya from the Marvel Cinematic Universe. But, according to a veteran Spider-Man producer, she sat down with the MCU stars to discourage them from getting romantic.
[Spoiler alert: This article contains spoilers from Spider-Man: No Way Home.]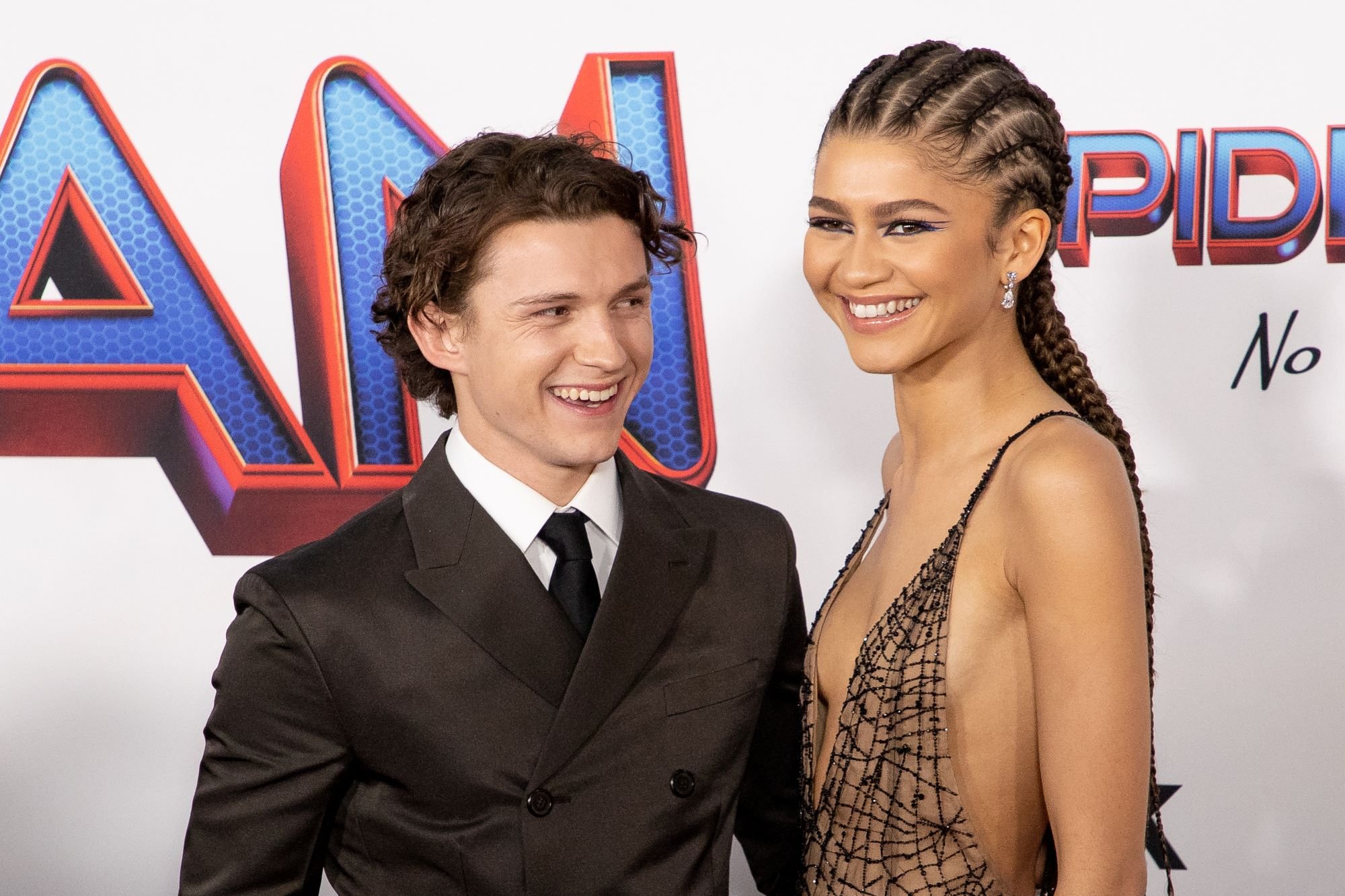 Tom Holland and Zendaya play a couple in 'Spider-Man: No Way Home'
Peter Parker and MJ, played by Tom Holland and Zendaya, became a couple at the end of Spider-Man: Far From Home. And since Spider-Man: No Way Home picks up from right where the second film left off, the development of their romantic relationship plays a big part in the third movie.
Spider-Man: No Way Home reveals that MJ's second last name is Watson, further connecting her to Peter's love interest in the comic books. And along with their friend Ned, the couple works together to save and redeem the multiverse villains. But, by the end of the movie, Peter realizes that he has to give up his personal life to save the multiverse.
Doctor Strange finally completes his spell and makes the world forget who Peter Parker is. But, before he does, Peter says goodbye to MJ. They exchange "I love you's" for the first time, and MJ makes Peter promise that he will find her and make her remember him. Unfortunately, Peter decides to leave MJ and Ned alone to protect them from the dangers of his superhero life.
A 'Spider-Man: No Way Home' producer lectured the actors about becoming romantically involved
During an interview with The New York Times, Marvel Studios president Kevin Feige and Spider-Man: No Way Home producer Amy Pascal discussed the MCU movie. Pascal, who has worked on all three Spider-Man franchises, commented on how all stars seem to couple up in real life, from Andrew Garfield and Emma Stone to Tom Holland and Zendaya.
"I took Tom and Zendaya aside, separately, when we first cast them and gave them a lecture," Pascal revealed. "Don't go there — just don't. Try not to. I gave the same advice to Andrew and Emma. It can just complicate things, you know? And they all ignored me."
Well, at least Tom Holland and Zendaya waited a few years after their first Spider-Man movie to get together.
Zendaya and Tom Holland discuss their height difference
While on the Spider-Man: No Way Home press tour, Tom Holland and Zendaya visited The Graham Norton Show to talk about the movie. Holland and Zendaya also answered questions about how their height difference awkwardly affected their stunts in the film. In particular, Zendaya referenced one scene where Peter swings with MJ and lands on a bridge.
Zendaya said, "Because of our height difference, if we're on the same point — we were attached — I would land before him. My feet obviously hit the ground before he does."
Since Zendaya would land first, she caught Holland instead of him holding her. Holland joked, "I'm the superhero. I'm supposed to look cool."
Spider-Man: No Way Home, starring Tom Holland and Zendaya, is now playing in theaters.