Stagecoach 2022: Ashton Kutcher Makes Surprise Appearance With Thomas Rhett
The Stagecoach Festival was full of surprises this weekend. From Axl Rose to Tanya Tucker face-timing Brandi Carlile, country music's Coachella made a lot of noise in the desert of Indio, CA. Perhaps the biggest surprise happened during the Friday night headliner, Thomas Rhett's set when he brought out Ashton Kutcher.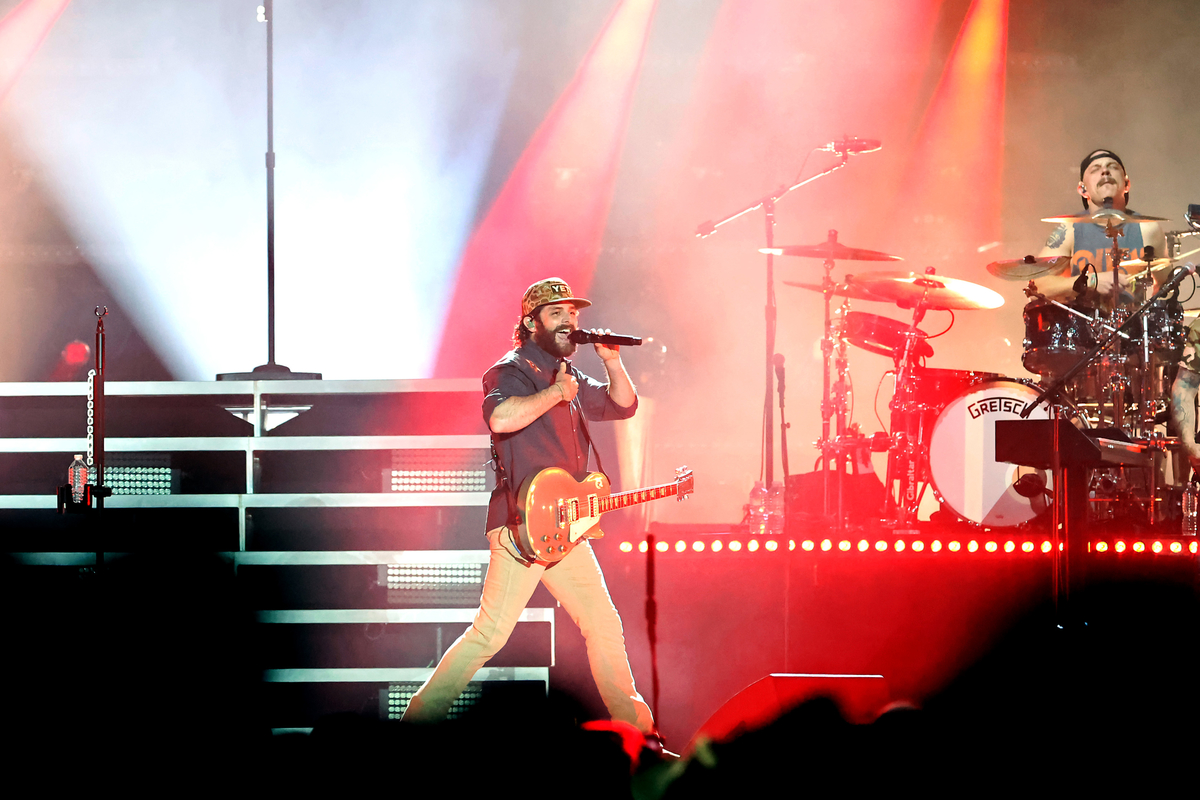 Thomas Rhett has friends in low places
On April 29, country music star Thomas Rhett headlined the Stagecoach Festival. After a two-year absence, the festival returned to the desert for three days of country music. Festival headliners have become synonymous with bringing out special guests. 
Rhett started the weekend off with a bang when actor Ashton Kutcher joined him on stage. This wasn't the first time the two shared a stage. They performed together in 2016 during a benefit show to support the Native Fund in Iowa City. 
Country musician HARDY joined them for a rousing rendition of Garth Brook's 1990 hit song, "Friends in Low Places." 
Kutcher wore a T-shirt that said, "Support Your Local Farmer" and a white cowboy hat. A big country fan, Kutcher along with his wife, Mila Kunis, has been attending Stagecoach since 2014. 
Ashton Kutcher and Thomas Rhett became friends at a dinner in LA
The two met at Stagecoach. "I remember him and his wife Mila Kunis, which is crazy, invited me and Lauren to dinner one night in L.A. And we're sitting there going, 'Are we seriously about to go to dinner with them?' Like, this is nuts."
In a 2019 podcast for his record label, Big Machine Records, Rhett shared how he became close with Kutcher. 
"Someone that I have met maybe outside of the music world that I would not in a million years have guessed they were a fan would be Ashton Kutcher," he shared. 
Rhett went on to say, "we walked in and just immediately hit it off and we've gotten to become decently close with them. But I never in a million years would've dreamed that one of my favorite actors would have been a fan of mine without ever meeting him before."
Thomas Rhett said headlining Stagecoach was a 'bucket list moment'
The "Die a Happy Man' singer last played Coachella in 2017 before Kenny Chesney's headlining set. When he stepped on stage Friday night, he greeted the crowd with "This is a freaking bucket list moment for me. It feels good to be back in the desert."
Rhett played some of his biggest hits including "Craving You," "Look What God Gave Her," and "Marry Me." Wearing his trademark trucker hat, Rhett sang a few songs from his first album, "Get Me Some of That" and "Vacation."
Toward the end of his set, Rhett said "I think this might be one of the best nights of my life," before ending his set with some of his biggest hits including "What's Your Country Song?"