Stanley Tucci Doesn't Understand Why People Are Obsessed With His Cocktail Tutorials
Stanley Tucci's cocktail tutorials went viral during the coronavirus (COVID-19) quarantine, but he doesn't understand why. (It's because they're hot, Stanley.) In a new interview, the actor commented on becoming a viral sensation after making his wife a drink.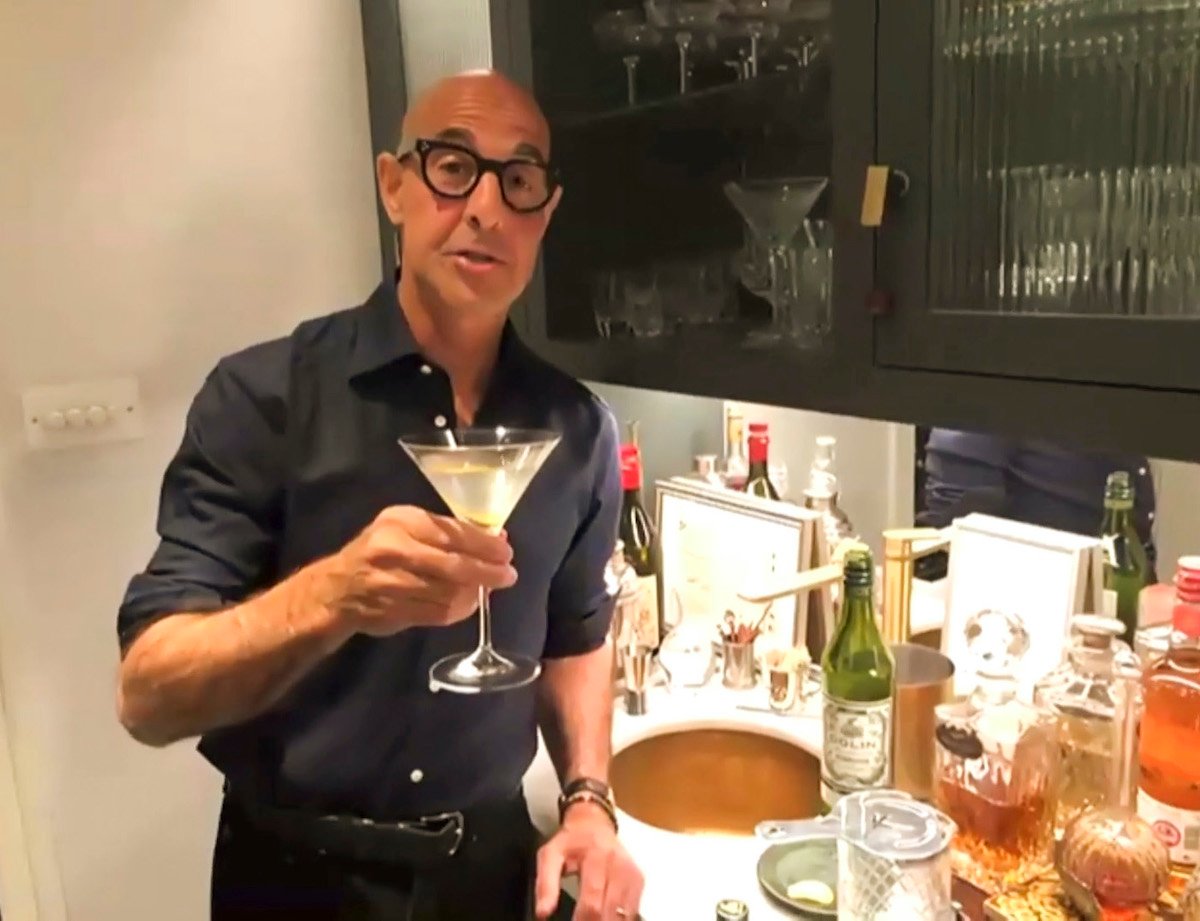 Stanley Tucci went viral for making his wife a negroni during quarantine
Tucci is married to Felicity Blunt, Emily Blunt's sister. Yes, Tucci and John Krasinski are brothers-in-law. The Julie & Julia star met his second wife at Blunt and Krasinski's 2010 wedding, which was held at George Clooney's Lake Como home.
Tucci and Felicity married on Aug. 4, 2012, and currently live in London with their two kids. (Tucci also has three kids from his first marriage to Kate Tucci, who died of breast cancer in 2009.)
When most of the world was still stuck inside during the pandemic quarantine, Tucci and Felicity got by with a little help of some cocktails. The Hunger Games star shared a video of his negroni making skills on Instagram in April 2020, and the video immediately went viral.
In the time since he's made more cocktail tutorials and is frequently asked to comment on his bartending skills in interviews. (Colin Firth endorsed his "exquisite" negronis on The Late Show with Stephen Colbert.)
The internet thirsted over Stanley Tucci's negroni tutorial video
To put it calmly, the internet thirsted over Tucci's videos.
"Physically I'm in January of 2021, but mentally I am still in April of 2020 when Stanley Tucci taught us how to make a Negroni," one Twitter user tweeted.
"Have you watched Stanley Tucci make a Negroni 800 times or are you in a sexually fulfilling relationship?" tweeted another.
Stanley Tucci calls the reactions to his cocktail tutorials 'filthy but funny'
While the appeal of the videos is obvious to viewers, Tucci doesn't get it.
"Surprised isn't the word," he told People. "I'm shocked and appalled. And very flattered."
He then shared how the first video was made in the first place. As the Oscar nominee said:
"I did that [first negroni demo] as an in-house thing for our agency—where my wife works [as a literary agent], and where I am represented here in London. And she said, 'Would you do a little cocktail thing, just for the Curtis-Brown people? It would be fun, cheer people up.' So I did. And then she said, 'Well, maybe put it on your Instagram.' And then the world changed."
And trust, he saw the more blunt responses.
"I mean, some of them were so funny. Filthy, but funny," he said. "We laughed so hard, reading them out loud. And they were great, like very flattering too, like really flattering. There was a sex [reference] that made me laugh so hard. It was like, 'Jesus.' You look at yourself, and you go, 'Really?'"
Yes, Stanley. Really.