'Star Wars': Adam Driver and Daisy Ridley Share 1 Uncanny Thing in Common
Adam Driver and Daisy Ridley share many a scene in Star Wars: The Force Awakens, The Last Jedi, and The Rise of Skywalker. Most Star Wars fans wonder if Ridley and Driver are friends in reality after working together. Here's what we know about the Driver and Ridley's relationship off-screen, including their unique similarity.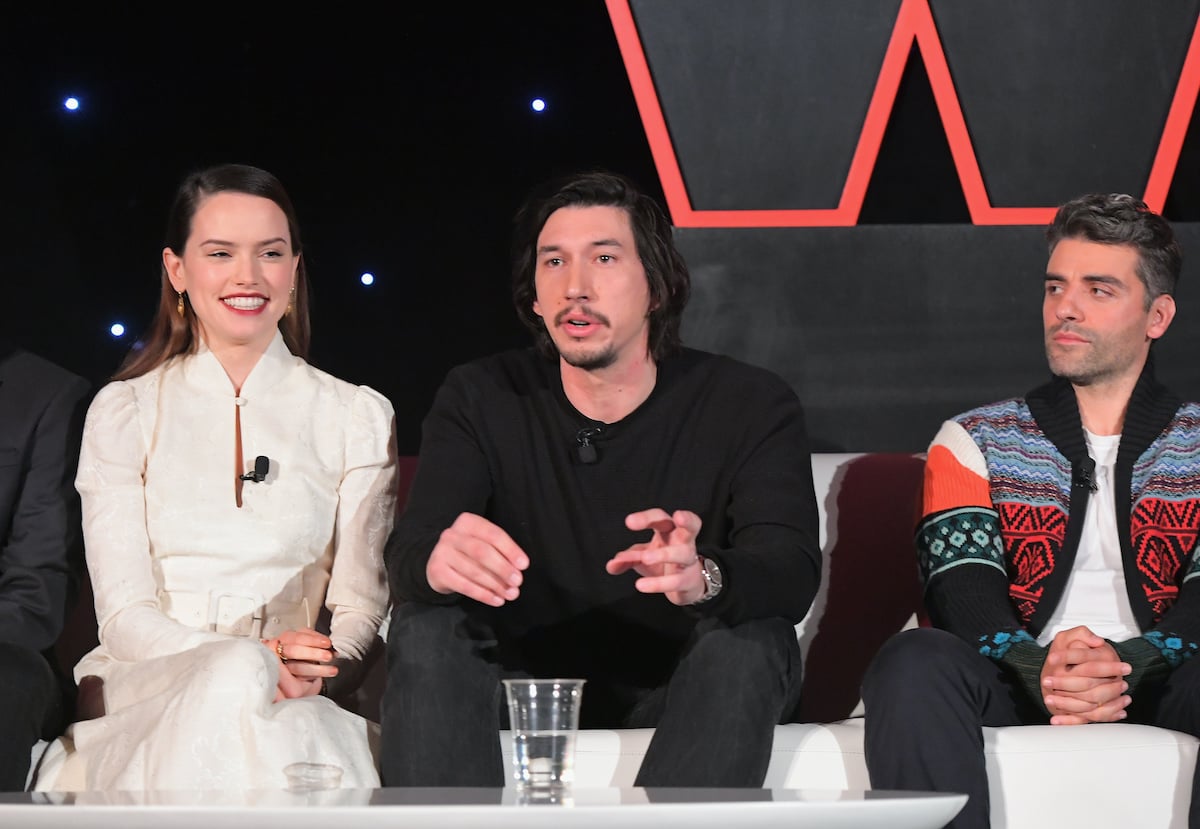 Adam Driver and Daisy Ridley don't have a romantic relationship
Since Driver and Ridley shared a kiss in Star Wars: The Rise of Skywalker, many fans have "shipped" their relationship. Though they shared feelings for each other on-screen as Kylo Ren and Rey Skywalker, Driver and Ridley aren't interested in each other romantically in reality. 
Driver is married to Joanne Tucker, who he met while he was studying acting at Juilliard. Ridley has been in a relationship with Murder on the Orient Express actor Tom Bateman since 2017. 
Daisy Ridley and Adam Driver admire each other as actors
During an interview with the Oh My Disney Show before the release of Star Wars: The Last Jedi, Ridley and Driver opened up about working with each other. "Adam is an incredible actor," Ridley admitted. "He is so amazing in this film." 
Having acted beside Driver in the most recent Star Wars movies, Ridley couldn't speak highly enough of her co-star. "In the very basic sense of it all, he is the most amazing scene partner," she added. 
Driver shared similar sentiments about Ridley. "Working with Daisy — it's great," he said. Being "such an emotionally available person" makes it easy for Driver to be in scenes with her. "I could listen to [Ridley] all day," he added. "She has just great instincts."
Adam Driver and Daisy Ridley share 1 thing in common — they dislike watching their movies 
Many fans know Driver doesn't like to watch the movies and shows he stars in. When he watched the pilot episode of Lena Dunham's HBO series Girls, Driver admitted thinking his acting was "f*cking terrible." 
Despite hating to watch his movies back, Driver will watch Star Wars movies because of how visual they are. "There's so much of the story you're missing [when you film a movie like Star Wars]," Driver told Jenelle Riley during a SAG-AFTRA Foundation interview. "They're like, 'Trust us! There's space behind you!' So I watch those." 
Ironically, Ridley shares a similar sentiment when it comes to watching her acting. "The first few times time I watched [Star Wars: The Force Awakens], I was like, 'This is f*cking terrible,'" Ridley told Driver in an interview for V Magazine. 
"That's why you can't watch anything," Driver told her. "Because then you remind yourself how bad you are — not you, me." For Driver, watching himself perform only reminds him of all the things he "could have done differently."
Instead, Driver sneaks out of premieres most of the time. "I go to a little room and wait there until it's over," Driver revealed during his interview with Riley. "[I] drink and then I go back [when it ends]." Perhaps Driver will inspire Ridley to do the same at future movie premieres.