'Star Wars' Fans Are Roasting George Lucas' 'Dad Shoes' In This Photo with Adam Driver
Through 44 years of Star Wars, George Lucas has had quite a wild ride. He's known for other projects, but mostly for a galaxy far, far away.
Through 44 years of Star Wars, George Lucas has had quite a wild ride. Through movie after movie and years of working in a galaxy far, far away, Lucas has always stayed the man he started though.
While most award-winning, fabulously wealthy writer/directors are walking down red carpets and posing for pictures, Lucas has never gotten away from his trademark style– or rather lack thereof. Fans of Star Wars may playfully make fun of his style, but most of them appreciate that after so many years of success, George Lucas is still the genuine article and hasn't let Hollywood change him.
George Lucas: 50 years of film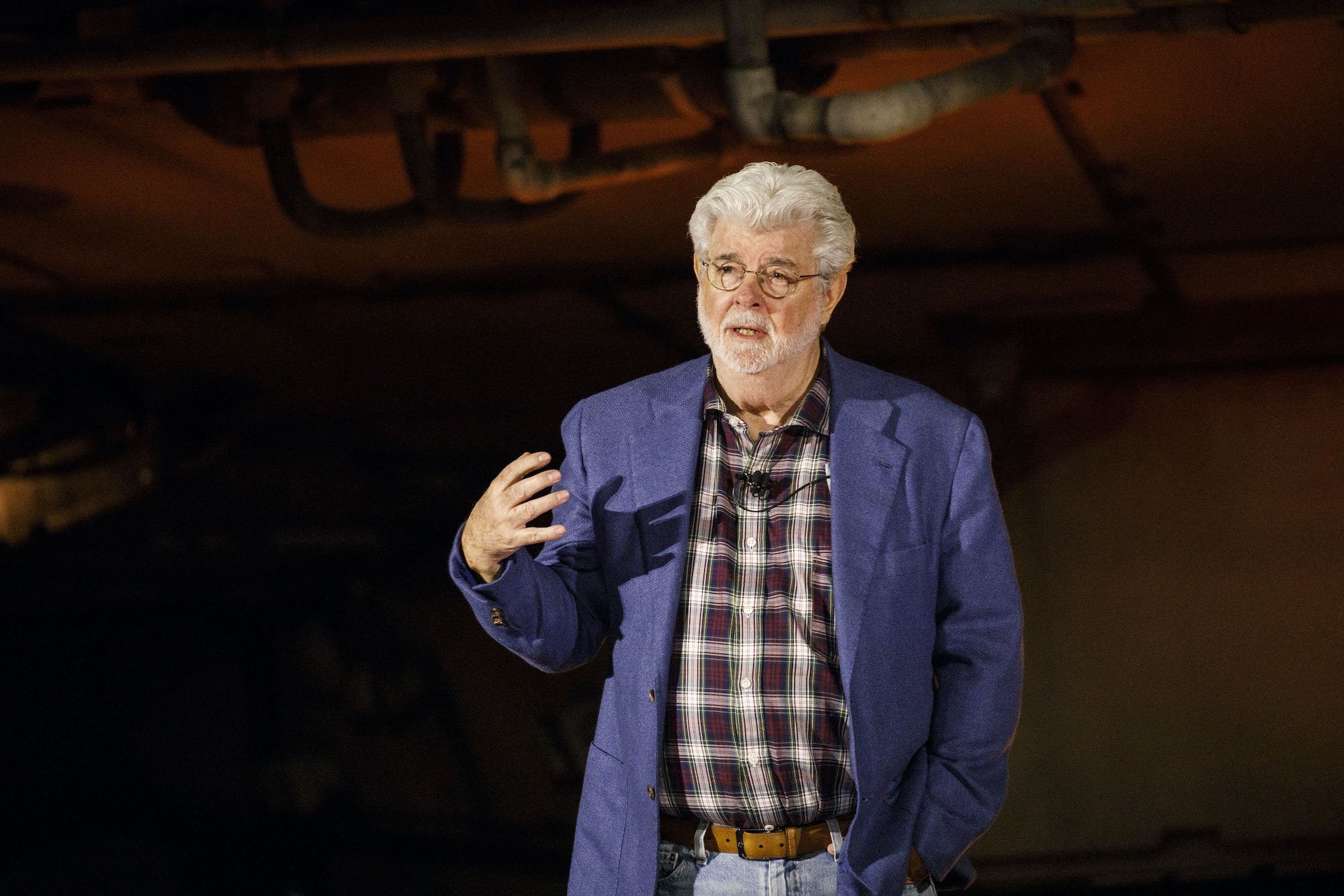 George Lucas may have become most famous for Star Wars, but his career didn't start there and certainly hasn't been just that. Lucas actually rose to prominence with 1973's American Graffiti. The film was a huge hit and gained five Academy Award Nominations according to IMDb. The film also would launch the iconic Lucasfilm before 1977's iconic release of Star Wars. The film was the highest-grossing movie of all time at its release, and a legacy was born.
After the film skyrocketed the notoriety of Lucas and the novel production techniques of Lucasfilm, he would go on to do much more work other than Star Wars. Writing and directing the Indiana Jones franchise as well, he would also go on to pioneer huge tech advances in film and computer animation.
Lucas and his 'dad shoes'
Lucas has a bit of timeless style. That is to say, his style is more or less the same as it was in 1977– throw things on, then go outside. His outfits often have none of the coordination and fashion you'd expect to see a man worth over $7 billion wearing. His predictably unfashionable looks have become his own version of "dad style" among fans.
On a picture recently shared on Reddit of Lucas and Kylo Ren actor Adam Driver at a screening of the Scorsese film The Silence, fans hopped straight into ribbing the award-winning director for his choice of shoes. Wearing an ill-fitting sport coat, jeans, and a pair of plain white sneakers to complete the look, Lucas was looking in top form.
"Gotta love seeing George Lucas with his dad shoes," wrote one commenter. Another fan remarked, "Lucas is peak dad-core, and it's very endearing. One of the most important and influential figures in the industry, and he unapologetically rocks those white sneaks to a Scorsese screening."
Fans just have good-natured fun with Lucas's fashion faux pas though. With how troubling some fans have been with Star Wars lately, fans are relieved to see that George Lucas is still quintessentially George Lucas.
The future for Lucas
The sequel trilogy came to a rather controversial conclusion when The Rise of Skywalker failed to click with fans. As Disney basically shunned Lucas's involvement with the project, fans were eager to cry that Star Wars without Lucas isn't Star Wars at all.
That seems to be about to change though, as Lucas is rumored to be coming back to work with new Star Wars boss John Favreau according to Inside the Magic. Fans are thrilled at the prospect of the director being at least involved in the creative evolution of the franchise moving forward.
Favreau saved the Star Wars franchise according to many fans with The Mandalorian's solid recovery after The Rise of Skywalker's failings. Maybe the two really could put the franchise back on the right path together. While fans know Lucas won't take them, maybe Favreau could give him a few style tips while they're at it.