'Star Wars': George Lucas Wouldn't Let Carrie Fisher Wear a Bra in 'A New Hope' for the Dumbest Reason
Carrie Fisher will always be remembered as Princess Leia Organa. Long before her death, she seemingly made peace with that fact. However, there was a lot more to Fisher than Star Wars. An actor, novelist, script doctor, and humorist, Fisher had a sharp tongue and a wicked sense of humor. The target of some of her most pointed jabs, however? Star Wars itself.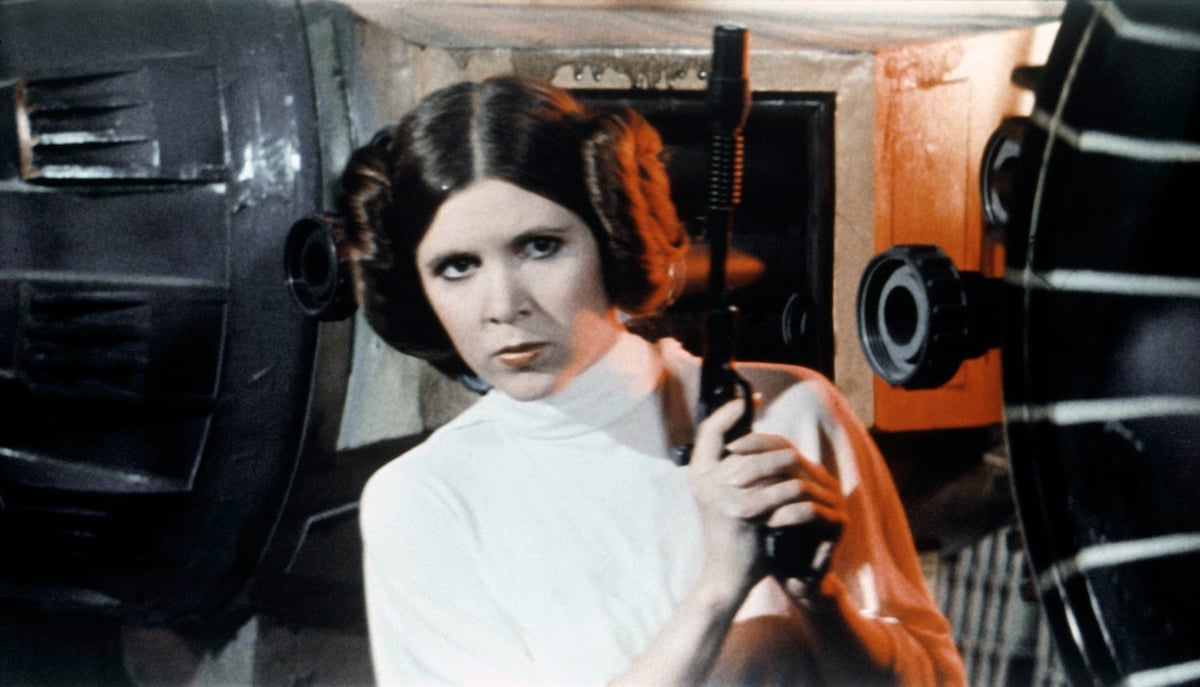 The late Carrie Fisher created an indelible hero in 'Star Wars'
Generations of children have looked up to Luke Skywalker (Mark Hamill) and Han Solo (Harrison Ford). But neither of those characters are as inherently strong or possess the authority of Fisher's Leia Organa. Although she does technically need to be rescued in Star Wars: A New Hope, Leia quickly takes control of the situation, putting both men in their place.
Throughout the original and sequel trilogies, Leia endures unspeakable hardship but continues to persist. So many other Star Wars heroes struggle to do what's right or even identify what that means. Yet, Leia is always there to get the Rebel Alliance — and later the Resistance — on track. She may become a general in the later films, but thanks to Fisher, Leia is royalty.
But George Lucas gave the actor a ridiculous rule during filming
Considering what she endured on set, it's even more impressive Fisher delivered such an indelible performance as Leia. Star Wars: A New Hope was only Fisher's second movie And under director George Lucas, she faced some unrealistic expectations, she revealed in her 2010 HBO special Wishful Drinking (via LAD Bible).
"So they put the dress on me the first day and bring me to George. He takes one look at me and he says, 'You can't wear a bra underneath that dress.' So I said, 'Why?' and he said, 'Because there's no underwear in space.' And the man said it with such conviction too."
By today's standards, Lucas' rule would likely be labeled misogynistic and problematic. But nevertheless, Fisher conceded, opting to tape down her breasts during filming. While Lucas is no doubt a visionary for creating the "galaxy far, far away" where Star Wars takes place, this bit of on-set trivia is definitely cringe-worthy.
Carrie Fisher missed the chance to complete Leia's story
Of course, Fisher's passing in 2016 meant that the world has seen the last of her humorous tidbits of life in Hollywood. But it also meant Star Wars fans were robbed of the chance to see Leia's story reach a proper conclusion. And Star Wars: The Rise of Skywalker suffers as a result.
Director J.J. Abrams did what he could to bring Leia's story to a satisfying end. But with limited unused footage from Star Wars: The Force Awakens to go off of, Fisher's presence feels unavoidably muted. Leia would have been key to The Rise of Skywalker like its predecessors hinged on Han and Luke.