'Star Wars': Some Fans Really Want More of This 'Rise of Skywalker' Scene Stealer
'Star Wars: The Rise of Skywalker' introduces several new characters into the saga. However, one in particular has fans clamoring for more.
Thanks to Star Wars: The Rise of Skywalker, the ongoing saga of Anakin Skywalker's legacy is officially over. Director J.J. Abrams' film might not be receiving the widespread praise anyone hoped for. Nevertheless, it does conclusively mark the end of an era for Star Wars.
As such, fans have likely seen the last of original trilogy fixtures like Mark Hamill and Ian McDiarmid. Likewise, characters like Rey (Daisy Ridley), Finn (John Boyega), and Kylo Ren (Adam Driver) probably won't reappear anytime soon. However, The Rise of Skywalker does include a bunch of new, exciting characters who could play increasingly important roles going forward.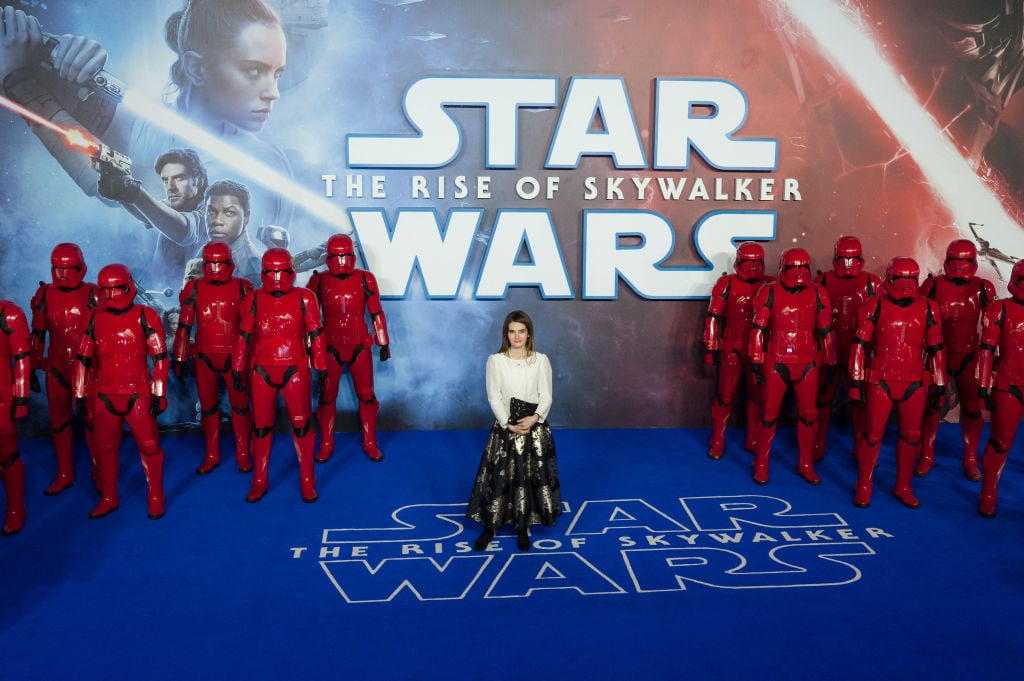 'Star Wars: The Rise of Skywalker' brings a bunch of new characters
The sequel trilogy as a whole created a ton of beloved characters, such as Rey, Finn, Poe (Oscar Isaac), and Kylo Ren. But rather than simply relying on established characters, Star Wars: The Rise of Skywalker brings several new additions to the table.
Jannah (Naomi Ackie) already has a built-in story to tell, should Lucasfilm choose to explore it. Likewise, Zorii Bliss (Keri Russell) makes a big impact with relatively brief screen time. Both represent the kind of strong female characters Lucasfilm has been adding into the Star Wars universe. Plus, they each have apparent connections to beloved heroes, though Jannah's remains unconfirmed.
We don't know if Star Wars has any plans for Jannah or Zorii. But The Rise of Skywalker also brings some welcome surprises in the form of fun side characters. As the latest adorable droid in the "galaxy far, far away," D-O left an impression on moviegoers. But he isn't the one fans are most clamoring for more of.
Introducing the unforgettable Babu Frik
That distinction goes to Babu Frik, the Anzellan droidsmith the Resistance turns to for help midway through the film. The character's small size, distinctive voice, and exclamatory "hey-hey!" have made him an instant fan favorite. The Mandalorian's Baby Yoda just might have some competition. Even famous fans like Josh Gad are calling for — jokingly or not — a Babu Frik spinoff.
Veteran actress Shirley Henderson voices the character. Henderson is probably best known to sci-fi/fantasy lovers as Moaning Myrtle in the Harry Potter films. She originated the role in 2002's Harry Potter and the Chamber of Secrets and reprised it for 2005's Harry Potter and the Goblet of Fire.
The fact Babu has left fans hungry for more despite just a few fleeting moments of screentime says a lot. The character might not be well-suited to lead his own story. However, he could make for a fun addition to another project somewhere down the line.
Where could 'Star Wars' make room for him elsewhere?
So far, Babu hasn't appeared in any other media prior to his big-screen debut. And the way Star Wars: The Rise of Skywalker ends, he certainly has plenty of room to reappear elsewhere in the saga. According to the character's Wookiepedia entry, he was born roughly 50 years before the Battle of Yavin in A New Hope.
Presumably then, Babu could pop up any number of places. Rumor has it Lucasfilm is developing a new animated series set after Star Wars: Rebels. If this is indeed the case, this could be a great opportunity to give fans an extra dose of Babu as soon as possible. Likewise, either of the upcoming Disney+ shows — both of which are set between Episodes III and IV — could see Babu assist heroes Obi-Wan Kenobi or Cassian Andor.
Seeing as The Rise of Skywalker wasn't the slam dunk Lucasfilm hoped for, the company would be wise to leverage the elements of the film that did work. Babu is absolutely one character that resonated with fans. So here's hoping he adds a little "hey-hey!" to Star Wars again very, very soon.