Star Wars: Who is Mark Hamill's Wife, Marilou York?
Mark Hamill is one of pop culture's most beloved icons, best known for his role as Luke Skywalker in the Star Wars franchise. Hamill is a firm fixture on the fan convention circuit and regularly interacts with his fans on social media. Hamill has also enjoyed a prolific career as a voice actor.
Unlike many Hollywood stars, Mark Hamill has not been regularly involved in drama, and his personal life has stayed mostly out of the headlines — much of this can be attributed to the fact that Hamill is happily married to his wife of many years, Marilou Hamill. 
How did Mark Hamill become famous?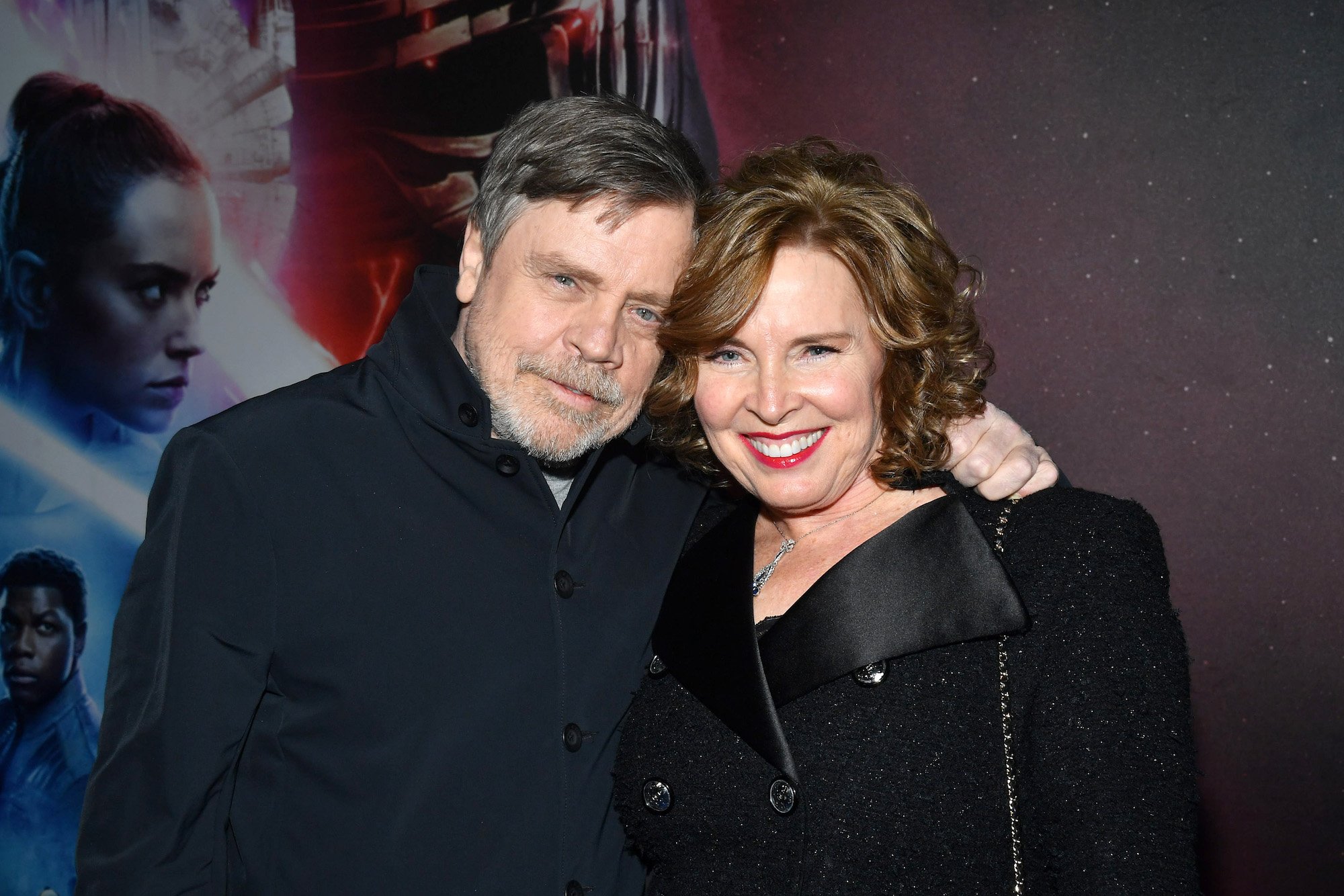 Mark Hamill was born in California in 1951. Raised in a large family with six siblings, Hamill and his family moved around a lot during his early years. Hamill began studying drama while in high school and went on study acting as well as drama at Los Angeles City College.
In the early sixties, Hamill's television career took off, and he landed small roles in TV shows such as the soap opera General Hospital and The Texas Wheelers. 
Eventually, Hamill became a familiar face on television shows. He began getting guest parts in more established shows, including The Partridge Family and The Bill Cosby Show. He also acted in a number of made-for-television movies. In 1977, he appeared as Luke Skywalker in Star Wars.
The film became a massive, unexpected success, and Hamill shot to fame. Much of his career has been defined by the role of Luke Skywalker, but Hamill doesn't seem to mind, eagerly embracing the part that made him a star. In addition to acting in the Star Wars franchise, Hamill has lent his voice to a wide variety of animated television shows and movies, including playing the infamous Batman villain, the Joker. 
How did Mark Hamill meet his wife?
In the early seventies, Mark Hamill was in a relationship with his General Hospital co-star, Anne Wyndham. Not long after their relationship dissolved, Hamill met Marilou York, a dental hygienist. They first crossed paths when Hamill visited the clinic where York worked, intending to get some work done on his teeth. According to Hamill, he was smitten right away and the two started dating. 
Still, after the success of Star Wars, Hamill decided that he wanted to sow wild oats, and broke up with York for a brief time. "I went to Las Vegas to date 38-year-old showgirls," Hamill admitted per Town and Country. "I wanted to scale all these women. That was exciting for about the first 10 minutes. Eventually, I wanted something to hold onto—and a family." Fortunately, Hamill and York were able to pick up where they left off, and in 1978, they tied the knot in a civil ceremony. 
Mark Hamill and his wife have defied the odds
Mark Hamill and his wife have been together ever since. They welcomed three children together not long after their union — two sons, Nathan and Griffin, and a daughter named Chelsea.
All of Hamill's children work closely with him on his career, with his daughter even serving as his personal assistant of many years. Through it all, the ups and the downs in Hamill's decades-long career, his wife has remained his staunchest supporter. Hamill regularly raves about Marilou Hamill, claiming that "she makes the ordinary seem extraordinary."
After having celebrated more than thirty years together, Mark Hamill and his wife have truly defied the odds, in an industry where drama seems to be the norm.