'Star Wars': You Won't Believe Which 'Harry Potter' Actor Voices 'The Rise of Skywalker' Breakout Babu Frik
With Star Wars: The Rise of Skywalker, an era of the popular film series has reached its end. Over the last 42 years, the Star Wars saga has evolved into one of the most popular franchises in cinema history. From George Lucas' 1977 original to J.J. Abrams' new release, the films of spawned countless media, including TV shows, comics, novels, and video games.
In fact, the fandom Star Wars has inspired is nearly unparalleled in modern pop culture. While the Marvel Cinematic Universe — another Disney-owned brand — rivals it, perhaps the best comparison would be the Harry Potter phenomenon. Like Star Wars, that book — and later film — series has exploded globally, inspiring millions of devoted fans known as "Potterheads."
As Star Wars fans debate everything about The Rise of Skywalker, they might not even realize the film actually features an actor straight from the wizarding world of Harry Potter.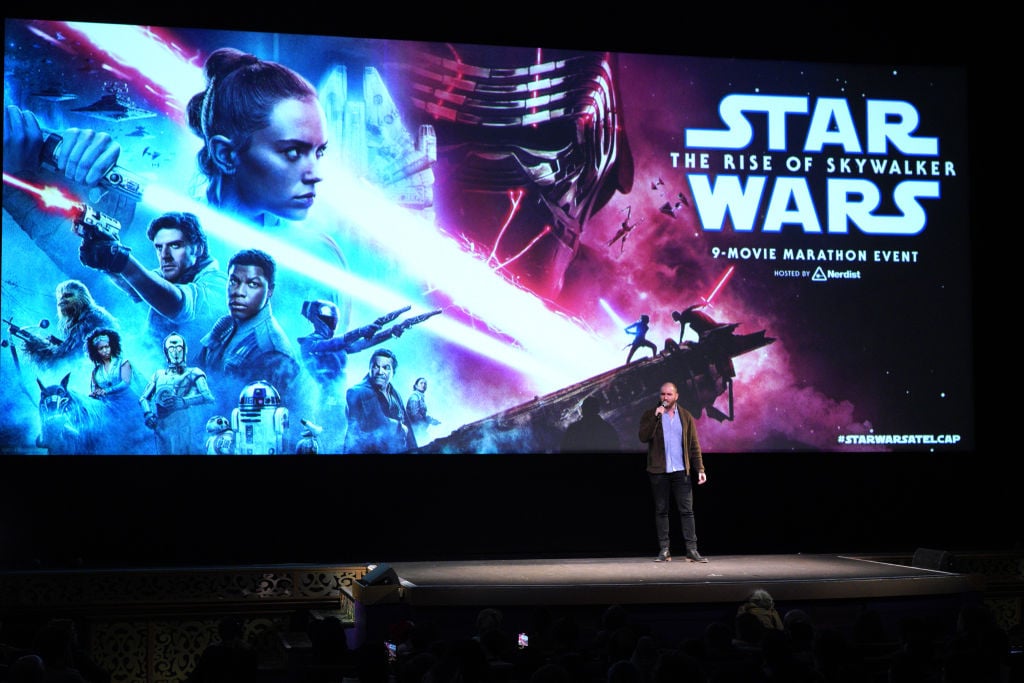 Baby Yoda isn't the only adorable new 'Star Wars' critter
Star Wars: The Rise of Skywalker might serve as the grand finale of the Skywalker saga. But in addition to bringing back a ton of familiar faces, the film adds a few choice new characters. One of the most popular so far has been the diminutive droidsmith known as Babu Frik.
The tiny Anzellan assists the Resistance during a key mission to the distant planet of Kijimi. And audiences can't seem to get enough of him. The character's enthusiastic attitude and distinctive voice make him one of the most fun elements of The Rise of Skywalker.
His appearance also adds an unexpected complication to fans' current obsession with The Mandalorian's "Baby Yoda." That character has already become a viral sensation, but it looks like Babu may be making a similar splash in the Star Wars fandom.
The 'Harry Potter' alum 'Star Wars' fans didn't even notice
Brought to life by a combination of puppetry and CGI, Babu Frik steals every second he's on-screen. And while a great deal of the credit goes to the puppeteers and visual artists, the voice actor behind Babu deserves just as much attention. As it turns out, the Star Wars breakout was voiced by none other than Harry Potter star Shirley Henderson.
Henderson appeared in two Harry Potter films as Moaning Myrtle, the Hogwart's student who was killed on school grounds. In Harry Potter and the Chamber of Secrets, Myrtle plays a key role in Harry (Daniel Radcliffe) and his friends' investigation. Then, she pops up in Harry Potter and the Goblet of Fire, where she assists Harry during a Triwizard Tournament challenge.
In addition to her Harry Potter work, Henderson's film credits include Bridget Jones's Diary and its sequels, Trainspotting, and Miss Pettigrew Lives for a Day. She's also appeared in tons of British television — including an episode of Doctor Who — and several productions on the London stage.
Will Shirley Henderson return as Babu Frik?
Henderson's surprise role in Star Wars: The Rise of Skywalker is a testament to just how versatile a performer she truly is. Her voice work already has left fans hoping Babu Frik will reappear in other Star Wars stories. But will Henderson have the opportunity to return as Babu?
At this point, the future of Star Wars lies with Disney+. According to his Wookiepedia page, the character was born 50 years or so before A New Hope. So perhaps Lucasfilm can squeeze him into an episode of The Mandalorian. Who knows what Babu was up to during that time, in which he'd be roughly the same age as Baby Yoda? We have no clue how the Anzellan species ages, after all.
Since so much of The Rise of Skywalker has been divisive among fans, bringing Babu back seems like an easy win for Lucasfilm. Plus, we can't imagine how the internet would react if Baby Yoda and Babu Frik actually crossed paths. Could we even handle the cuteness?