'Stargirl' Season 2: Photos Reveal First Look at Jay Garrick in Episode 9
The CW's Stargirl Season 2 Episode 9 will mark the first time a character from the Arrowverse, aka Jay Garrick/The Flash, will appear in the show. And the hype for it is real. The Justice Society of America did show up for a few seconds near the end of "Crisis on Infinite Earths." But it was brief, and it showed that the JSA lived on Earth-2. The JSA does not live on Earth-Prime like the rest of the Arrowverse heroes. So, to say that John Wesley Shipp's Jay Garrick appearing in Stargirl is a big deal would be an understatement.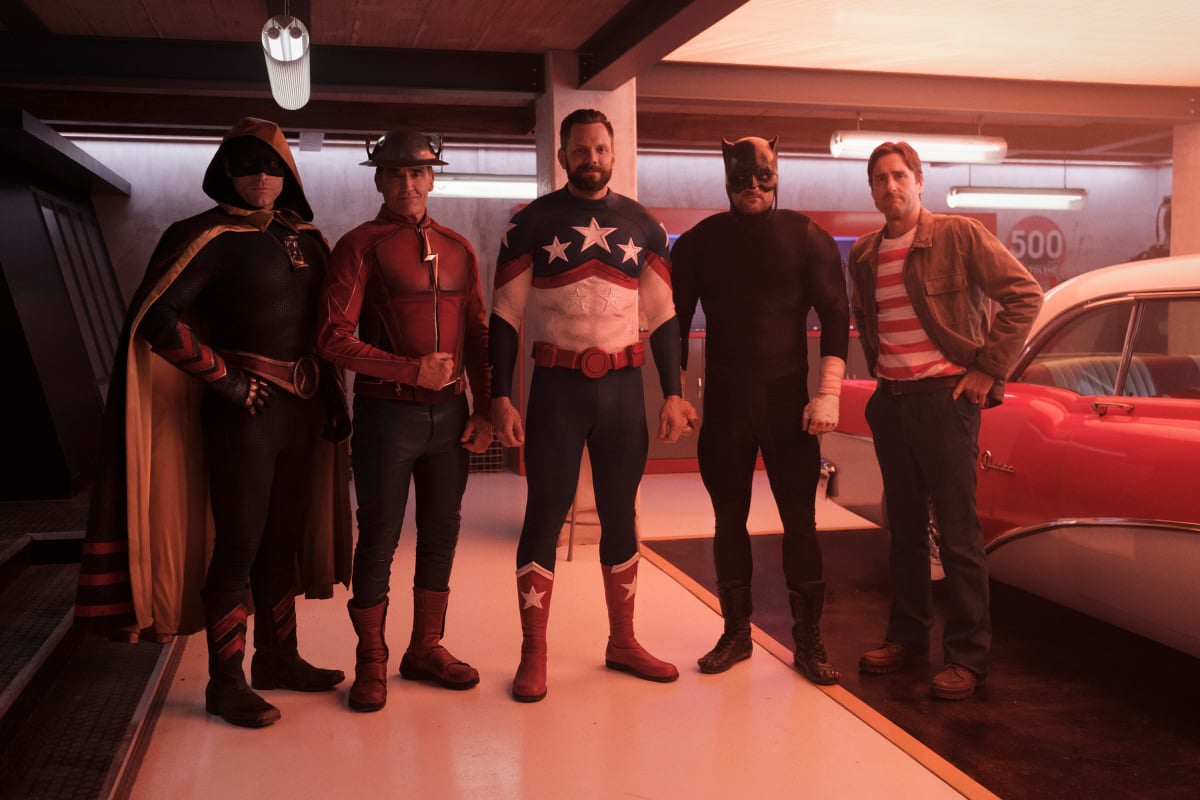 New photos show Jay Garrick with the original JSA in 'Stargirl' Season 2 Episode 9
Entertainment Weekly recently released exclusive photos from Stargirl Season 2 Episode 9, and some of them feature Jay Garrick. In most of the photos, Garrick is dressed in his classic Flash outfit. But a couple of pictures show Garrick and other original JSA members at a cemetary.
It seems as though Jay Garrick's scenes in Stargirl take place in a flashback because of the presence of other original JSA members in the pictures. Lou Ferrigno Jr as Rex Tyler/Hourman, Joel McHale as Sylvester Pemberton/Starman, Brian Stapf as Ted Grant/Wildcat, and Ethan Embry as Johnny Thunder can all be seen in the exclusive photos along with John Wesley Shipp as Jay Garrick.
You can check out the rest of the photos of Jay Garrick in Stargirl in Entertainment Weekly's article.
Everything we know about 'Stargirl' Season 2 Episode 9
The synopsis for Stargirl Season 2 Episode 9, "Summer School: Chapter Nine," reads, "JOHN WESLEY SHIPP GUEST STARS AS JAY GARRICK – As Eclipso (Nick Tarabay) takes aim at the Whitmore/Dugan's, Pat (Luke Wilson) is reminded of painful memories from his past involving the original JSA and their fight to take down Eclipso. Meanwhile, Mike (Trae Romano) is forced to confront the guilt he feels for his role in Icicle's death, and Barbara (Amy Smart) comes face to face with someone from her past. Finally, Courtney (Brec Bassinger) struggles to hold onto hope after Eclipso targets those around her. Hunter Sansone also stars. Andi Armaganian directed the episode written by Alfredo Septién and Turi Meyer."
From the synopsis and the photos of the upcoming episode of Stargirl, it looks like Jay Garrick will not meet with the new JSA in the present. That makes sense given the fact that Pat said he died the night of the Injustice Society battle. But it would be a great reveal if he hadn't died after all. Perhaps he just escaped to another Earth. Could this Jay be the same Jay that we saw in The Flash? Anything is possible.
Does Jay Garrick's appearance indicate more Arrowverse crossovers in the future?
Many fans hope that John Wesley Shipp's appearance as Jay Garrick in Stargirl opens the door for more crossovers in the future. And Geoff Johns, the series showrunner, agrees.
Johns recently spoke about Jay Garrick coming onto Stargirl. He confirmed that he would like to do more crossovers with Arrowverse characters in Stargirl. But, for now, viewers will have to settle for Jay Garrick. And there is another returning character that fans should be excited about.
According to Entertainment Weekly, Johns said, "In the best comic books, I always love the long-brewing subplots and the return of Starman, Sylvester Pemberton, is one of those. You will see him come in to play in season 2, both in flashbacks — we have a really cool episode 209, it's got a Justice Society flashback with the original members with Luke and Joel and the other JSA founders — and then you'll see Joel McHale into the latter half of the season." Yes, more Starman, please.
Stargirl airs Tuesdays at 8/7c on The CW.