'Station 19': Danielle Savre Teases 2 Bumps in the Road for Maya Bishop and Carina DeLuca in Season 5 (Exclusive)
Danielle Savre exclusively told Showbiz Cheat Sheet some spoilers about the upcoming storyline between Maya Bishop and Carina DeLuca in 'Station 19.'
In ABC's Station 19 Season 5, Maya Bishop (Danielle Savre) and Carina DeLuca (Stefania Spampinato) are happily married and planning to start a family. However, Savre hinted that it's not that simple in an exclusive interview with Showbiz Cheat Sheet. The Wild About Harry actor teased some upcoming struggles on the horizon for her Station 19 character, Maya Bishop.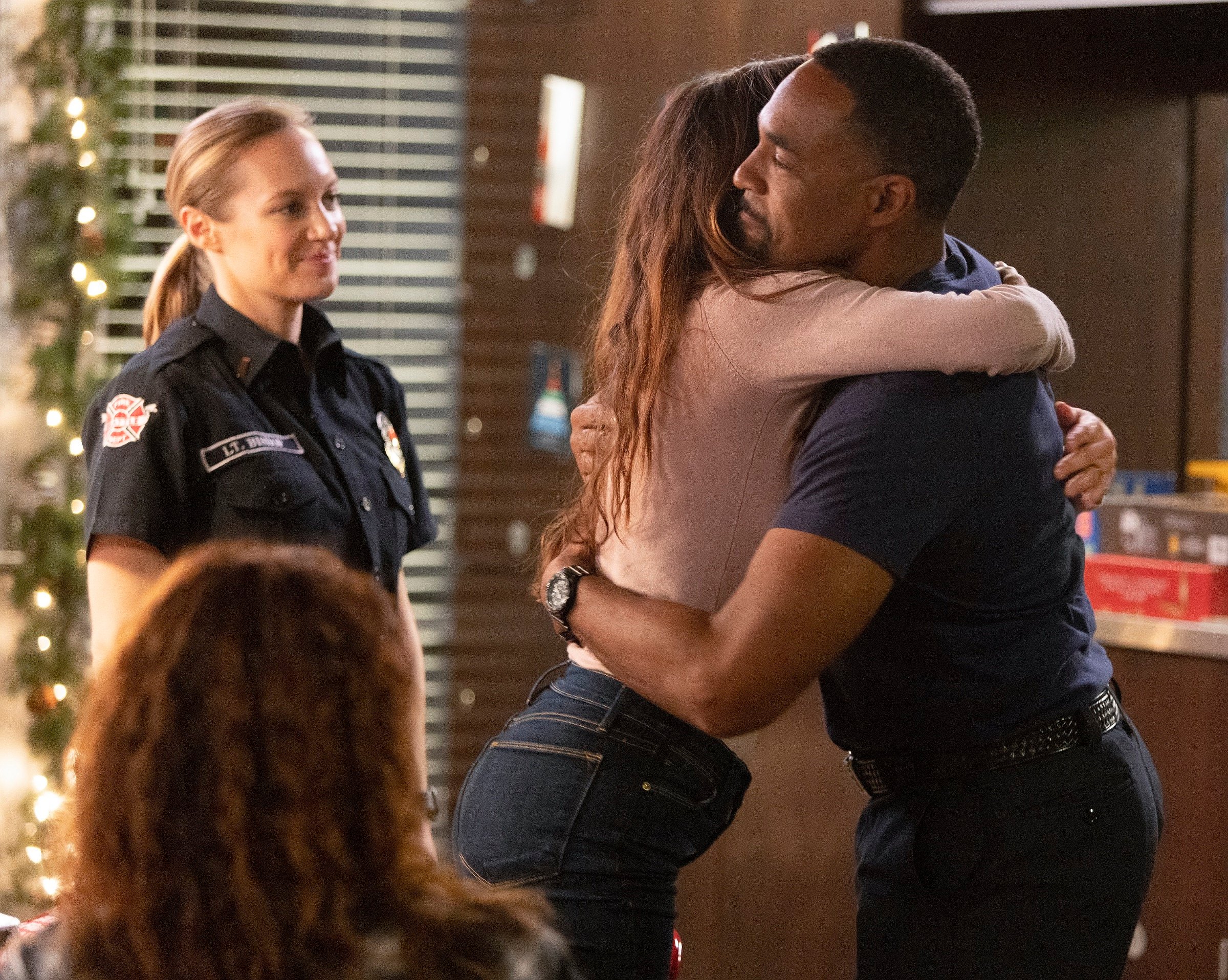 'Station 19' Maya Bishop realized she wanted to have a baby
In the Station 19 Season 4 finale, Maya Bishop and Carina DeLuca finally tied the knot. However, the wedding night was tainted because of a text the entire team received. The Battalion chief removed Bishop as head of Station 19 because she defied his orders. Instead of waiting eight minutes for an AID car to arrive, she transported a young boy in a different vehicle. Although it was against the policy, she saved the child's life. 
After spending the day with Dean Miller's daughter, Pruitt Arike Miller, Maya had a change of heart about having children. In the Thanksgiving-themed episode, "Little Girl Blue," she told Carina she wanted a baby. Then in Station 19 Season 5 Episode 7, the couple discussed the logistics of starting their family. Maya insisted that Carina carry the baby and contribute the egg. The couple had a romantic day together, dreaming about their future family.
In the Dec. 16 Station 19 Winter Finale, Maya and Carina announced to the station that they planned to have a baby together. Everything this season so far is romantic and happy for the couple. However, in a conversation with Showbiz Cheat Sheet, Savre teased some bumps in the road ahead. 
Who will be the sperm donor for Maya and Carina in 'Station 19?'
In an interview with Showbiz Cheat Sheet, Savre explained that both upcoming challenges for Maya Bishop in Station 19 revolve around having a baby with Carina DeLuca.
"There's a lot of elements and a lot of steps that have to be taken and in regards to who's going to be the sperm donor," Savre began. "Is it going to be somebody from a company or a donor place, or is it going to be someone they know? I think that playing with that and seeing kind of how that plays out is really interesting. Then obviously the emotional ups and downs of deciding to have a child and, you know, the stresses that come with that."
Avid viewers of Shondaland shows like Station 19 and Grey's Anatomy know that the sperm donor probably won't be from a sperm bank. Choosing someone the two women know would be more exciting and drama-filled. Will Carina and Maya argue over who to choose? Probably. However, Shondaland fans hope it's not as complicated as the Arizona-Callie-Mark baby, Sofia.
Bishop still wants to be captain at Station 19
"And then and then the other thing is just Maya's heart and her desire to be captain and how that's going to play out — what's going to happen there," Savre added.
In the Station 19 Season 5 Winter Finale, viewers found out that there's a new female fire chief. Bishop revealed her excitement over the step in the right direction for the fire department since a male typically holds the role. Hopefully, this news means Bishop could get her captain position back in the future.
"I think we have always seen Maya struggle with the balance between her career and her personal life," Savre continued. "And before Carina, the only thing that mattered was her career. And now, what should be the most important thing is her relationship with her wife and her desire to have a child. So it's the balance of those two things."
It sounds like Maya's two worlds collide in the back half of Station 19 Season 5.
"So I think that it's really telling that story regardless of the fact that it's an LGBTQ relationship," Savre concluded. "I think it's really valid that a woman is trying to balance taking on the responsibility of being a mother and also balancing her career — a career she wants, but that may not play out the way she wants it to."
Savre's teaser doesn't sound like good news regarding Bishop's career in the upcoming second half of Station 19 Season 5. According to ABC, Station 19 returns on Feb. 24, 2022.