'Station 19' Season 4 Episode 14 Recap, 'Comfortably Numb': What 'Grey's Anatomy' Fans Need to Know
The 'Station 19' Season 4 Episode 14 recap includes everything that happened plus the details about the Grey's Anatomy characters who appeared on the spinoff.
The Station 19 Season 4 Episode 14 recap includes everything that happened to fans' beloved Grey's Anatomy characters. Although Ben Warren (Jason George) is a series regular on the firefighter spinoff, many Grey's fans want the details on his life without watching Station 19. Miranda Bailey (Chandra Wilson) almost joined the firefighter show for another week in a row, but got stuck in surgery. Plus, Andrew DeLuca's (Giacomo Gianniotti) sister, Carina DeLuca (Stefania Spampinato), is still near and dear to fans' hearts since Andrew's unexpected death.
[Spoiler alert: This article contains spoilers from Station 19 Season 4 Episode 14.]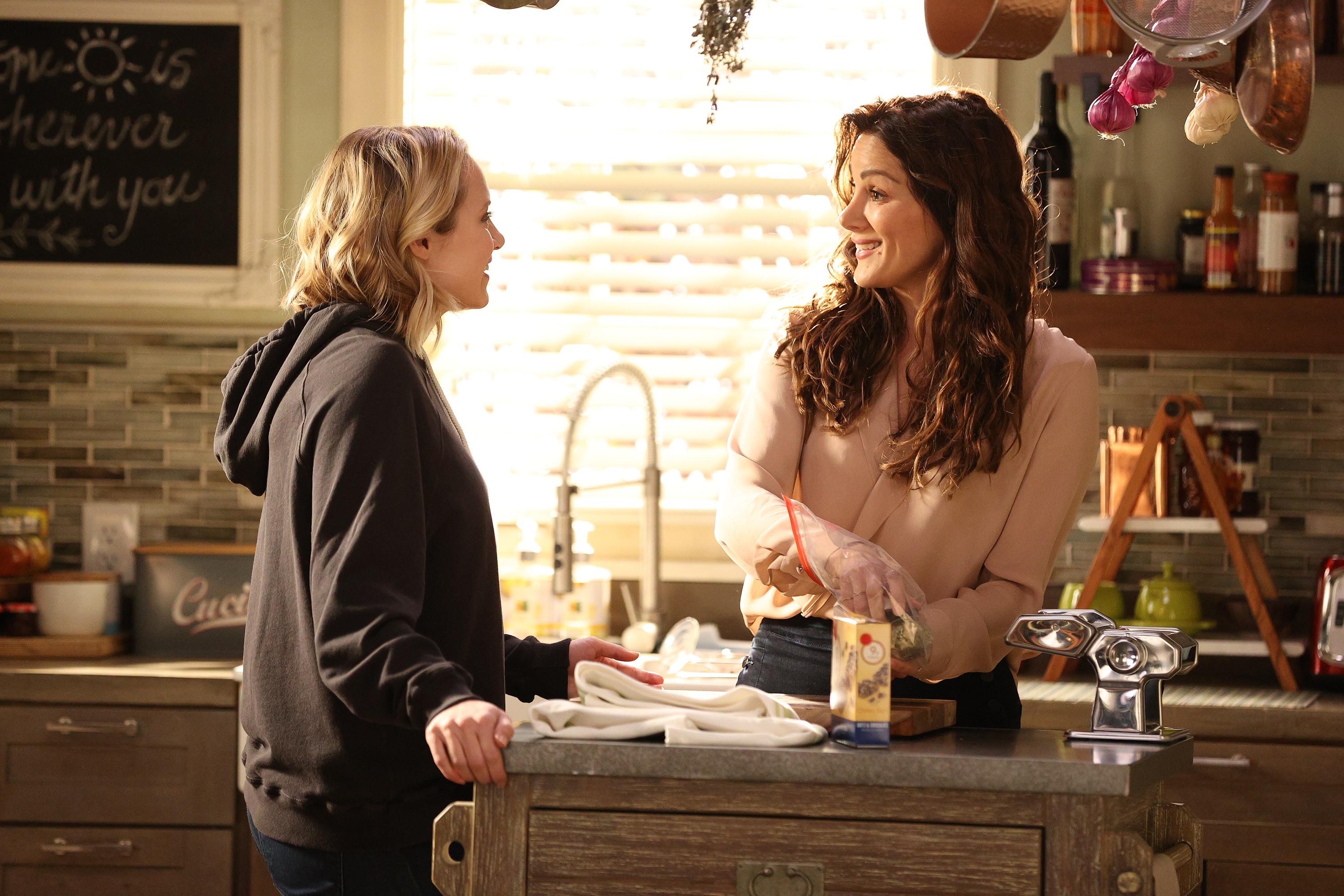 'Station 19' Season 4 Episode 14 recap: Jack and Inara
Jack Gibson (Grey Damon) and Inara (Colleen Foy) see a person fall past their window in Station 19 Season 4 Episode 14 as they lock lips. It's the first time they have childcare since they became a couple, but they head down to the dumpster to help the girl, Lisa (Toccarra Cash), who fell from a window above. 
She hit her back on the dumpster on the way down so she couldn't move. Lisa admitted that she was cheating on her husband with the neighbor. The man's girlfriend came home unexpectedly, so she ran out of the fire escape that turned out not to be there. 
'Station 19' Season 4 Teases an Upcoming Ben and Bailey Episode
Lisa's husband, Eric (Dhruv Uday Singh), showed up with groceries and heard what happened. He's angry and ends up in a physical altercation with the "grungy" neighbor. During the rescue, Jack admitted to Lisa that he was involved with a married woman, Eva. Later, Inara tried to be sexier, but Jack backed away. He realized that he was treating her delicately because he rescued her from an abusive relationship. Luckily, they make up with intimacy on the countertops. 
What happened to Ben Warren on Station 19?
In the last episode of Station 19 Season 4 Episode 13, "I Guess I'm Floating," Ben nearly died. While on a cruise ship, Battalion Chief Gregory (Tom Wright) had a heart attack and fell overboard. Dean Miller (Okieriete Onaodowan) and Ben jumped in after the chief to attempt to save him. For most of the episode, the two men thought they might die at sea. However, they washed up onshore and made it to the hospital alive.
When Station 19 Season 4 Episode 14 began on May 20, Ben finally had surgery on his testicle. In the last episode, viewers found out that he had a mass in his testicle, which might be cancer. He did not want to have surgery, but his near-death experience changed his mind. Andy Herrera (Jaina Lee Ortiz) showed up at the hospital to support Ben since Miranda was stuck in surgery.
'Station 19′: Here's Why the Series' Creator Chose the Number 19
Ben has a terrible dream while under anesthesia. His mother appears to him and tells him to fight for his children. Viewers find out that his mother died of cancer. However, the addition of numerous versions of Ben is an odd touch. When he wakes up, the crew from Station 19 come to the hospital to support him.
'Station 19' Season 4 Episode 14 recap: Carina and Maya
Meanwhile, Carina DeLuca (Stefania Spampinato) and Maya Bishop (Danielle Savre) navigate a bump in their relationship in Station 19 Season 4 Episode 14. Maya shared that she never told her father she is gay. However, Carina admitted that she never wants to get married. She doesn't believe in marriage at all.
Carina breaks down and admits that she is frustrated that Maya isn't more supportive. Maya admits that she thought Carina was happy to go "home." However, they realize that their home is together. Later, Maya suggested that they get married, so Carina doesn't have to move back to Italy. When Carina disagrees, Maya heads in the opposite direction and proposes they split up. They get into an intense argument, and Carina leaves without even saying "goodbye."
On her way to the airport, Carina talks to her ex-girlfriend, who finally talks some sense into her. She turns the car around, tracks down Maya and tells her she's ready to marry her.
On May 27, 2021, Station 19 Episode 15, "Say Her Name," airs on ABC. According to IMDb, the following week, June 3, 2021, is the Station 19 Season Finale, "Forever and Amen."