'Station 19' Season 5 Episode 12 Preview Reveals an Unlikely Pair Working Together
ABC's Station 19 Season 5 detoured into Vic Hughes (Barrett Doss) and Theo Ruiz's (Carlos Miranda) love story with episode 11, but we're deep into firefighter drama in the new episode next week. The Station 19 Season 5 Episode 12 preview teases an odd pair stirring up the ranks at the station — Maya Bishop (Danielle Savre) and Robert Sullivan (Boris Kodjoe). Here's our breakdown of the promo trailer for the next new episode, "In My Tree."
[Warning: This article contains spoilers about Station 19 Season 5 Episode 12, "In My Tree."]
'Station 19' Season 5 Episode 12 preview: Maya makes a deal with Sullivan
RELATED: 'Station 19' Season 5: Here's Why Captain Beckett Looks So Familiar
In the Station 19 Season 5 Episode 12 preview for "In My Tree," Maya proposes an idea to Sullivan. She knows that he's tight with the new fire chief Natasha (Merle Dandridge). 
"I should be captain of 19 by now. I need to get my job back," Maya explains to Sullivan in the preview. "Let's help each other out. You tell me how to win chief over, and I will make sure that no one else figures out your secret. And we get rid of Beckett."
The conversation is surprising because Sullivan encouraged the former fire chief to demote Maya in the first place in the Station 19 Season 4 finale. However, Captain Beckett (Josh Randall) slept with Sullivan's wife, Andy Herrera (Jaina Lee Ortiz). The captain also hides alcohol in his office, and Sullivan thinks he has a drinking problem. However, in season 5 episode 11, Richard Webber (James Pickens, Jr.) suggested that Sullivan help Beckett rather than report him.
Andy Herrera stars in a shocking rescue in the 'Station 19' Season 5 Episode 12 Trailer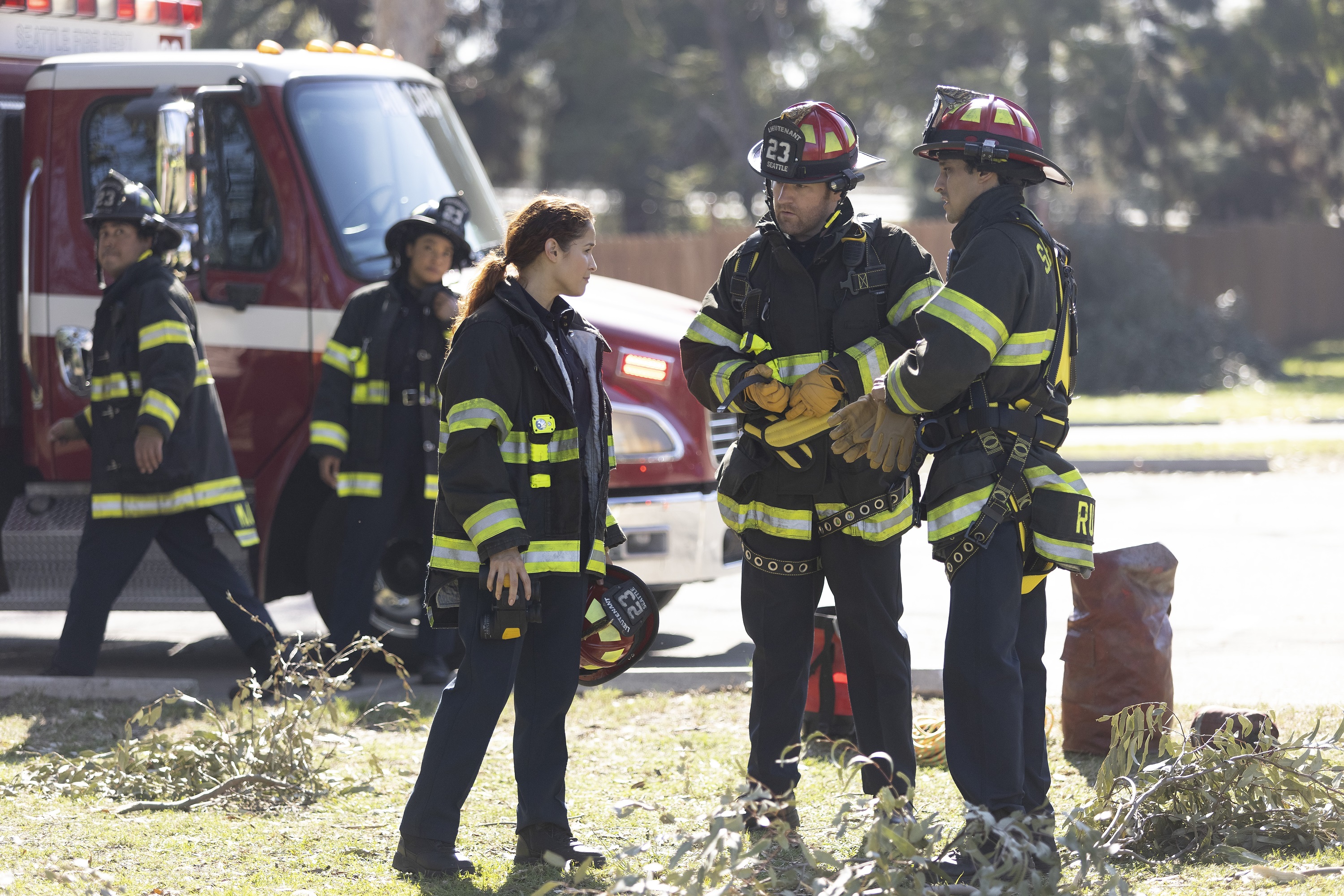 As the trailer for Station 19 Season 5 Episode 12 continues, Andy Herrera again shows that she is captain material.
"It looks like a parachute malfunction," Herrera says after looking at a young woman trapped in a tree. "Any movement of those branches will risk her bleeding out."
Andy continues to serve as acting captain of Station 23. She stepped up temporarily while Captain Pete Aquino (Alain Uy) recovered from the explosion that killed Dean Miller (Okieriete Onaodowan).
"This woman is dying right now," Herrera tells someone on the phone. "I need to get face to face with her."
Next, Herrera is on the tree branch with the injured woman.
The episode 12 promo leaves out Ben Warren's guest visitor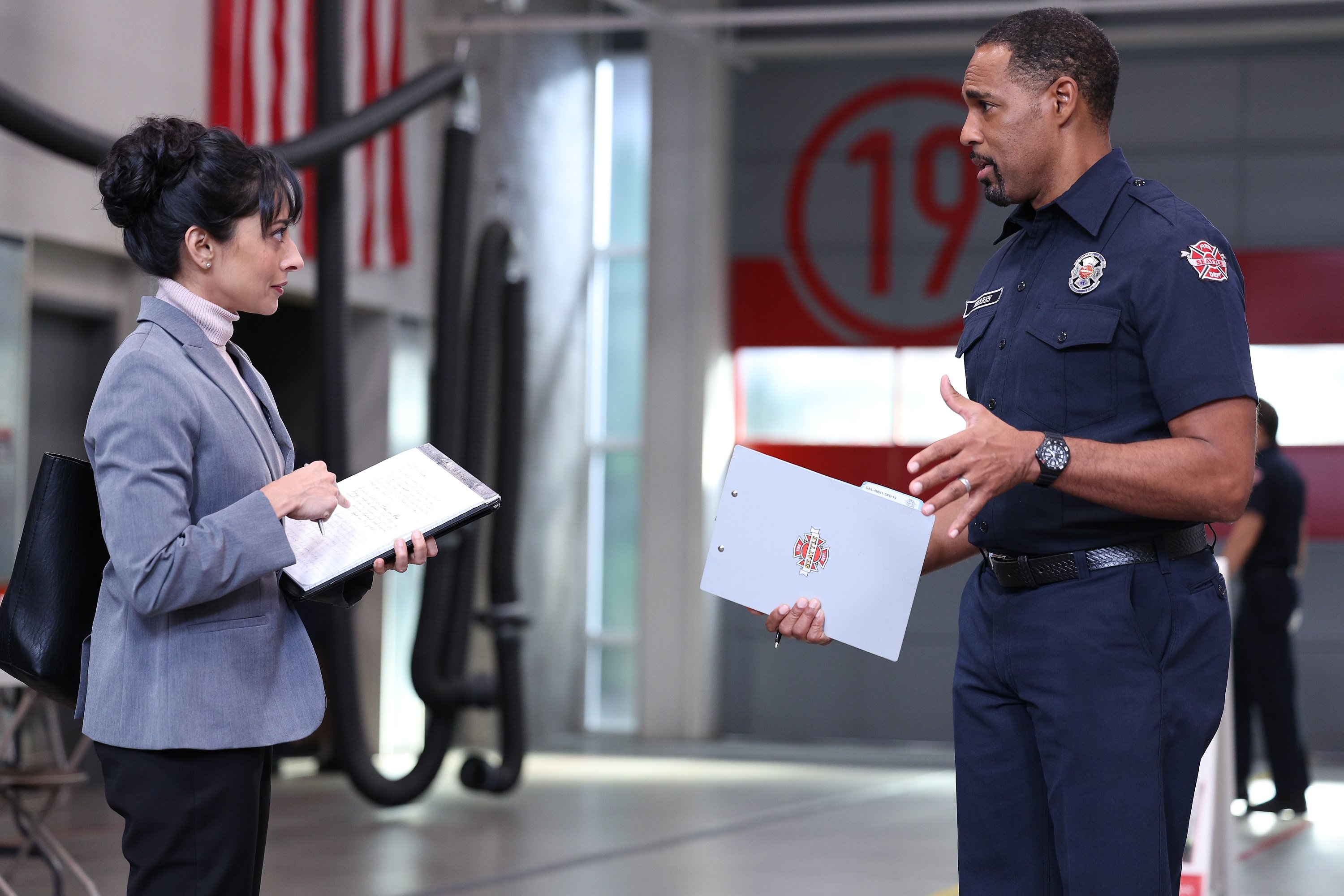 RELATED: 'Station 19' Cast Real-Life Partners Revealed
Although it's not included in the Station 19 Season 5 Episode 12 promo, a woman visits Ben Warren at the station with paperwork and a clipboard. The ABC press photos show a heated conversation with a guest star and actor, Nitya Vidyasagar. Although there isn't any further information about the woman, she could be a lawyer or case manager for Dean's daughter, Pruitt Arike Miller.
Additionally, the Dean Miller Memorial Clinic opens with guest stars Lanny Joon and David Yound Lee in other news.
Station 19 Season 5 Episode 12 airs Thursday, March. 11, at 8 p.m. ET on ABC.
RELATED: 'Station 19': Catch Dean Miller (Okieriete Onaodowan) in These 2 Upcoming New Roles