'Station 19' Season 5 Episode 13 Recap, 'Cold Blue Steel and Sweet Fire' — Sullivan and Natasha's Past is Finally Revealed
Read the recap and analysis of 'Station 19' Season 5 Episode 13 to find out what happened to Sullivan, Natasha, Andy Herrera and Vic Hughes.
The Station 19 Season 5 Episode 13, "Cold Blue Steel and Sweet Fire," recap finally reveals what happened between Robert Sullivan (Boris Kodjoe) and Natasha Ross (Merle Dandridge). There are enough flashbacks to finally find out how they ended up together. Plus, Ben Warren (Jason George) and Miranda Bailey (Chandra Wilson) finally sit down for a discussion with Dean Miller's (Okieriete Onaodowan) parents about Pruitt's future.
[Spoiler alert: This article contains spoilers from Station 19 Season 5 Episode 13 'Cold Blue Steel and Sweet Fire.']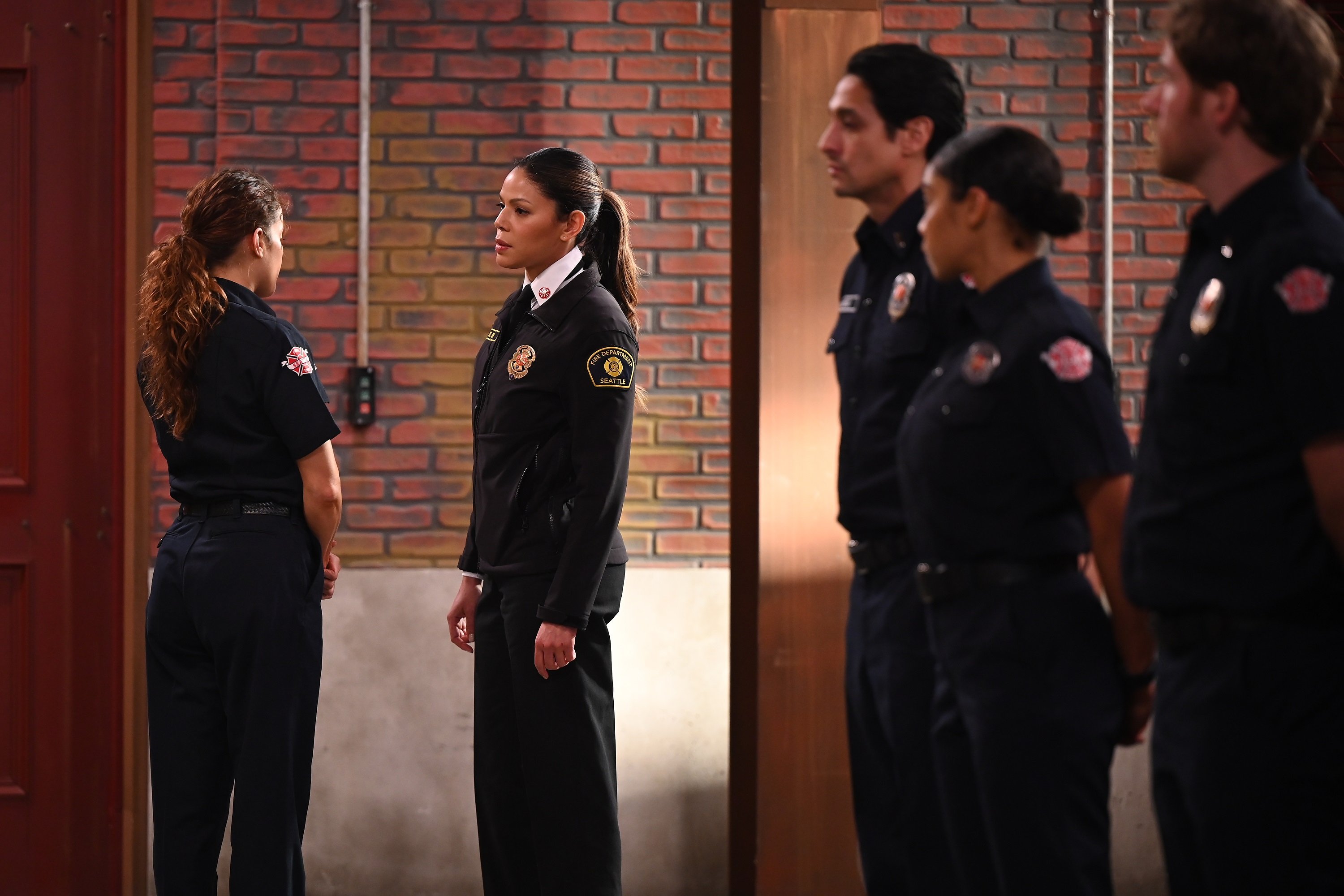 Chief Natasha Ross announces the closing of Station 23
In Station 19 Season 5 Episode 13, the new fire chief Natasha Ross deals a hard blow to Station 23. However, before it, she asks Sullivan for a pep talk and he sweetly encourages her. It's time to close the doors of the entire station. Andy Herrera (Jaina Lee Ortiz) and the remainder of the firefighters will split between stations 19 and 57. Theo Ruiz (Carlos Miranda) asks the chief why and she explains it's about numbers. They don't need two stations so close together. For fans who hated the two separate stations, it's a dream come true — back to only one. Plus, Andy gives 23 an inspirational pep talk about landing on their feet.
Over at Station 19, Travis Montgomery (Jay Hayden) continues to stress over his break up with Emmett (Lachlan Buchanan). Meanwhile, Sullivan warns Captain Beckett (Josh Randall) that if he can't get a handle on his alcoholism, he could get Station 19 shut down, too. Vic Hughes (Barrett Doss) worries about Ben and Miranda's meeting with Pru's grandparents. Maya Bishop (Danielle Savre) continues her plan to get back her captain position. However, the chief does not give her the job back because Maya cannot adhere to the chain of command. Later, she takes out her frustration on Carina DeLuca (Stefania Spampinato).
Emmett, Travis, and Vic head to a call together where they attempt to help a tenant that the lanlord wants kicked out. However, when they pry open the door, they find the man dead and covered in maggots. It looks like he ran out of insulin and died alone. The experience makes Travis realize that he didn't love Emmett, but only didn't want to be alone. Then Emmett shows up at the door and forgives him! Will Travis break Emmett's heart all over again?
'Station 19' Season 5 Episode 13: Sullivan and Natasha's past
After teasing viewers with the new Sullivan and Natasha relationship for weeks, Station 19 Season 5 Episode 13 finally gives a taste of their past. The flash back is from 2005 while they were stationed together as marines. First, Sully gave her a pep talk like the one in the present day. Then they opened up about their hopes and dreams. Sullivan wanted to have a family and five kids, but Natasha didn't believe she was the marrying kind. When she instructs Sullivan to shoot a man, Sullivan hesitates because he won't kill the man in front of his children. However, he finally takes a shot to kill the target despite the kids surrounding him.
Later, in the flashback, Sullivan admits that war has changed him. Natasha gives him a pep talk and the two end up almost kissing. They admit that they are already over the line, so they enjoy it. It looks like the couple is back in the same situation they faced 15 years ago — Sullivan sleeping with his superior.
Ben and Bailey sit down with Pru's grandparents
After enduring a social worker following Ben around the entire last episode, it's time to talk about Pruitt Arike Miller (Janai Kaylani) with Dean Miller's parents in Station 19 Season 5 Episode 13. Bill Miller (Jeffrey D. Sams) and Ifeya Miller (Barbara Eve Harris) had, up to this point, insisted that Pru remain with them. In an abrupt change, the grandparents immediately hand over guardianship to Ben and Miranda. However, the Millers try to insist on every single holiday and Miranda won't take it. Luckily, Bailey pulls her Grey's Anatomy "chief of the most prestigious hospital card," and informs the Millers that she knows about Bill's health issues. However, it's Ifeya who has a heart condition. They come to an agreement to spend holidays together. Ifeya's final request is that Ben quit his job as a firefighter so that Pru does not lose another father-figure in a fire. Is Ben heading for another change of career?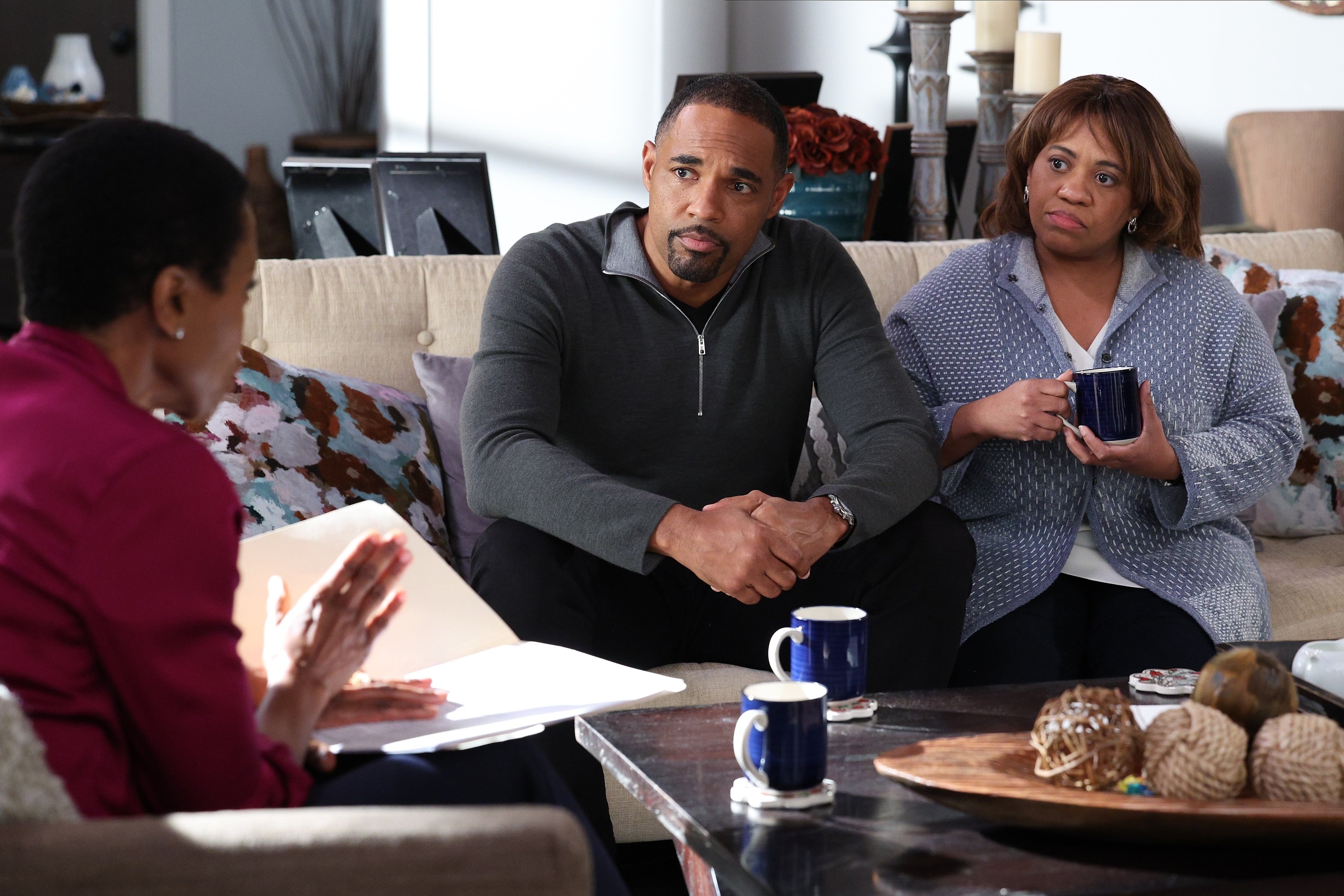 'Station 19' Season 5 Episode 13: The fire at a candy factory is a sticky mess
Later, in Station 19 Season 5 Episode 13, both stations receive a call about a burning candy factory. Before they head inside, Andy warns that "burning sugar is worse than tar." Gibson and Sullivan head inside on fire attack. Andy and the newbie at 23 search for a missing pregnant woman (Stella) inside the candy factory. Maya is on triage, but realizes that Beckett gave the wrong directions to Gibson and Sullivan for finding the generator. Beckett read the map upside down. It's evident he was either drunk still or hungover. Sullivan finally goes to fire chief Natasha and tells her about Beckett's drinking. Is Beckett demoted in the next episode?
Luckily, they rescue the pregnant woman, and her boyfriend immediately proposes. Vic and Theo watch the interaction — does Theo want to propose? Later, Vic jumps Theo at the door and tells him he can come to 19 if he wants to.
According to IMDb, Station 19 airs Thursdays at 8 p.m. EST on ABC, before Grey's Anatomy.