'Station 19' Season 5 Episode 14 Recap, 'Alone in the Dark' — A Break Up and An Assault
The 'Station 19' Season 5 Episode 14 recap of 'Alone in the Dark' explains what happens between Robert Sullivan and Beckett, and Andy Herrera and the new guy at the bar.
ABC's Station 19 Season 5 Episode 14 recap of "Alone in the Dark" begins with a challenging goodbye to Station 23. Andy Herrera (Jaina Lee Ortiz), Theo Ruiz (Carlos Miranda), and Deja Duval (Natasha Ward) aren't sure what fire station Fire Chief Natasha Ross (Merle Dandridge) might send them to. Captain Sean Beckett's (Josh Randall) job is on the line after a tip from Robert Sullivan (Boris Kodjoe). Will Ben Warren (Jason George) choose to leave Station 19? Dean Miller's (Okieriete Onaodowan) parents' only request was that he quit his job as a firefighter. Plus, Pat Healy returns to the Station 19 Season 5 cast as Emmett Dixon's father, Michael Dixon.
[Warning: This article contains spoilers about Station 19 Season 5 Episode 14, "Alone in the Dark."]
'Station 19' Season 5 Episode 14 recap: Goodbye Station 23
Station 19 Season 5 Episode 14 opens with the goodbye to Station 23. Andy feels a little left out as the firefighters ask her to take a group photo (not be in it). Natasha says she will try to get Andy sent to 19, but no promises. After the farewell at the station, the team heads to the bar to commiserate. Andy consoles Theo, who is upset that his home is closing. She orders a round of drinks for the group and a shot of tequila. However, as Andy drinks more, she tells Theo about her conversation with Chief Ross. He quickly realizes that her conversation sparked the closing of 23. When she tries to explain, everyone gets angry and leaves.
Is Captain Beckett demoted at 'Station 19'?
Later in Station 19 Season 5 Episode 14, Fire Chief Natasha confronts Captain Beckett about drinking on the job, based on a tip Sullivan gave her in the last few moments of Station 19 Season 5 Episode 13. She gives him a random drug and alcohol test, but he's not allowed to leave his office until the results come in. Chief Ross appoints Sullivan acting captain of 19 for the rest of the shift, and Maya is visibly upset.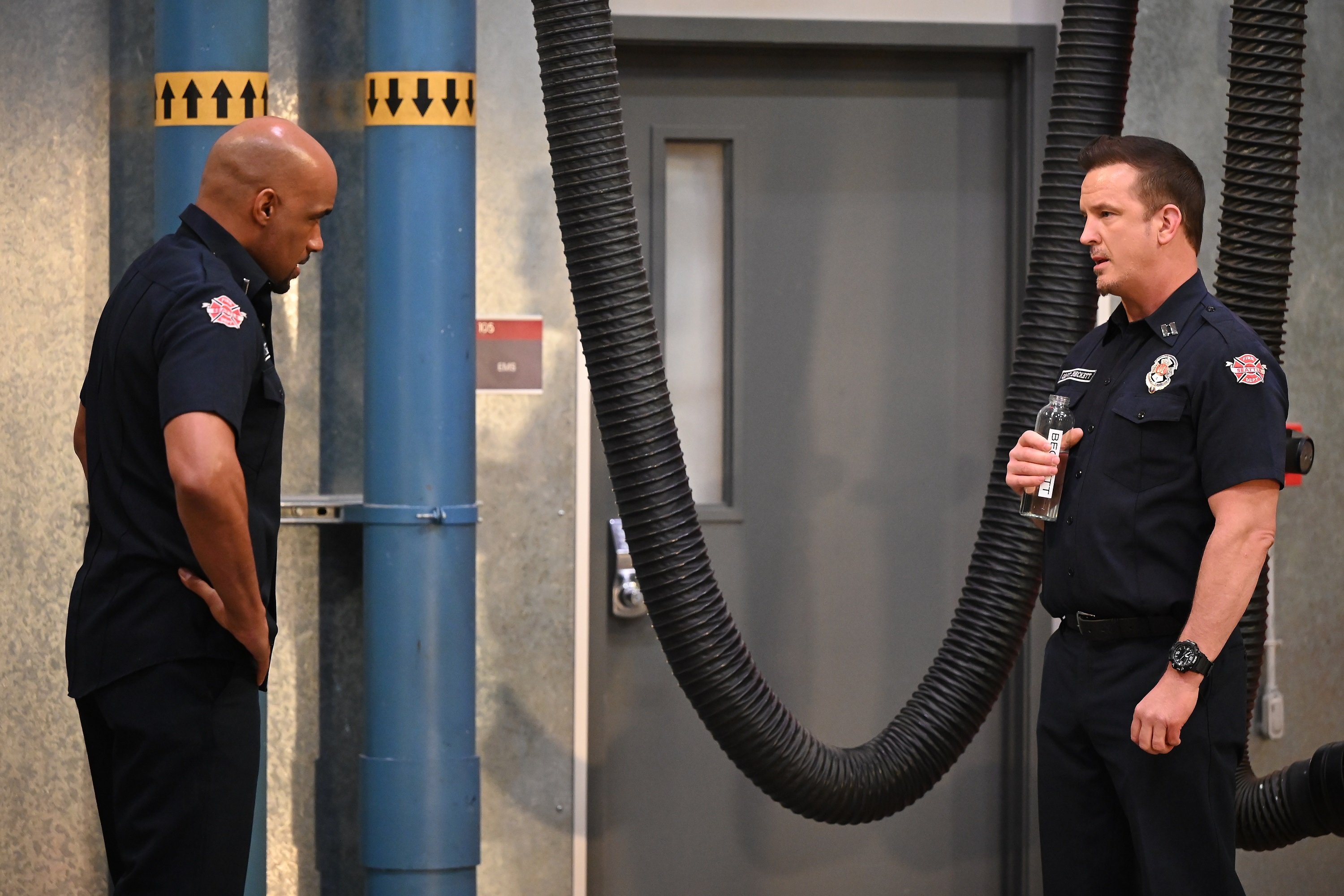 The station heads to a call where there is a car fire to a Hybrid car that is plugged in. The firefighters stop a frantic mother from running toward the fire. She left her children in the car while she ran into the grocery store. Ben and Maya search for the missing children although they are supposed to be on fire attack. Luckily, they find the two children, but the car explodes, knocking everyone down. After the fire, Maya gives Sullivan a hard time for taking the captain position so easily. Luckily, Jack gives her a little pep talk.
After Beckett is cleared, he insists the firefighters are going to run "intervals" until the person who reported him comes forward. Sullivan confesses after seeing Vic puke.
Meanwhile, Maya (Danielle Savre) and Carina (Stefania Spampinato) talk about Jack (Grey Damon) becoming their potential sperm donor. Carina describes all of the reasons why she likes him, although he is Maya's ex-boyfriend.
'Station 19' Season 5 Episode 14 recap: Andy meets a new guy
Andy meets a new guy, Jeremy (Daniel Di Tomasso) at the bar in Station 19 Season 5 Episode 14. He's a friend of Maddox and has his eye on how much Andy is drinking. After the firefighters of 23 leave Andy at the bar alone, Jeremy stays to finish his drink with her. They flirt and throw back more shots, which Jeremy keeps ordering. As they walk out of the bar, both falling, Andy insists she can't have sex. She asks for his number and tells him no. He calls her a b*tch and then tries to shove her against a wall. Andy fights back, hits him in the throat, and Jeremy falls to the ground. He struggles to grasp for air. In the Station 19 Season 5 Episode 15 preview, the firefighters find Jeremy and rush him to the hospital.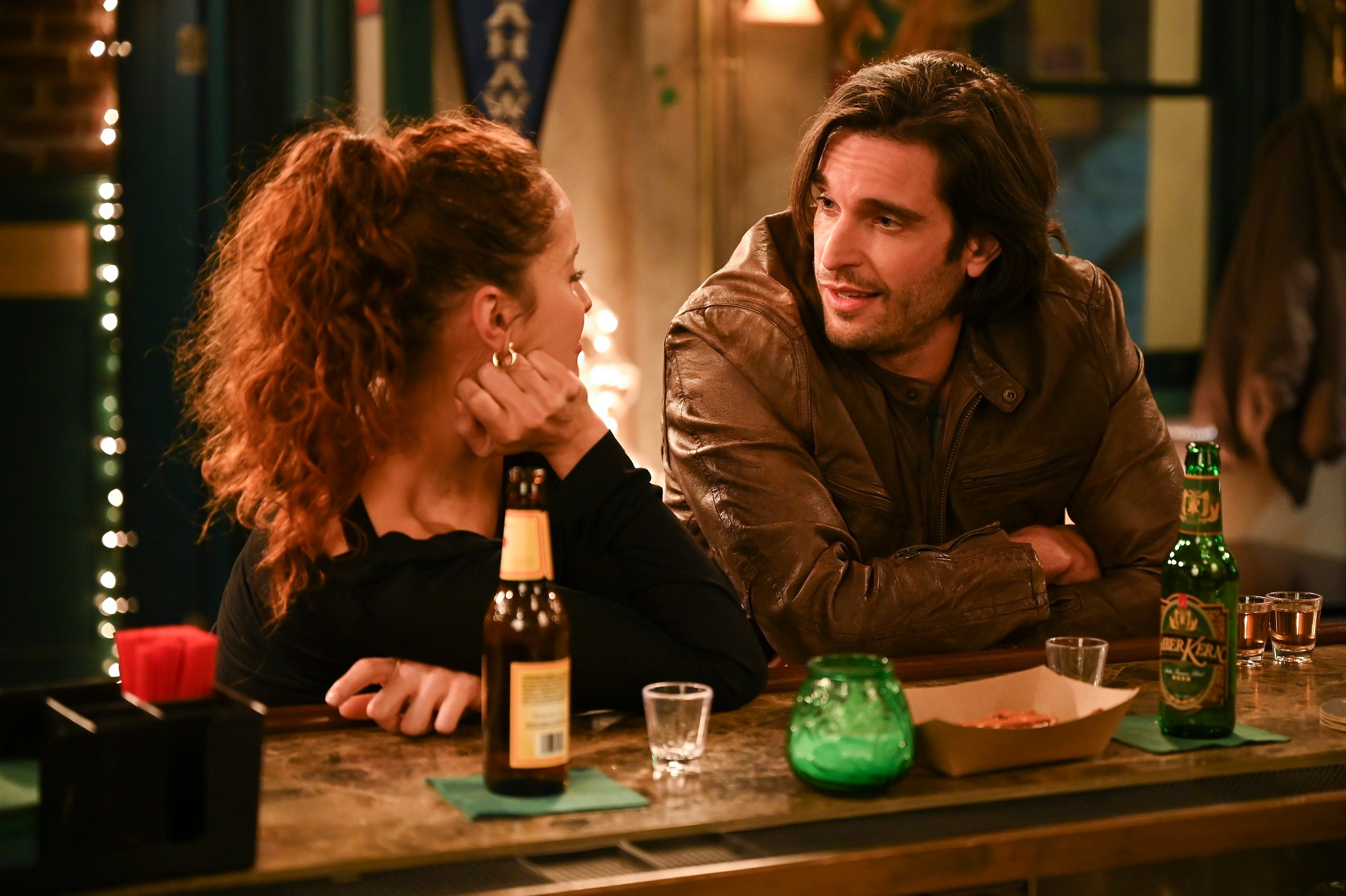 Vic Hughes encourages Ben Warren to share the news about Pru
Meanwhile, in the Station 19 Season 5 Episode 14 recap, Ben tells Vic (Doss Barrett) that her grandparents want to give Ben and Miranda Bailey (Chandra Wilson) full custody. However, they do not want Ben to continue his job as a firefighter. So, he's unsure what to do. Although Ben is hesitant to tell the team, he realizes that the grandparents can't "steal his joy" over gaining full custody of Pru.
'Station 19' Season 5 Episode 14 recap: Emmett and Travis break up
Emmett (Lachlan Buchanan) invites Travis (Jay Hayden) to have dinner with his parents. Emmett's mother calls Travis by the wrong name, while Travis' father (Pat Healy) tells Emmett to man up and drink liquour instead of wine. While there, they look through old photos of Emmett. His parents criticize the "entitled millenials" at Station 19. Emmett's father continually complains about the members of the LGBTQ community. Then Emmett's mother reveals that his father plans to become Mayor and kill the crisis one intervention program. Travis and Emmett's father get into a screaming match.
The only time that Emmett jumps in is when his father insists Emmett wasn't gay until he met Travis. However, Travis immediately points out Emmett's lack of confrontation with his family. Later, Emmett admits that they both know they should not be together. Emmett is leaving to head to an art program in Florence.
According to IMDb, Station 19 airs Thursdays at 8 p.m. EST on ABC, before Grey's Anatomy.