'Station 19' Season 5 Episode 15 Promo Trailer Previews 2 'Grey's Anatomy' Guest Stars
Watch the new 'Station 19' preview of season 5 episode 15, 'When the Party's Over' and find out what happens to Andy after that assault.
ABC's Station 19 Season 5 episode 15 preview shows the aftermath of Andy Herrera (Jaina Lee Ortiz) and Jeremy's altercation (Daniel Di Tomasso). Jack Gibson (Grey Damon) and Maya Danielle Savre) rush to Andy's side. Meanwhile, Robert Sullivan (Boris Kodjoe) worries about what will happen to Andy if Jeremy dies. Plus, two guest stars from Grey's Anatomy join the Station 19 cast for the next episode. Here's our breakdown of the Station 19 Season 5 Episode 15 promo trailer for "When The Party's Over."
[Warning: This article contains spoilers about Station 19 Season 5 Episode 15, "When the Party's Over."]
'Station 19' Season 5 Episode 15 preview shows Andy Herrera running for help
The Station 19 Season 5 Episode 15 preview opens with Andy running to Jack and Maya for help. Jack asks what happened, and then the promo switches to a Station 19 recap of season 5 episode 14. Viewers see Andy in the bar laughing and flirting with Jeremy. In the March 31 episode, Andy's fellow firefighters from Station 23 left her alone at the bar with Jeremy. 
"We were having fun, and then he changed," Andy explains. "He was a complete different person."
He continued to buy her shots until they were both falling over from the amount of alcohol. As they walked out to call an Uber, Andy repeatedly told Jeremy she was ready to go home and did not want to have sex with him. However, he pushed her up against the wall and assaulted her. Andy fought back and punched him in the neck. As the episode closed, Jeremy was on the ground gasping for air. 
Robert Sullivan worries that Andy could face assault charges in the 'Station 19' Season 5 Episode 15 trailer
As the Station 19 Season 5 Episode 15 trailer continues, Andy gives a statement to a police officer. However, the cop sounds skeptical. When he suggests that Andy thought Jeremy was about to assault her, she corrects him. 
"No, because he did assault me," Andy insists. 
In the comments of the YouTube trailer, viewers worry that the officer doesn't believe Andy.
"We have to keep him alive," Sullivan tells Teddy Altman (Kim Raver) in the promo. "If he dies, Andy killed him."
2 'Grey's Anatomy' guest stars join the 'Station 19' cast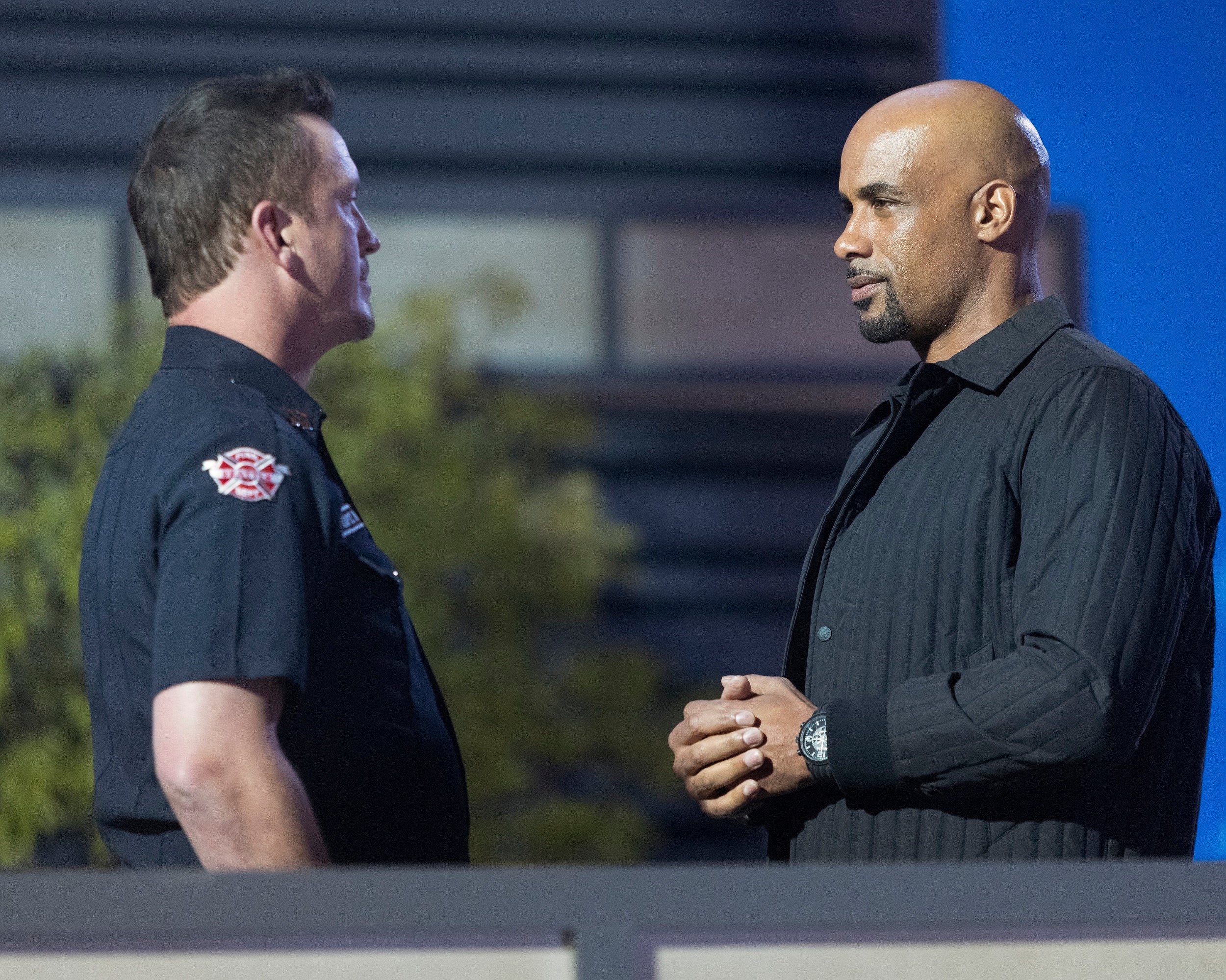 As the Station 19 Season 5 Episode 15 promo ends, Teddy Altman and a team of Grey Sloan doctors rush Jeremy into the hospital. The ABC press release indicates that two Grey's Anatomy cast members guest star in the April 7 episode of Station 19.
"Andy deals with the aftermath of a trauma," the ABC press release reads. "Guest-starring is Kim Raver as Teddy Altman, Jaicy Elliot as Taryn Helm, and Josh Randall as Sean Beckett."
Earlier in the promo, Andy is in a hospital gown while she explains what happened with Jeremy. Since the preview shows Altman with Jeremy, Jaicy Elliot probably joins the cast as Dr. Taryn Helm when Andy comes into the hospital after the assault.
Station 19 airs Thursdays at 8 p.m. EST on ABC, before Grey's Anatomy.