'Station 19' Season 5 Episode 15 Recap, 'When the Party's Over' — a Death and an Arrest
The 'Station 19' Season 5 Episode 15 recap gives details about who died and who was arrested in the last few minutes of the ABC drama.
ABC's Station 19 Season 5 Episode 15 recap begins with the aftermath of Andy Herrera (Jaina Lee Ortiz) and Jeremy's altercation (Daniel Di Tomasso). Maya Bishop (Danielle Savre), Robert Sullivan (Boris Kodjoe), and Vic Hughes (Barrett Doss) find Jeremy. Plus, two guest stars from Grey's Anatomy join the Station 19 cast for "When The Party's Over." 
[Warning: This article contains spoilers about Station 19 Season 5 Episode 15, "When the Party's Over."]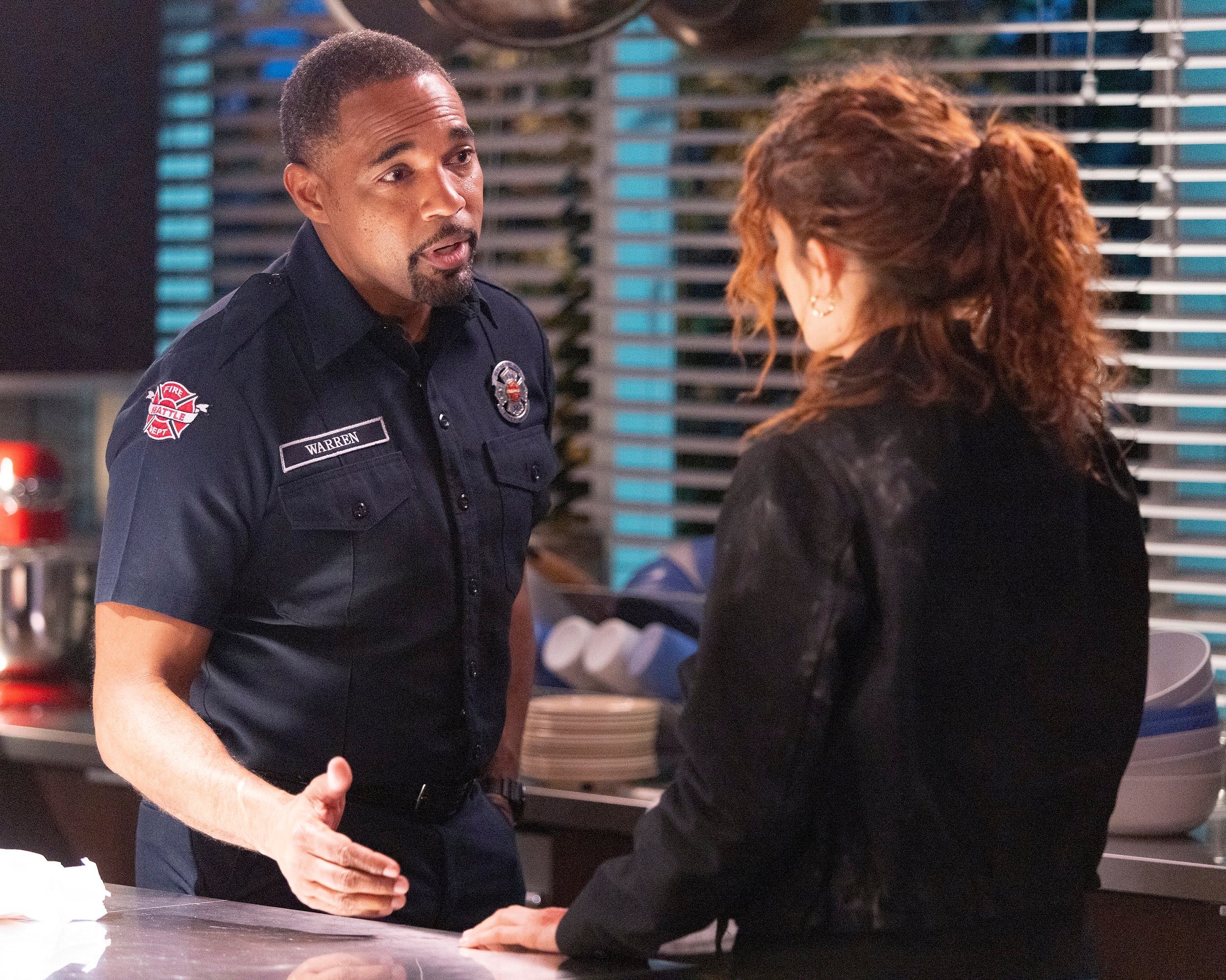 'Station 19' Season 5 Episode 15 recap: Jeremy dies
When Maya, Robert, and Vic find Jeremy, he's unconscious. They move him and begin CPR. However, the situation worsens, and he flatlines. Sean Beckett (Josh Randall) insists they turn the scene over to the police department because they lost Jeremy's pulse. However, Bishop, Sullivan, and Hughes disobey Beckett's orders and take Jeremy to Grey Sloan Memorial Hospital in the AID car. His pulse is barely existent when they get him to the hospital. Teddy Altman (Kim Graver) takes over when they arrive. However, after over an hour of trying to save Jeremy, Teddy delivers the news that he has died.
'Station 19' Season 5 Episode 15 recap: Andy gives a statement
Meanwhile, two police officers take a statement from Andy in Station 19 Season 5 Episode 15. They ask a lot of questions and imply that Andy's memories are "hazy." She requests that Ben Warren (Jason George) be present while they finish the investigation. He suggests that a rape kit be collected because it increases the likelihood of holding the perpetrator accountable. However, the officers point out that this isn't standard procedure for police officers. Ben suggests that they need more training because it should be common to collect evidence.
Andy's flashbacks
Also, in Station 19 Season 5 Episode 15, there are several flashbacks to when Andy was attacked as a young girl. Her mother tells her that next time, she should fight back. Then a firefighter taught her self-defense. Throughout the entire sample collection, she continuously had flashbacks of herself as a young girl learning to defend herself from an attacker.
In another scene, her mother argues on the phone with Pruitt. He's mad that she's teaching her daughter self-defense. Her mother tells her that "life isn't fair" and she should keep taking lessons. 
'Station 19' Season 5 Episode 15: Carina DeLuca and Taryn Helm help Andy collect evidence
Carina (Stefania Spampinato) arrives at Station 19 to tell Jack that she's elated and angry at the same time. They are both proud of Andy for fighting the guy off. However, they're mad that it happened. Taryn Helm helps Carina go through the exam and collect the evidence. They ask her consent for each part to give her control over the entire situation.
"I feel like my body is a crime scene," Andy says afterward.
Andy admits that she was flirting all night and kissing. However, Carina emphasizes that a woman can change her mind at any point. Andy and Carina both hope that she really hurt Jeremy. They have no idea that he is dead.
Travis tells Theo about the awful dinner at Emmett's house. They commiserate about the closing of Station 23 and throw back drinks. Then they get the unexpected call about what happened to Andy. The two men show up intoxicated at the station and make Andy laugh.
Andy hears the news that Jeremy died
After Jeremy dies, two detectives show up to question Andy. She speaks to precinct 34 and does her best to help the investigation. However, they insist that she was a paramedic and should have stayed to treat Jeremy. The officers say she's not allowed to have an advocate here. So, she storms out and tells the men to speak to her lawyer. 
Sean Beckett takes Andy's side and insists that the two men leave the station. He doesn't allow any statements from his paramedics that were at the scene either. Later, the entire Station 19 family stays with Andy while she cries and has flashbacks of the nightmare that just happened.
The following day, Sullivan tells Andy that she did nothing wrong. Meanwhile, Beckett and Sullivan get into a blackmail fight that looks like it will continue throughout at least the remainder of the season.
The next day, Jack tells Carina and Maya that he wants to be their baby's donor. However, in the last few moments of the episode, the homicide detectives arrest Andy. In the Station 19 Season 5 Episode 16 promo, viewers watch Andy plead not guilty to manslaughter.
According to IMDb, Station 19 airs Thursdays at 8 p.m. EST on ABC, before Grey's Anatomy.