'Station 19' Season 5 Episode 2 Recap, 'Can't Feel My Face'
In 'Station 19' Season 5 Episode 2, Dean, Emmett, and Vic do some good, but meanwhile Andy Herrera and the new captain have something suspicious going on.
ABC's Station 19 Season 5 Episode 2, "Can't Feel My Face' is jam-packed with action. Maya Bishop (Danielle Savre), Ben Warren (Jason George), and Robert Sullivan (Boris Kodjoe) find themselves fighting for air in a basement drug lab. Plus, Andy Herrera (Jaina Lee Ortiz) doesn't hesitate to serve Sullivan with divorce papers despite his apology in the Station 19 Season 5 Episode 1 premiere.  
[Spoiler alert: This article contains spoilers from Station 19 Season 2 Episode 2 'Can't Feel My Face.']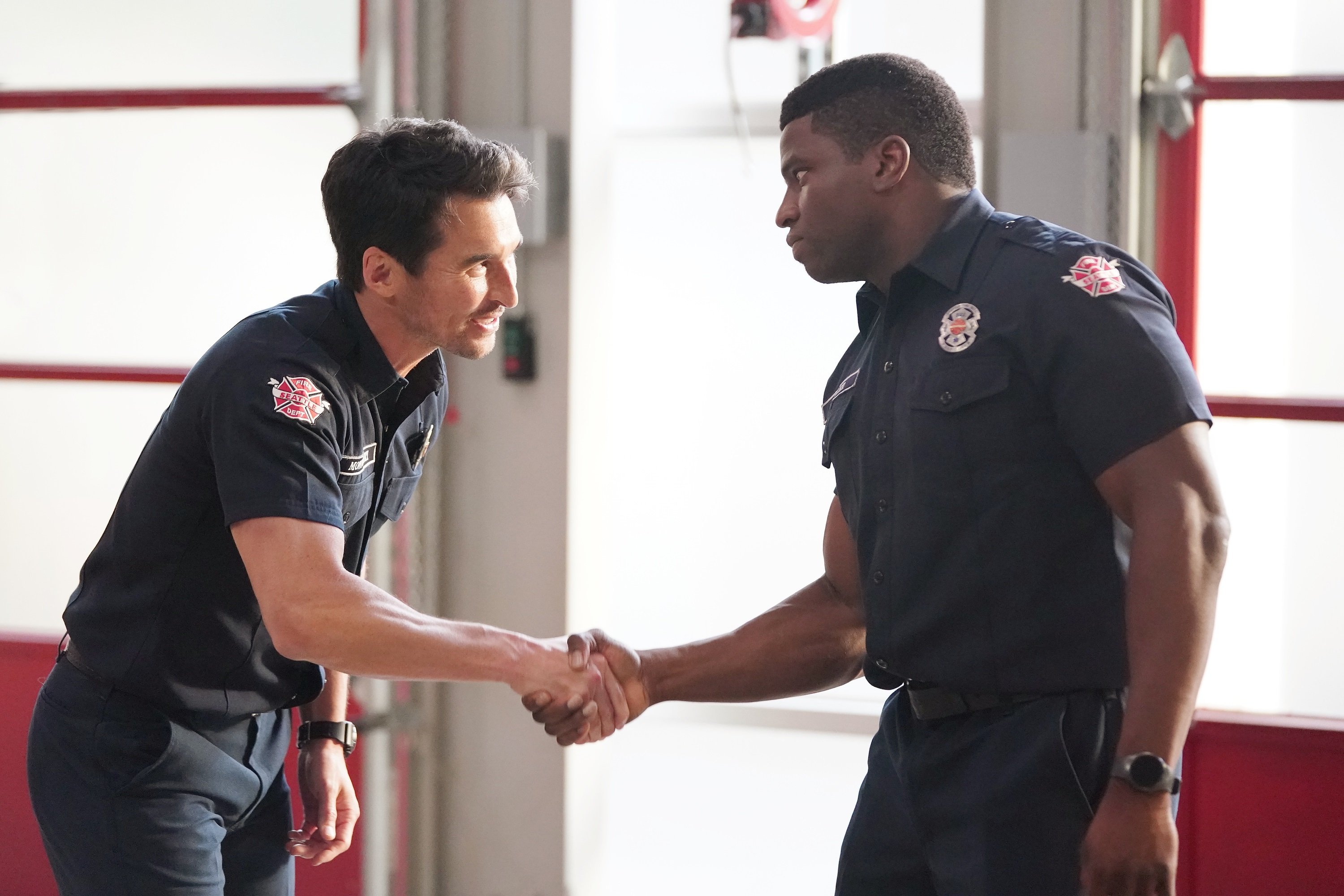 Andy Herrera serves Robert Sullivan divorce papers
Station 19 Season 5 Episode 2 opens with Sullivan receiving his divorce papers at work from Herrera. He tries to call his wife, but she refuses to answer.
However, later in the episode, she defends Sullivan to her team. He's too upset about getting served papers to want to speak to her at all.
'Station 19' Season 5 Episode 2: Dean, Emmett, and Vic join forces on a mental health call
When Station 19 Season 5 Episode 2 opens, Dean Miller (Okieriete Onaodowan) uncomfortably listens while Vic Hughes (Barrett Doss) describes how many times she had an orgasm with Theo Ruiz (Carlos Miranda). Then, when Dean, Emmett Dixon (Lachlan Buchanan) and Vic responds to a mental health call; Captain Beckett (Josh Randall) is excited to eat his lunch in peace.
Alicia and Miss Debbie frequently call 9-1-1, so the landlord called the mental health center. The two women blockade themselves into a room while Alicia ties sheets together to "sail out the window." Alicia is worried that people are coming to hurt her. Vic, Emmett, and Dean debate whether to break into the room but repeatedly talk each other out of using force. They highlight how it is difficult not to break into the room to see what's going on with the two women.
After the paramedics sedate Alicia, Miss Debbie explains how the police came multiple times and only asked questions about drugs. The mother thanked Emmett for saving her daughter.
'Station 19' Season 5 Episode 2: structural fire and a drug lab take four firefighters down
Meanwhile, Maya and Ben cut a hole in the basement of a house where they heard a loud boom. Travis Montgomery (Jay Hayden), Robert Sullivan, and Jack Gibson (Grey Damon) begin fighting the fire in the basement. However, all three men pass out from the smoke and fumes as Maya and Ben finally achieve their goal of ventilation into the basement.
At Station 23, Andy and Theo get called to the scene. As they attempt to pull the three firefighters out, they pass out themselves. Before passing out, they gave Sullivan oxygen, so he could wake up and pull out the other firefighters. 
Captain Beckett orders everyone in the basement to head to the hospital so the doctors can evaluate them. Later, Andy and the new captain consider starting something.
Maya does some soul searching
Carina DeLuca (Stefania Spampinato) is ready to have children, but Maya isn't. She tries to talk to Ben about having kids, but he's not much help. Maya worries about having kids, but Carina insists that she will be a good mother. Maya thinks that her job isn't made for having children and she will be immediately singled out because she's a woman.
According to IMDb, Station 19 airs Thursdays at 8 p.m. EST on ABC, before Grey's Anatomy.