'Station 19' Season 5 Episode 4 Recap, '100% or Nothing' and a Fun Guest Star
ABC's Station 19 Season 5 Episode 4, "100% or Nothing' is full of action and heartache. Diane Lewis (Tracie Thoms) returns to the series to assist Dean Miller's (Okieriete Onaodowan) Crisis One intervention training. Fellow station 23 joins the training where they watch Andy Herrera (Jaina Lee Ortiz) and Robert Sullivan (Boris Kodjoe) fight out everything that's happened since the Station 19 Season 4 finale. 
[Spoiler alert: This article contains spoilers from Station 19 Season 2 Episode 4′ 100% or Nothing.']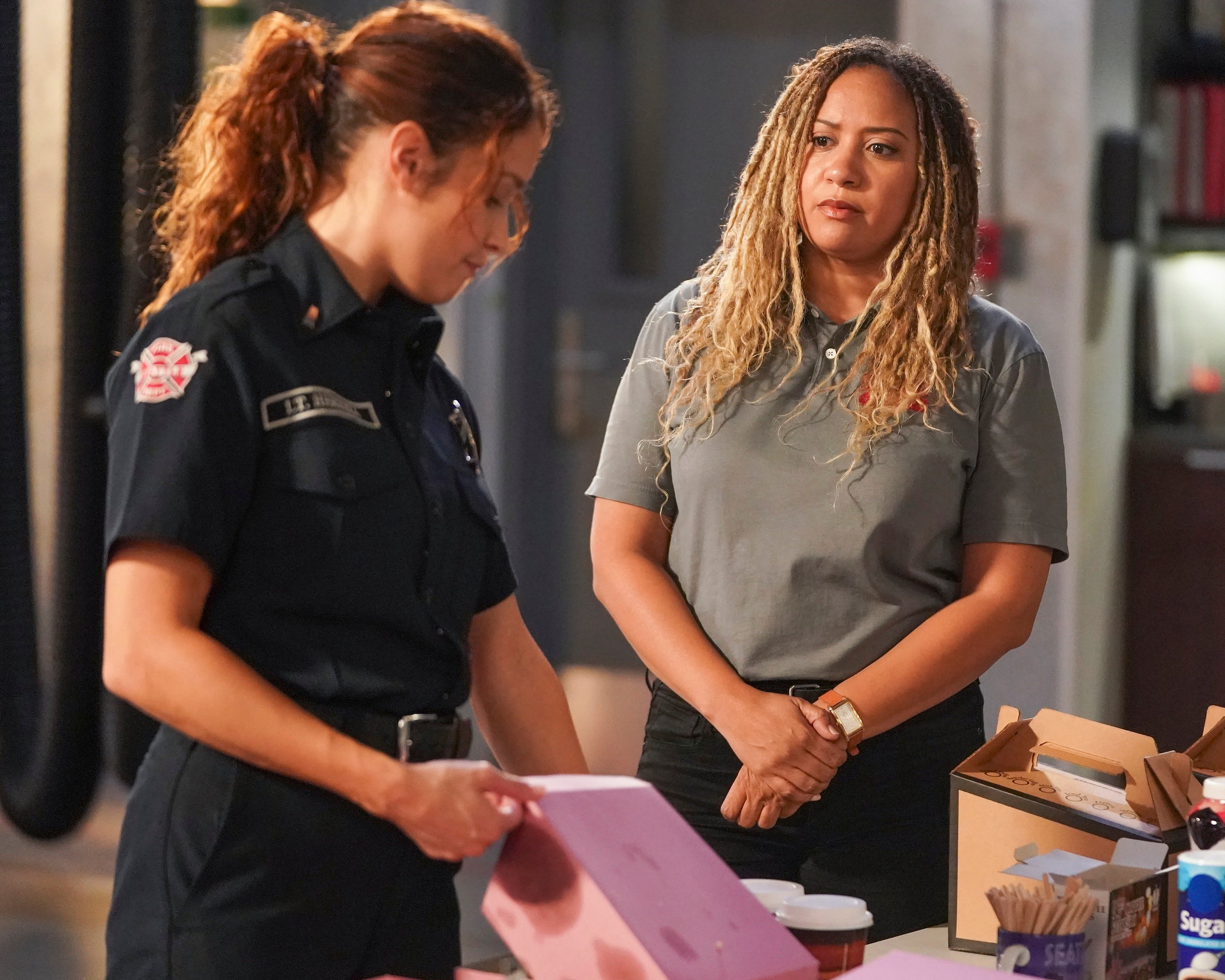 'Station 19' Season 5 Episode 4: Crisis One intervention training with Diane Lewis
When Dean and Diane gather Station 19 and Station 23 together for Crisis One training, it doesn't go as planned. Diane immediately calls Andy and Sullivan up to role-play the marital dispute section. However, she has no idea that they are on the verge of a divorce. The couple gets into a very heated argument, but before it's resolved, there's a fire call. Maya Bishop (Danielle Savre) calls Sullivan to head out on the call with her. When Diane suggests that Captain Beckett (Josh Randall) fill in for Sullivan, Lieutenant Ruiz takes his place, but again they take things too far.
Dean is frustrated with the relationship dramas, but he attempts to have Jack Gibson (Grey Damon) and Lieutenant Maddox (Shane Hartline) work through a role play. Dean tries to help Maddox, who is role-playing a finance employee who barricaded himself into a room. However, Maddox takes it too far and begins acting like Hulk. 
Later, Ben Warren (Jason George) talks to Captain Pat Aquino (Alain Uy) through a role play. They successfully empathize and present an alternative plan of action. When Dean gets a Crisis One call, he asks Jack to help him in the field. Jack tries to help a man with Autism get off of a public bus. Although the man won't let Jack touch him, he explains how the man can clean his hand on his own. Instead of the situation escalating, Jack talks him through it and gets him to walk off the bus independently.
Diane insists that the training was a success, but all Dean can see is the work needed.
Travis and his father
Vic Hughes (Barrett Doss) and Travis Montgomery (Jay Hayden) argue over buying batteries for their smoke detectors. Meanwhile, Travis' father texts his plans to go on vacation with his lover, and he wants his son to cover for him. Travis gets a call from his father and explains how frustrated he is.
The fire call hits home for both Maya and Sullivan
On the call, Maya and Sullivan find a very hungover man stuck in a doggy door. The husband and wife (Nia Vardalos from My Big Fat Greek Wedding) bicker and fight as the firefighters get him out safely. Patricia never told her husband she wanted kids until last year. The couple airs their dirty laundry in front of the firefighters and touches on the relationship issues that both Maya and Sullivan have.
'Station 19' Season 5 Episode 4: Andy works through her feelings about Sullivan
Gibson has a heart-to-heart with Andy about her relationship with Sullivan. Gibson insists that Andy always leaves when things get complicated. He implies that she is like her mother, so Andy leaves.
Diane and Andy talk about Andy's father and how proud he would be of Dean's program. Then Diane asks about Sullivan. She admits that Gibson said something that made her angry, but he was right. Diane explains that when you find the need to run away, it's because something from your past is untreated. She suggests that Andy and Sullivan speak to someone together. Later that evening, she tells Captain Beckett they won't be getting together again.
Sullivan finally signed the divorce papers, but Andy isn't sure what to do with them.
'Station 19' Season 5 Episode 4: The love triangle continues between Vic, Ruiz, and Miller
Vic finds out that two of Ruiz's girlfriends spent time in a psychiatric hospital. She confronts him about it later, but Ruiz expresses how much she means to him. Vic admits that she's happy with him. Then Ruiz drops the L-word, and Miller walks in on them making out at work.
When Miller complains to Ben, his co-worker offers him an exit from the love triangle for a time. Ben sent Miller's name to another Fire Station looking to implement a Crisis One.
Plus, Ingrid (Lindsey Gort) showed up at Station 19 again to get some help from Ben for the new blueprints for her store. What is going on with Ingrid and Ben?
According to IMDb, Station 19 airs Thursdays at 8 p.m. EST on ABC, before Grey's Anatomy.