Step Aside Sam Heughan! 'Outlander' Showrunners Claim Another Star Is the Cutest on Set
Outlander season 6 is coming in early 2022, with Jamie and Claire Fraser "facing new challenges, adversaries, and adventures." There will be new faces arriving at Fraser's Ridge, and fan-favorites returning. Including the cutest cast member ever — at least according to executive producer Maril Davis. Sorry, Sam Heughan!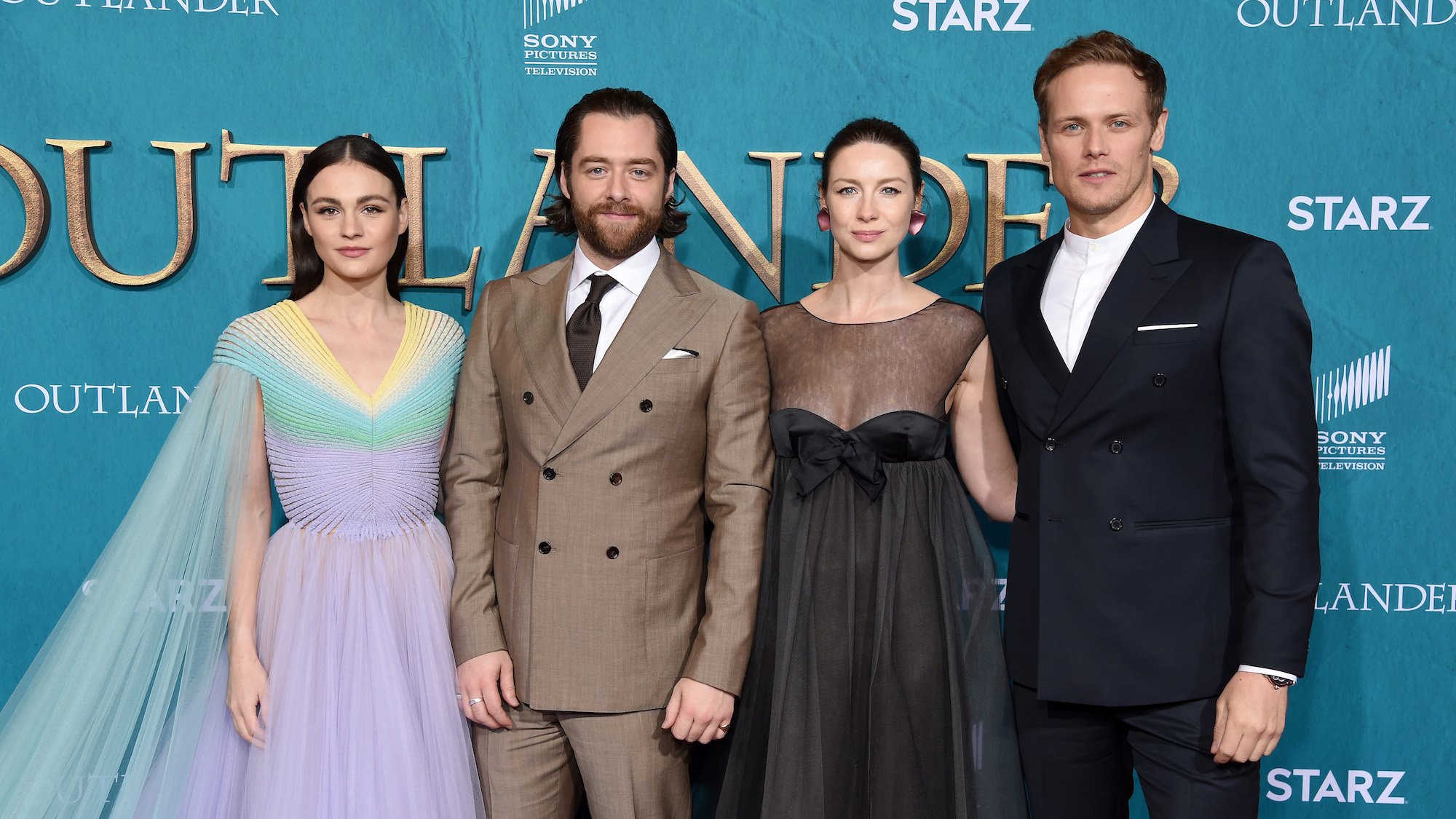 'Outlander' faced an 'unprecedented set of challenges' filming season 6
Production for season 6 of Outlander was delayed for nine months due to the pandemic. When the cast and crew did return to set, they filmed in a production bubble with strict COVID protocols. Because of the "unprecedented" challenges they faced, showrunner Matthew B. Roberts announced that the highly-anticipated upcoming season will feature just eight episodes.
"Filming in 2021 has presented an unprecedented set of challenges," Roberts said, according to Express. "[This] led us to the decision to truncate the season in order to bring the fans the most vibrant and dynamic season as soon as possible."
RELATED: 'Outlander' Confirms 1 Fan-Favorite Character Is Returning For Season 6
This is a big change from previous seasons. Season 1 featured 16 episodes, while seasons 2 through 4 each had 13 episodes. Season 5 of Outlander had a total of 12 episodes.
Fans shouldn't worry about the short season
Roberts noted that they were excited to get into the editing room after they wrapped filming for season 6. He says that fans are "one step closer to reuniting with the family back on Fraser's Ridge" and seeing the end of Droughtlander.
Outlander fans might be disappointed to hear that season 6 will be a short one, but the showrunner also shared some good news. The season 6 premiere will be an extended episode that lasts 90 minutes, and season 7 will be super-sized just like season 1.
"Dinna fash, we will then film an extended season 7 with 16 episodes next year as life returns to normalcy," Roberts said.
'Outlander' season 6 will see the return of the cutest cast member ever
Season 6 of Outlander will see new faces arriving at Fraser's Ridge. The Christie Family — dad Tom (Mark Lewis Jones), son Allan (Alexander Vlahos), and daughter Malva (Jessica Reynolds) — will show up because of Jamie's (Sam Heughan) standing offer to help the former prisoners of Ardsmuir.
All of the fan-favorites will be back for season 6, including main stars Heughan, Caitriona Balfe, Sophie Skelton, and Richard Rankin. According to Express, executive producer Maril Davis also revealed that the "cutest" cast member ever will return, and she wasn't referring to Heughan. Instead, she was referring to Claire's (Balfe) British shorthair kitten, Adso.
RELATED: 'Outlander': Every Question We Need Answered in Season 6
Davis described the mouser as a "cute little ball of fur" and one of the more exciting cast members "in terms of cuteness, furriness, and interaction with the crew." Heughan apparently agrees that Adso — played by a cat named Bear — is pretty cute. He introduced the cat to fans on his Instagram page in 2019 after the Outlander Twitter account teased "a very im-purr-tent casting announcement."
The upcoming season is based on Diana Gabaldon's sixth book
Adso is a character that fans know from Diana Gabaldon's Outlander book series. Season 6 will be based on her sixth book, A Breath of Snow and Ashes. But because of the short upcoming season — plus the super-sized seventh season — it's not clear exactly which parts of the story they will tell in season 6, and what they will save for later episodes.
Executive producer Ronald Moore told Entertainment Weekly in 2018 that every season the writer's "approach it fresh."
"Should we keep it a book a season? We've talked about splitting books, and we've talked about combining them. We want to be free in the writers' room to pick and choose and do what feels most comfortable that year," Moore explained.
The 'Outlander' season 6 premiere title will 'speak for itself'
The season 6 premiere episode of Outlander is titled "Echoes."
But, that's not a reference to Gabaldon's seventh book, An Echo in the Bone. Roberts told Elle magazine that when fans see the super-sized premiere, the title will "speak for itself."
"Each character will be dealing with something from their past and it will help us tell stories going forward. There was a different title on my very first drop. Sometimes that happens. You read it again and you go, wait a minute, hold on a second, there's something better here," Roberts explained.
RELATED: 'Outlander': Another Man's Love for Claire Will Cause 'Turmoil' in Season 6
While fans patiently wait for this excruciatingly long Droughtlander to end, there is some good news. Gabaldon's ninth book — Go Tell the Bees That I Am Gone — will hit bookstores on November 23, 2021. Outlander season 6 will premiere on Starz in early 2022.