Stephen Colbert Told Paul McCartney Why 'Band on the Run' Means So Much to Him
TL;DR:
Stephen Colbert mentioned Wings' "Band on the Run" when he interviewed Paul McCartney
Colbert explained why the song had a special place in his heart.
Paul revealed how he responds to fans having an emotional connection to his music.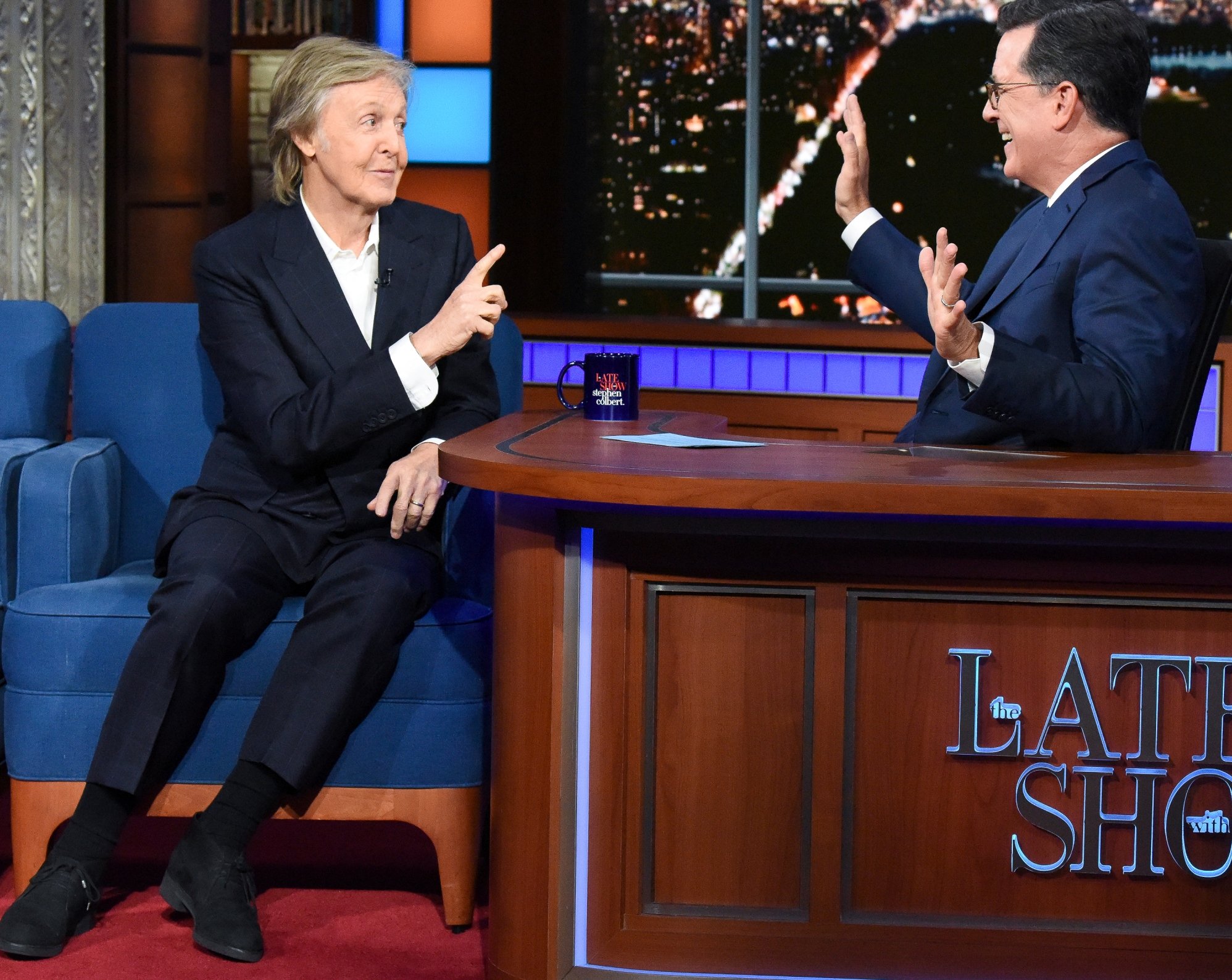 While interviewing Paul McCartney, Stephen Colbert discussed Wings' "Band on the Run." Colbert revealed why he was starstruck around Paul but not when he interviews politicians. Subsequently, he asked Paul what it's like to encounter fans who have a deep connection to his music.
Paul McCartney's 'Band on the Run' reminds Stephen Colbert of a time before he faced huge personal tragedies
During a 2019 interview from The Late Show with Stephen Colbert, Colbert said he doesn't get starstruck around politicians because he feels he understands what they do. On the other hand, he thinks making music is mysterious, so he was starstruck around the "Silly Love Songs" singer. Colbert told Paul "Band on the Run" was important to him.
"'Band on the Run' … has an enormous emotional resonance for me because, in 1974, it was the song of the summer," Colbert said. "And in some ways, that summer was like the last happy summer for me because my father and two of my brothers died in September of 1974. So that song is emblematic of an entire innocent time for me."
Paul McCartney told Stephen Colbert how he reacts to fans
Colbert asked Paul about what he thinks of his fans. "I know that you really have nothing to do with what that emotionally means for me, but what do you do knowing that lives inside of other people when they see you?" Colbert said. "How do you deal with a fan who comes up … how do you deal with me right now telling you that?" 
Paul said he was a fan too. "I was a fan of lots of people, so I kind of get it," he said. "I'm also very happy that songs that I just wrote originally just to make some money … but the fact that these songs then get into people's heads and they have this meaning. I man, that's the biggest bonus you can have."
How 'Band on the Run' performed on the charts in the United States and the United Kingdom
"Band on the Run" became a huge hit for Wings in the United States. For a week, the track was No. 1 on the Billboard Hot 100. The song stayed on the chart for 18 weeks altogether.
"Band on the Run" appeared on the classic album of the same title. Band on the Run topped the Billboard 200 for four weeks. The album lasted 120 weeks on the chart — more weeks than any other Wings album.
"Band on the Run" was a huge hit — and it has a special significance for Colbert.