Steve Burns Now: What Has the 'Blue's Clue's Star Been up to Since Leaving the Beloved Nick Jr. Show?
Millennials of a certain age got a delightful — and tear-jerking — surprise when Steve Burns from the children's television show Blue's Clues made a video that went viral. After these '90s kids were done drying their tears, they started to wonder just what Burns had been up to all of these absent years. Keep reading to learn more about what Steve Burns has been doing since parting ways with Blue's Clues and what's keeping him busy now.
Burns had a message for all the kids who grew up watching 'Blue's Clues'
Blue's Clues premiered in 1996. It featured a puppy named Blue who would leave paw print-shaped clues on items to help Steve figure out that day's puzzle. Along the way, Steve and Blue would interact with a houseful of talking items, including the Side Table Drawer, Tickety Tock the clock, Pail, Shovel, Salt, Pepper, and Paprika. The show was praised for being gentle and innovative, helping to keep children engaged in deductive reasoning work as they watched. 
Steve was portrayed by Steve Burns, an actor who took the task of being a role model for kids very seriously and worried he might not be right for the show. Ultimately, his run on the program was a great success, and for a long time, Burns was synonymous with the program. When he abruptly exited the series in 2002, fictional Steve headed off to college, leaving behind a new host to pick up where he left off. 
The transition was jarring for many viewers, and there were rumors of some dark secret that forced Burns to exit. The truth, though, isn't anything sinister. Burns simply never intended to make his life work in children's programming, and he didn't want to get typecast. He was also balding and said, "I refuse to lose my hair on a kids' TV show." It was simply time for a career change. 
What is Steve Burns up to now?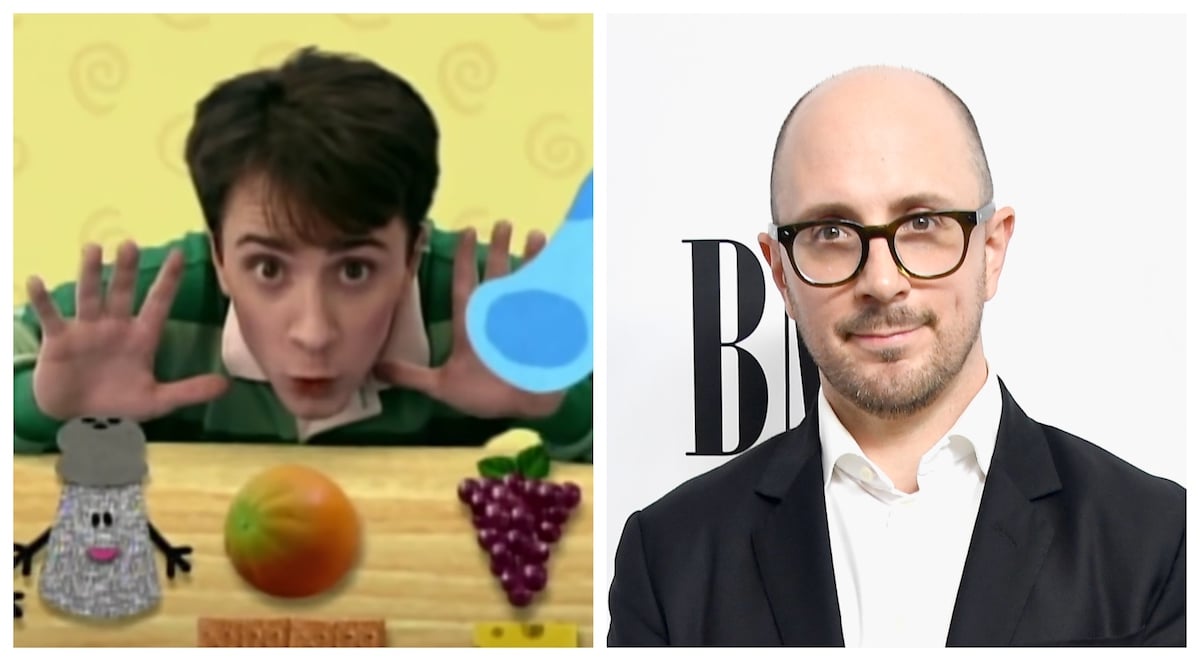 Burns had landed the Blue's Clues gig very early in his acting career, so — despite his best efforts — the role really did have a typecasting effect. In fact, as shown on his IMDb filmography, he hasn't gotten a lot of acting work since leaving the series, and most of the credited roles he has had in the time since have been related to Blue's Clues — including in an upcoming film that's still untitled.
That doesn't mean he hasn't stayed busy. After leaving the show, Burns turned to music, and he saw some success with the endeavor. He admits it was mostly a "hobby" and wasn't necessarily designed to be a career. Still, his work is successful and one of his songs even landed as the theme for Young Sheldon.
As for what keeps him busy day in and day out, Burns has done a lot of voiceover work for advertisements. "If you hear a guy on TV that tries to sell you insurance and sounds like the guy from Blue's Clues, that's me," Burns said. 
The legacy he left behind as a key part of children's programming and a warm memory for so many now-grown fans is one he finds touching. 
Burns and Josh Dela Cruz are collaborating on more 'Blue's Clues'
When Burns left, there were big shoes to fill. At first, Steve introduced viewers to his "little brother," Joe, who was played by Donovan Patton. Patton filled in as host from 2002 through 2006. Then, when the series was revived in 2019, new host Josh Dela Cruz stepped into the part with kindness and optimism. Pointing to Fred Rogers as the gold standard for this kind of important work in children's programming, it was clear that Cruz took his role very seriously. 
As Newsweek reports, Burns was involved with the casting decision that put Cruz in the role, and it now appears that all three hosts — Burns, Patton, and Dela Cruz — will be in the as yet untitled film that has Josh and Blue heading to New York for a Broadway audition. 
RELATED: 'Blue's Clues' Pride Reflects Host Joshua Dela Cruz's Message of Kindness and Inclusion (Exclusive)